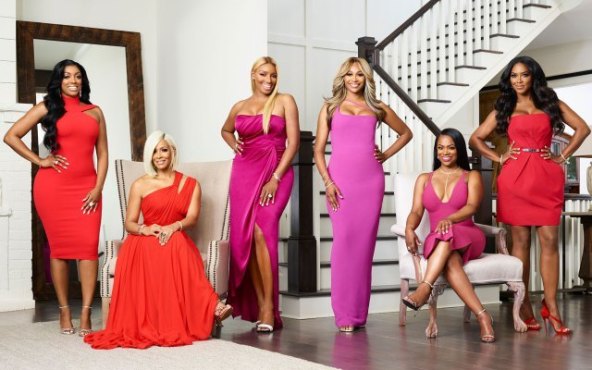 The media and blogs have gotten fat feasting off of "Real Housewives of Atlanta" star Kenya Moore's dubious relationships, including those with Matt Jordan and Walter Jackson, as well as her current marriage to Marc Daly. 
But … here we go again. Another RHOA star is facing rumors that her relationship is fraudulent.
RadarOnline has published a story claiming that a certain housewife and her boyfriend agreed to make up a phony relationship to spruce up her storyline for season 10.
Fans of the show will be shocked to learn that RadarOnline points the finger in the direction of Cynthia Bailey, who has been flossing boyfriend Will Jones after she got her divorce from Peter Thomas.
She's a seemingly nice woman, but without her ex-husband Peter Thomas creating fracas and drama, there is not a lot to capture the fans' imagination when it comes to Bailey, some producers seem to believe. This is how some former cast members were axed from the show, including Lisa Wu.
Jones is seen on the most recent episode of RHOA being grilled by Kandi Burruss and her husband Todd Tucker, who asked him if he was an "opportunist."
 A source claims to RadarOnline.com exclusively that the relationship was simply for show. 
"No one signed an appearance release faster than Will," a show insider says. "His motive was so clear!"
RadarOnline also shared that Jones posted a picture of himself with Bailey on Halloween, but it was all for show considering that they were still filming. Now that the show's wrapped, the couple's allegedly "not seeing each other anymore" and have "ZERO chemistry."
What do you think? Is Bailey faking her relationship for TV?
While Bailey appreciates the concerns of her friends, she assures them that Jones' intentions seem genuine.
She tells Bravo TV:
"There's this whole thing about Will being an opportunist," Bailey said. "He went on all these dating shows—he went on ONE dating show and was considering doing another, I don't really care who's before me. He can go on like 100 dating shows."
"I don't know why they think he's an opportunist," she addead. "Opportunist, what does that even mean? I am not that open to the whole opportunist thing because I feel like okay, whatever. I'M trying to be the opportunist," she jokingly added. I'm trying to get somebody to help me."