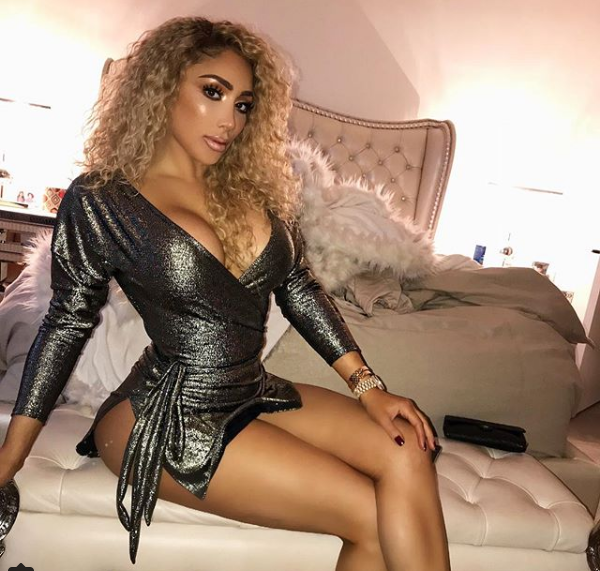 It appears that Floyd Mayweather and Nikki Mudarris want to love all over each other, based on their recent social media interactions.
Last December, the undefeated pugilist champion facilitated an Instagram Live session, which incidentally got a visit from Mudarris. She posted a series of tongue-wagging emojis at the boxing legend. Before that, the two flamboyant personalities were seen out together at a Philadelphia nightclub about a month earlier.   
Well, a year later and there still seems to be some heavy flirtation going on between the retired champ and the "Love & Hip Hop: New York" star.
Over the holiday weekend, Mayweather slid into the comments of Miss Nikki Baby's sexy Instagram post (below). Nikki recently posted a photo of her tiny, surgically-reconstructed waist. Mayweather seemed to try to set up a date by saying, "Tell them how you crazy about Money May all day @MissNikkiiBaby.
And Mudarris didn't hesitate flirting back: 
"And you tell them how crazy you are about Miss Nikki Baby all day," said the reality star on Instagram. 
Floyd Mayweather has made it clear that he wants to get up with Miss Nikki Baby. The hook up seems kind of random but, much like rapper-singer Drake, Pretty Boy Floyd has had a cavalcade of voluptuous vixens in his repertoire.
Even Nikki seems to recognize this fact, but is down to play with some of Mayweather's stacks.
Mudarris reposted the above photo, but this time added: "He chose me…. Oh & he ain't mine. But not yours sisssss ?￰゚メᆭ?￰゚メᆭ" 
What do you think about Mayweather and Miss Nikki Baby being boo'd up out in these streets?