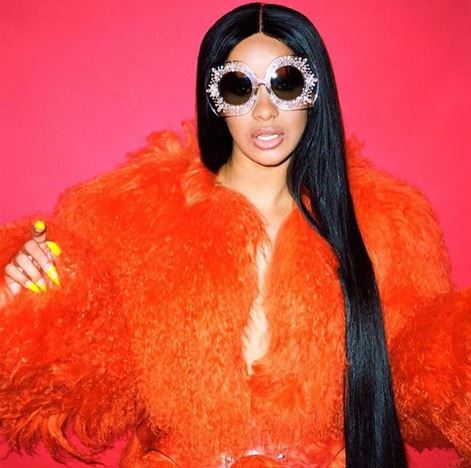 Cardi B via Instagram (@Iamcardib)
So, 2017 will go down in history as the year Jaden Smith reminded us of the "Icon" living in us, as Kendrick Lamar made sure we stayed "Humble," and Cardi B taught us how to make money moves.  As we enter into the New Year, it is only right that we pay homage to the songs that got us through the obstacles and celebrations of 2017. Here are the top 10 songs that will keep you on your toes and help you stay on your grind entering 2018.
1. "Bodak Yellow" / Cardi B
Cardi B has come a long way since her name was "Bacardi" on Instagram. From being a dancer in the Bronx to being nominated twice at the upcoming 60th Grammy Awards for her #1 hit "Bodak Yellow", her Cinderella story is sure to inspire anyone going after their dreams in 2018. Everybody knows at least one line from Bodak Yellow and that is why this Bronx queen's debut single holds the crown on this list.
2.  "Humble" / Kendrick Lamar
Earlier this year, Kendrick Lamar took his spot as number one on the Billboard 100 with his summer jam "Humble", which was produced by Mike-Will-Made-It. Despite the fame and success Lamar has acquired in the last few years, he was still able to drop some gems reminding us to stay modest in the making of our dreams.
3. "Icon" / Jaden Smith
Although not as commercially successful as the preceding artists on our list, Jaden Smith deserves a round of applause for his jaw-dropping, career-defining single "Icon" from his debut album "SYRE". The 19-year-old rapper has released music in the past but his new music exudes a new type of confidence and vigor that Jaden hasn't shown the world before. In this song, Smith promotes the idea of being a go-getter and finding the vision, which is exactly what we will need to do in 2018 to get to the top.
4. "Feels" / Calvin Harris ft. Pharell Williams, Katy Perry, & Big Sean
Calvin Harris dropped one of 2017's hottest summer albums "Funk Wav Bounces Vol.1" featuring the funky pop single "Feels" accompanied by Pharell, Katy Perry, and Big Sean. The feel-good song is a jam that we can all get up to and dance freely into the New Year.
5. "Magnolia" / Playboi Carti
Atlanta-native Playboi Carti made some waves in 2017 with his hit song "Magnolia." Perhaps the most used instrument of 2017, the flute carries the song accompanied by a deep bass, which makes you want to get up and milly rock even if you're not in New York. "Magnolia" is the perfect song to turn up to right before that NYE party.
6. "Rake It Up" / Yo Gotti ft. Nicki Minaj
Although this song is generally considered a strip club anthem, "Rake It Up" was one of the songs in 2017 that had people all over working hard to rake their money up. Getting into 2018, this song will help you keep the momentum of staying on your grind.
7. "Lemon" / N.E.R.D ft. Rihanna
N.E.R.D surprised fans on Nov. 1, 2017, when they released their first single in seven years featuring none other than the Barbados queen herself, Rihanna. The boppy dance song is sure to help you feel energized to tackle the New Year.
8. "RAF" / A$AP Mob, A$AP Rocky, Playboi Carti, Quavo, Lil Uzi Vert, and Frank Ocean
Renowned rapper/fashion mogul A$AP Rocky kept it fresh for us in 2017 by bringing some of rap's favorite artists together in "RAF", a fashion praising anthem that will give you the confidence you will need to conquer 2018.
9. "DNA" / Kendrick Lamar
Lamar teamed up with Mike-Will-Made-It once more in his second single to drop a few more gems reminding us just where our magic comes from: our "DNA". It is impossible to sit still or not feel inspired when listening to this track. "DNA" is definitely one for the books.
10. "Mi Gente" / J Balvin, Willy William, Beyoncé
Queen Bey decided to hop on the remix of "Mi Gente" and donated all her proceeds from the song to disaster relief charities for Puerto Rico, Mexico, and other affected Caribbean islands. This song ties up the best ten songs to get ready for 2018 as it gets you dancing and also helps others who are still suffering from this year's disasters.
Listen to the playlist here –> http://spoti.fi/2DqSExO