Recently, I had the opportunity to take the all-new 2018 Ford Expedition for a spin during a Ride & Drive event at Ford's World Headquarters in Dearborn, Michigan. The vehicle completely blew me away. And let me say this: the 2018 Ford Expedition was definitely created with women in mind.
We spoke with the chief program engineer Todd Hoevener and he took us through some of the newest features including the fold flat second and third rows, of which the second row slides back and forth to allow for more leg room in the third row, and the third row has a new reclining feature to allow for a more comfortable ride while sitting in the back. He explained to us in detail how they were able to get more space and leg room in the third row, "With a lot of the full sized utilities, the floor would be so high that my legs would be up [in my chest], and then you'd get bad circulation. So, after a 1/2 hour, I would want to get out. But with this, we [added an] independent rear suspension. What that does is, it allows you to lower the floor. Our competition has a solid rear axle, and just because of the way that's designed, you have to have the floor up higher, so then again, my legs would be up [in my chest]. And just as an added touch, we've added a reclining third row."
After taking the vehicle for an extended ride around Detroit, I discovered I was in love. Being a "soccer-mom", there were so many features that were designed with women like me in mind, such as a "kid-view"/backseat view mirror that gives you a full view of everything going on in the back seat without having to fully turn around, comfortable seating for up to eight passengers with power ports in every row, and a heated steering wheel for those blustery winter mornings where everything is just so cold. With over 40 new features, including Sync Connect that comes with SYNC®3, Apple CarPlay and Android Auto compatibility, there are certainly several things you'll come to love about this vehicle. The SUV also comes with the ability to operate the FordPass App from your smart phone to do several things including finding the location of your vehicle, locking/unlocking the vehicle, operating remote start, checking your fuel level or reserving a nearby parking spot in your city. I was surprised and delighted by how many things I loved, but I've managed to narrow my favorites down to five-ish.
All-New Charging Station
Ladies, how many times have you forgotten your charging cable for your cell phone? Or how many times have you gotten in the car and found out that one of the kids "borrowed" your cord, or it simply wasn't there – after you've already left the house for the day? Well, fret no more because one of the key new features is that the vehicle comes equipped with a wireless charging pad for compatible phones. Isn't that fantastic!?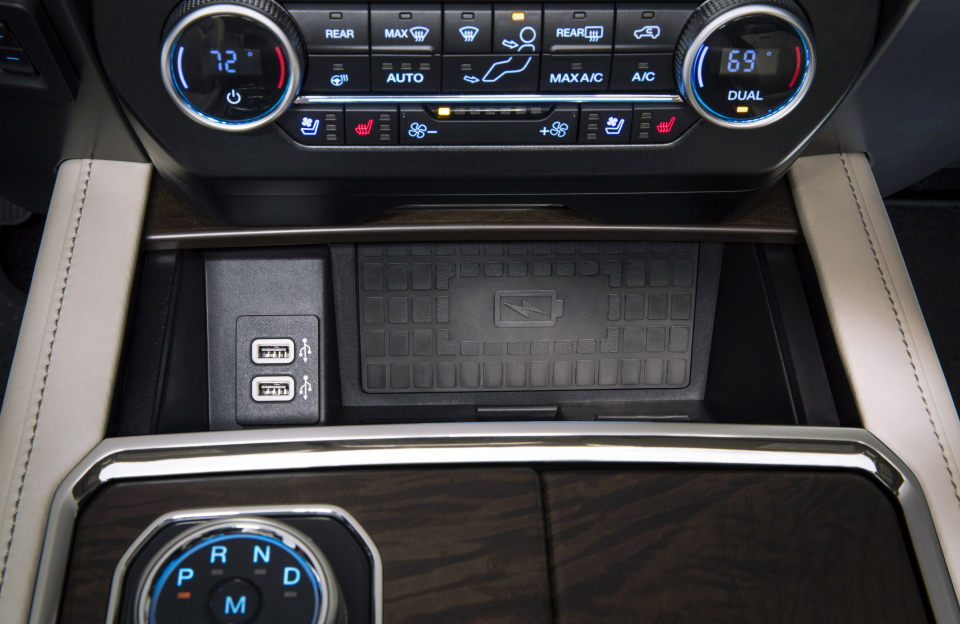 Power for all
Speaking of charging your devices, this new SUV comes with power ports in every row. How convenient is that? So there will no longer be arguments over whose phone or mobile device gets to charge first. There are six USB ports, and four power-points, including an 110V adapter.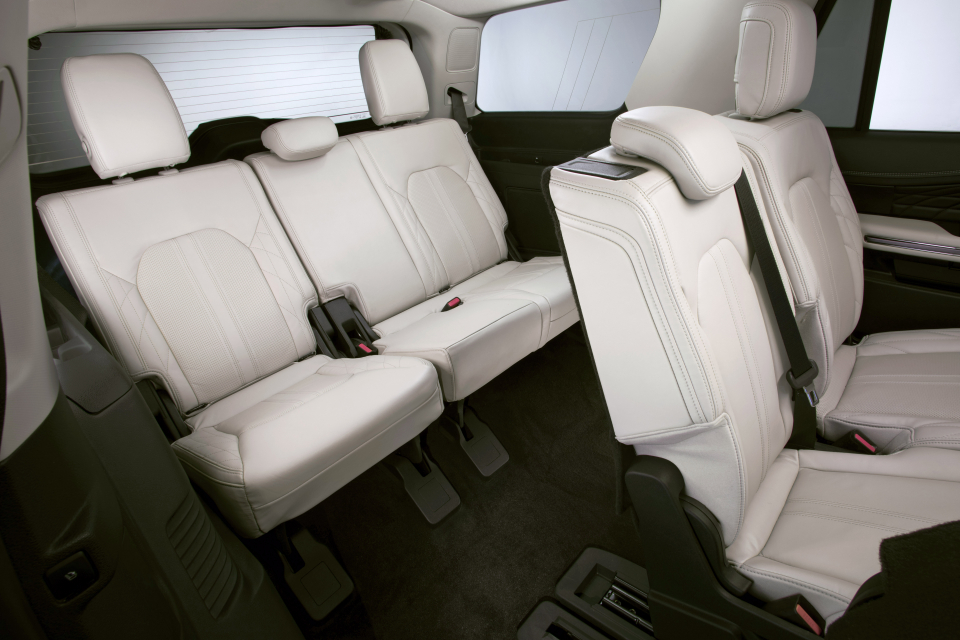 Dual head-rest entertainment system
Some vehicles come equipped with dual-headrest rear seat entertainment systems with a wireless network that includes 8-inch screens. The system comes equipped to play dvds or connect to your portable devices using bluetooth,  wifi, an SD card or using an USB cord.  It also provides for a next-generation video experience that allows passengers to watch live TV via SlingPlayer™ on either of two video screens. The system represents the first time SlingPlayer – which connects to a user's home Slingbox™ account – is offered in an automobile. One of the coolest things about this is that you can hook up to 10 devices with one signal and is still operable up to 50ft. away.
Fold flat, Tip-and-Slide 2nd row seats, spacious power-reclining 3rd row and Panoramic Vista roof
The SUV comes with a second row that easily "tips-and-slides", enabling more leg room in the third row. As mentioned above, one of the most fantastic features of the vehicle is the amount of leg room in the third row. There's a lowered floor, enabled by the independent rear suspension, which allows for someone at least 6'3″ tall to sit comfortably in the third row without their knees sitting up too high in their chest. And what's better is the third row actually reclines! To add icing on the cake, it also comes equipped with a panoramic moon roof which allows you to see up from both the first and second rows.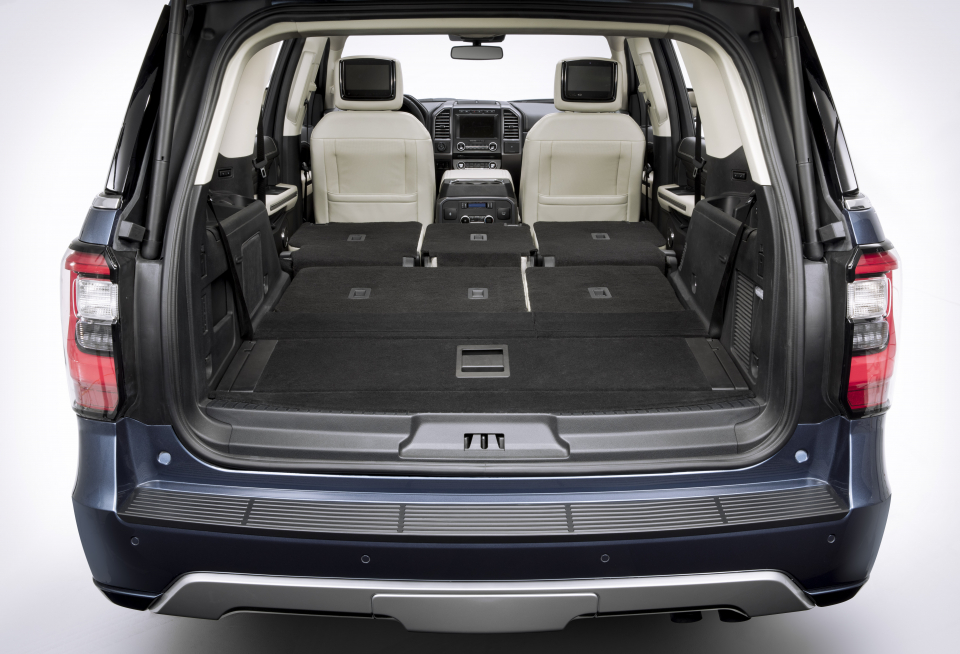 Advanced Cargo Manager
The cargo area was another big plus for me, because along with being a mom of pre-teen boys, I typically have a lot of "stuff" to lug around at all times.  Some of this stuff ranges from sports equipment, to musical instruments', to a couple dozen bags of groceries at one time. The cargo area is super versatile and is sure to meet one of your needs. Some of its features includes what they're calling the Cargo Defender, which allows items from rolling out  when the lift gate is opened.  There's also a new cargo management system which does several things, from functioning as a bulkhead to prevent items from rolling forward, to folding out to create a table that is convenient with tail-gating. They also included the ability to transform the table into a shelf that allows you to compartmentalize your storage. And of course, what's more convenient is that they included grocery hooks that you can hang grocery bags from. Something so simple brought me so much joy!
Bonus: Best-in-class towing and Pro Trailer Backup Assist 
The trailer tow can handle up to 9,300lbs, which is 100lbs more than what was there before, and is also a lot more than what the competitors can handle. It comes with a new trailer back-up assist feature, which is easy enough to learn how to use. I tested out this feature with the guidance of Chris Middleton from Motor City Solutions, and I quickly found out that I was able to actually backup a trailer. It was easy-breezy to maneuver as I just steered the trailer with the turn of a knob, and the steering wheel automatically adjusted. Having never even driven a vehicle with a trailer attached, I was amazed at how simple the technology was to use.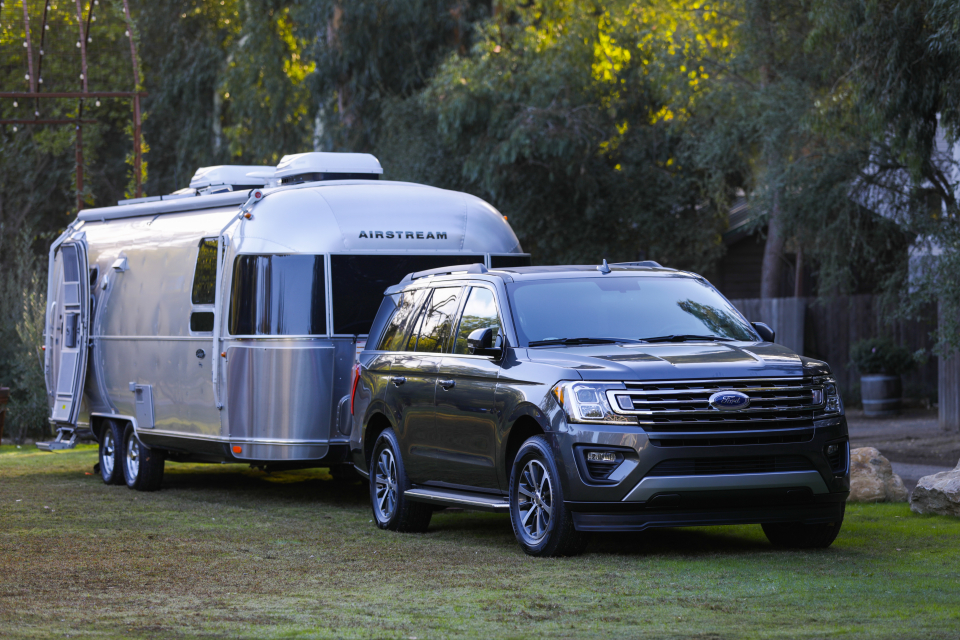 The 2018 Ford Expedition is currently available and you can get one starting around $51K.
Photo Gallery Credit: Porsha Monique for Steed Media, unless otherwise noted.