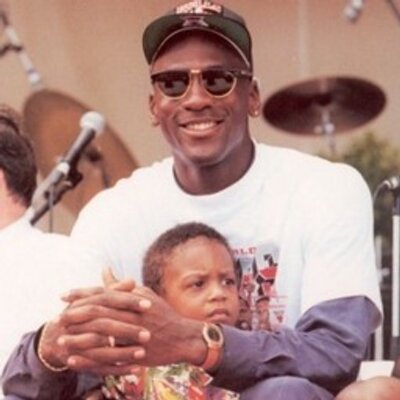 The oldest of Michael Jordan's five children is getting married, and he put a huge ring on the finger of his longtime girlfriend.
Jeffrey Michael Jordan, 29, proposed to his longtime girlfriend Radina Aneva and decorated her digit with a diamond ring that TMZ described as "the size of a knuckle."
Aneva is a Bulgarian native who has her bachelor's in math and computer science and her masters in management. She currently works as the team leader at 20th Century Fox in Hollywood.
Jordan, interestingly enough, goes by the nickname, "Heir Jordan." He played college ball for both the University of Central Florida Knights with younger brother Marcus Jordan and the University of Illinois Fighting Illini. 
Because of his father's immense international fame, Jeffrey Jordan was the subject of local and national media attention and had three of his high school games broadcasted nationally on ESPN in 2007. He also played football during his sophomore year at Loyola Academy, his high school.
Jeff Jordan received scant scholarship offers and finally settled on the University of Illinois as a psychology major with an academic scholarship. Later that year, Jordan left the team to focus on "life after basketball" but returned to the team. Still, he again left the team, this time with a release to transfer to UCF alongside his brother Marcus, ESPN reported at the time. 
In January 2012, Jordan left the UCF team for "personal reasons," according to Fox Sports. 
As of November 4, 2013, Jordan lives in Portland, Oregon, where he has entered Nike Inc.'s management-training program (quite naturally), wrote ChicagoBusiness.com.