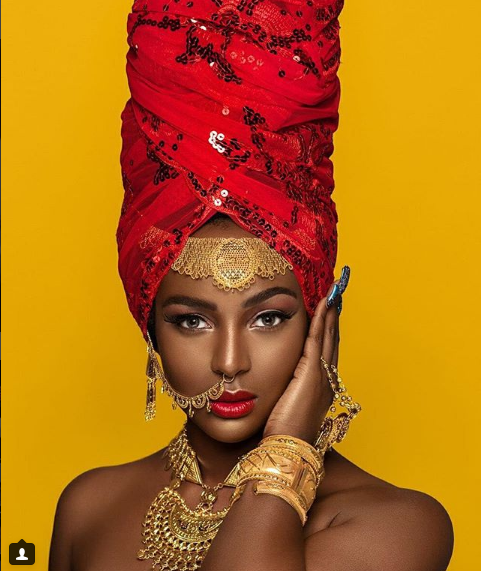 "Love & Hip Hop: Miami" breakout star Amara La Negra is befuddled and exasperated that folks refuse to accept that she is both Black and Latina and proud of her ethnicity. They basically accuse her of being a cultural hoax who camouflages her real appearance with blackface. 
The Miami-born Dominican singer has blasted ignorant fans and haters who accused her of wearing blackface during a live interview with The Shade Room. She reiterated that she's proud of her origins and that she intends to continue to "educate and inform people about Afro-Latinos."
La Negra brought up the accusations again by putting up an old video of herself in a beauty pageant when she was young, writing, "Well Yea I guess I was Born in a 'Black Face Body!'
"Its funny that I even have to go through this and show you baby pictures or videos to prove to blogs and people on social media that my skin color is not airbrushed or spray tanned nor do I take melanin shots to be black!"
There has been at least one person imitating her — or better yet, mocking La Negra. In 2016, former Dominican beauty queen Geisha Montes de Oca was on the variety show "Aquí Se Habla Español" in blackface, an Afro wig and padding that made her posterior appear larger.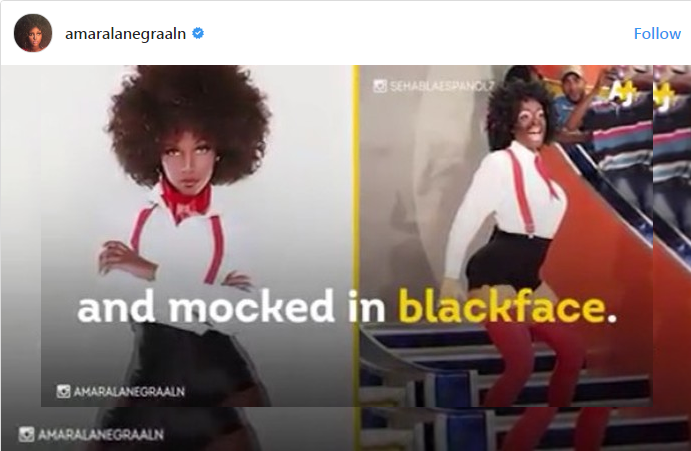 La Negra answered the mocking of her heritage with this caption: "Get to know Me! Get to know my story! Get to know My Reasons First! Only if you guys Truly knew how hard this journey has been for me. But i REFUSE to fail! I will NEVER GIVE UP! I want you guys to be Part of My Story! Part of My success! #TeamAmaraGraciasATodosLosQueMeApoyan #AmaraLaNegra #SoyDominicana #AfroLatina #Latina#Negra."
The singer put the picture of Montes de Oca up on Instagram and asked people, "What did you all think?"
Observers and haters questioning Amara's Afro-Latina identity is hardly new. And she is still confronted by the quagmire today. In fact, in the first episode of LHHMIA, Amara snaps back at music producer Young Hollywood about her look. 
The producer bluntly and callously told her that her current persona won't work, adding that she needs to replicate a proven formula. Young Hollywood told her that she needed to be "a little bit more Beyonce, little less singer Macy Gray," He also said an Afro is not elegant. He even calls her "Nutella Queen," and says the industry wants streamlined stars and questioned what being Afro-Latina even means. 
Amara fired back at the ignorant and narrow-minded producer, telling Young Hollywood that "not all Latinas look like J.Lo or Sofía Vergara or Shakira, so where are the women that look like myself?"
La Negra eventually walked out on Young Hollywood. But that act of defiance hardly impacted her career. The talented musician just signed a multi-million, multi-album deal with Fast Life Entertainment Worldwide and BMG.