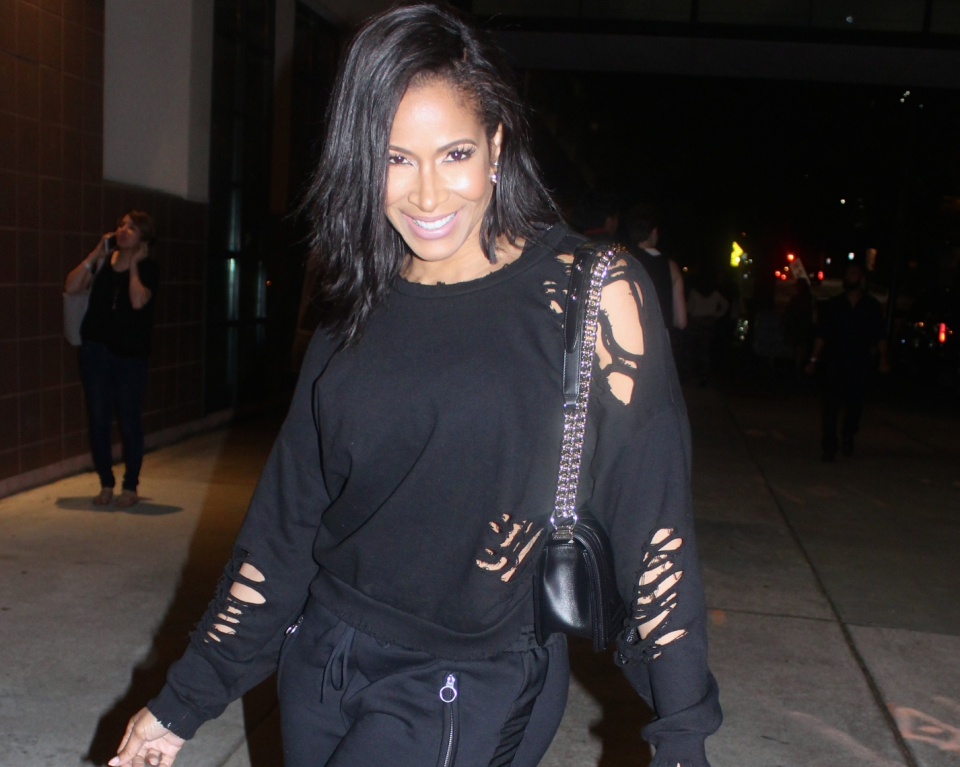 Sheree Whitfield of "The Real Housewives of Atlanta" has had a heck of a time trying to explain her mystery bae to her fellow cast mates. But she was forced to address it when the subject of her mysterious "Love" necklace came up during an episode of RHOA. There, Whitfield finally disclosed she'd been dating Tyrone Gilliams, a man who's currently in federal prison for an alleged white collar crime.
Gilliams is a former Ivy League student who was sentenced on Oct. 31, 2013 in New York by a federal judge to 10 years in prison for wire fraud schemes where he stole and/or laundered more than $5M, reported the Daily Pennsylvanian. 
In addition to the 10-year jail sentence, Gilliams is forced to pay $5M back to his accusers and forfeit $5M more.
Despite Gilliams, a former basketball star for the prestigious University of Pennsylvania, running afoul of the law and being imprisoned for a decade, Whitfield said she is in love and insinuated strongly that she plans to marry him once he is released.
Whitfield, an Atlanta import from Cleveland who was once married to former NFL giant Bob Whitfield, claims this is the best relationship she has ever had.
"I feel like he gets me," Whitfield, 47, gushed as the Atlanta Housewives touched down in San Francisco for a girls trip. "We've been talking on the phone."
Despite getting closer to him than any man she has ever met, Whitfield was nevertheless shell-shocked when Gilliams was whisked away to federal prison. The lovers lost contact for about four years before reconnecting and beginning their romantic relationship. They then dated for approximately eight months before his prison sentence. Whitfield claims she had no knowledge of his situation until he went to prison, PEOPLE reports. 
"I didn't know he went away! We broke up," she said. "We stopped talking before he went to prison because he didn't want to get me involved in any of that."
After graduating from Penn, Gilliams became an entrepreneur, founding the firm TLG, TL Gilliams, LLC, a commodities trading firm. Soon he began to make noise in philanthropic and hip hop circles. 
Prosecutors said Gilliams and Everette Scott Jr. conned businessmen out of $5M in other states. According to the Daily Pennsylvanian, Gilliams guaranteed investors returns as high as five percent per week. Gilliams also told his investors he had a U.S. Treasury STRIPS Trading program where he would pool money from investors to have buying power to purchase large shares of STRIPS. He said it was "virtually risk-free." 
However, the millions were rerouted and put into a gold venture, a warehouse in Denver, and the money was diverted again to upgrade his home and to promote a Bahamas comedy show. There were other cases of laundering and fraud before he was tracked down by federal agents in 2011. 
Nevertheless, after the couple disconnected, Whitfield and Gilliams reconnected and have been tight ever since. "You know what, honestly, I've gotten to know this man on a much deeper level," she told PEOPLE  in November. "Probably deeper than I've ever known anyone. We have nothing but time to talk and get to know each other."
"He's a good guy and, you know, he supports me. I can talk to him about anything. He's my best friend," she continued telling PEOPLE. "He just got caught up in the wrong craziness, and hopefully he'll be back soon."