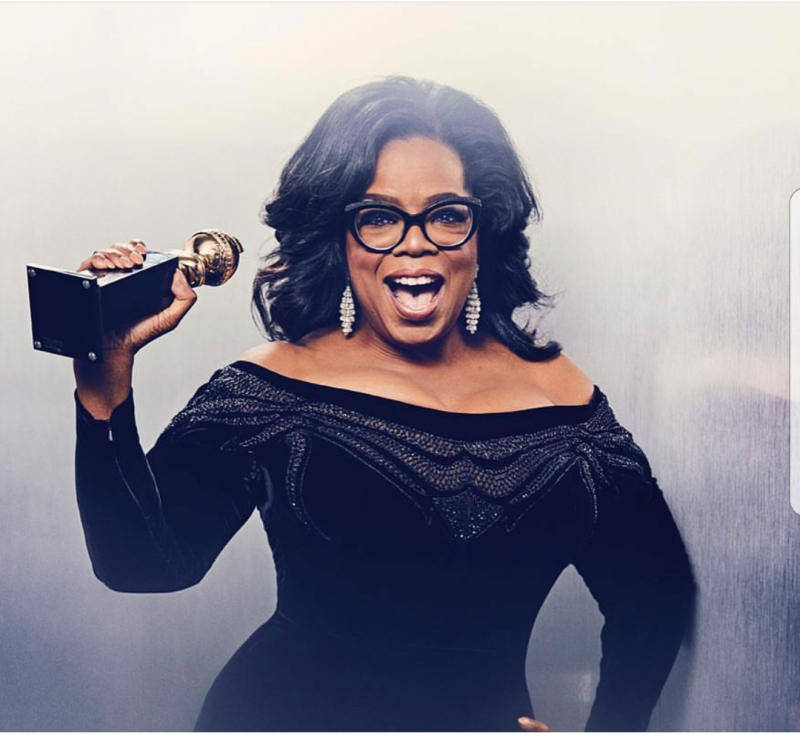 Oprah's acceptance speech set the internet on fire with tweets like "Oprah for President!" and #oprah2020. The Cecil B. Demille award winner made history at this year's Golden Globes as the first Black woman to win the prestigious award for her "outstanding contributions to the world of entertainment." Before a room full of Hollywood's elite hanging onto her every word, the media maven gave a riveting speech calling out men who have abused their positions of power while thanking the women brave enough to speak up. And to the young girls watching, Winfrey has this message.
"I want all the girls watching here, now, to know that a new day is on the horizon!" an emotional Winfrey told her mesmerized peers. "And when that new day finally dawns, it will be because of a lot of magnificent women, many of whom are right here in this room tonight, and some pretty phenomenal men, fighting hard to make sure that they become the leaders who take us to the time when nobody ever has to say 'Me too' again."
By the end of her inspirational speech, there wasn't one person in the audience left untouched.  
ICYMI: Oprah's Golden Globe speech, here's why we're still crying
"Let me tell you this room is still vibrating from that speech! #OPRAH #micdrop #TimesUp #MeToo #GoldenGlobes," "Queen Sugar" and Selma director, Ava Duvernay, later tweeted.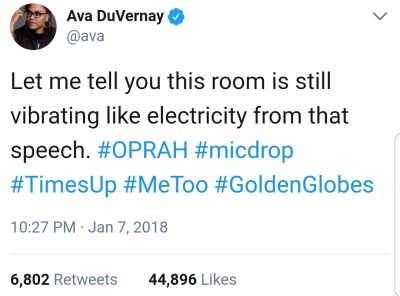 Dwayne "The Rock" Johnson echoed the sentiment in the room by telling the Los Angeles Times how "incredible" she was and how "very moved" he was by her words while stars like How To Get Away with Murder actress, Viola Davis fiercely applauded, dame Meryl Streep smiled and Blackish star, Tracee Ellis Ross couldn't stay in her seat. Her electrifying speech sparked a standing ovation that quickly filled the room. The Twittersphere instantly lit up with celebs and viewers alike calling for the Oprah Winfrey Network (OWN) founder to announce her candidacy for president.
"Our president is giving her state of the union," New York Times best-selling author of "Bad Feminist", Roxane Gay proclaimed.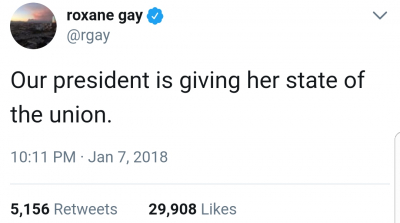 "If that speech doesn't make you want to change the world, nothing will." #Oprah #oprahforpresident, one viewer posted.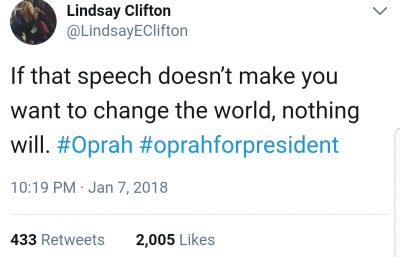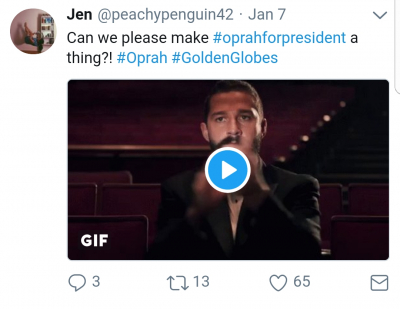 This is not the first time that the mass hysteria surrounding Oprah running for office has taken over the headlines. The question has been raised during various interviews with different media outlets over the years to which Winfrey has always responded with a resounding "No. That's not going to happen" or "Not in this lifetime." Even backstage at the Golden Globes, she continued to deny her interest. The 63-year-old billionaire has acknowledged the reason why she has steered clear of politics most of her career is out of fear of her lack of experience with the subject.
"I didn't want to delve into the world of politics because I felt I lost control," she revealed during a previously aired episode of the "Making Oprah" podcast.
Fast forward to 2018. With the reality show currently playing out on Capitol Hill, a former daytime TV correspondent making a serious run at the Oval Office doesn't seem so far-fetched. The notion of another celebrity in the White House wasn't lost on Bloomberg TV's David Rubenstein who reminded Winfrey last March that "it's clear you don't need government experience to be elected president of the United States" when he posed the idea before a live studio audience. While rumored unnamed sources close to the A Wrinkle In Time star claim she is strongly considering a 2020 run, Oprah's lifetime partner, Stedman Graham, has all but confirmed that she is open to the possibility.
"It's up to the people," Stedman told an LA Times reporter. "She would absolutely do it!"
Certainly, a 54% approval rating and the business acumen necessary to transform a fledgling TV network from a failure in its infancy to a success are admirable qualities in a presidential candidate. Then there's Oprah's countless charitable efforts and continued show of diplomacy through her international charter school, the Oprah Leadership Academy for Girls in Johannesburg, South Africa. So what does number 45 think? Trump has gone on record in the past praising Oprah's capabilities as a politician. When news broke of Winfrey's financial woes shortly after launching OWN in 2011, the Celebrity Apprentice host took to Twitter to tweet his support.
"Some have said that night convinced him [Trump] to run," Saturday Night Live alum Seth Meyers joked during his opening Golden Globes monologue. Meyers was referring to the night of the 2011 White House Correspondents' Association dinner where he roasted the future president relentlessly.  "So, if that's true, I just want to say: Oprah, you will never be president…Now we just wait and see."
What do you think? Oprah for president in 2020? Should she run for office? Sound off in the comments below.
Sterling K. Brown's 2018 Golden Globes speech is #BlackGuyMagic