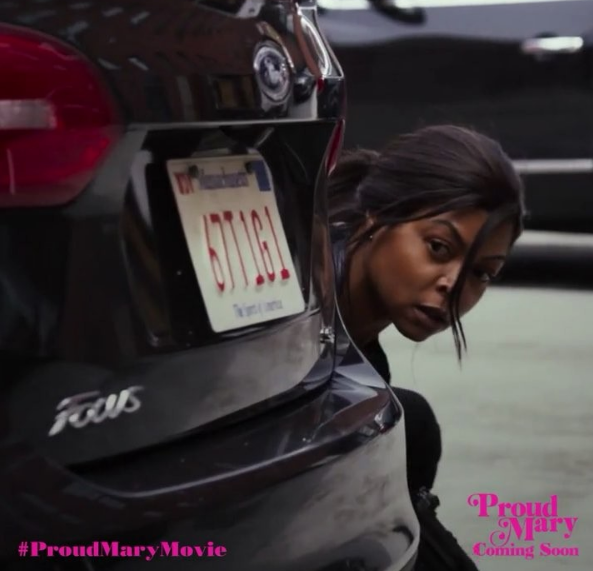 There is a noticeable stench billowing out from the Sony studio marketing offices. Black Twitter has noticed a conspicuous lack of real marketing and promotion for Taraji P. Henson's first leading role in an action film called Proud Mary.
Folks on social media are lamenting the fact that they've been deprived of this type of action-packed film from any Black female since Set it Off stormed into theaters in November 1996, and haven't seen a Black female action hero (or villain) since the "Blaxploitation" era in the mid-1970s, a period of more than 40 years.
Furthermore, Henson is not some "third-string scrub," to borrow a sports vernacular. Henson is a star player. She is the face of Fox's blockbuster of a weekly drama "Empire," which has blown away the competition since its inception in January 2015. She starred in the No. 1 box office films Think Like a Man in 2012 and No Good Deed in 2014, and is about to star in another major motion picture, a Tyler Perry film called Acrimony. In other words, Henson has the experience, the track record and the pedigree, and fans do not feel this is the way to treat a proven star who has carried films.
From the few trailers that have been splashed on television, Proud Mary is popping with great action sequences, stellar stunts and plenty of firearm exchanges. The problem, Black Twitter is decrying, is that the movie is severely malnourished because, in their opinion, it has been criminally neglected by Sony, the studio that is putting out the flick. And they vented their feelings online:
I'm glad Proud Mary mustered up enough of a promo budget so Taraji could give a Facebook Live interview on an iPhone. pic.twitter.com/zsIhGowAPp

— Ira Madison III (@ira) January 8, 2018
I gotta talk about the Marketing for Proud Mary because the only one that seems to care about the movie is Taraji. pic.twitter.com/EtyCbnbGp7

— Vza V. Complex (@ValerieComplex) January 7, 2018
Just adding to the convo about #ProudMary marketing – Sony's record of promoting their Black led films have been garbage for a while now. Examples:
"No Good Deed"
"The Perfect Guy"
"When The Bough Breaks"

— ReBecca Theodore-Vachon (@FilmFatale_NYC) January 7, 2018
Check out the trailer for Henson's action thriller Proud Mary and then peep more angry responses from Twitter about what they believe is a neglected film:
Again, it seems like people on Twitter are doing more marketing than the damn studios. Taraji P. Henson can sell a movie. She deserves a studio who knows that. #ProudMary pic.twitter.com/xHg8zObLlr

— ferdosa | proud mary jan 12th (@atomicwick) January 7, 2018