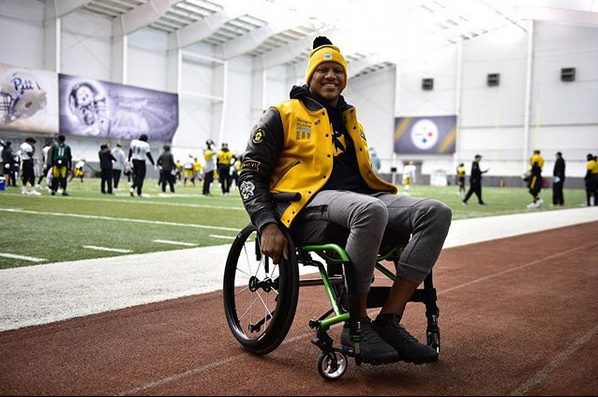 Ryan Shazier has fired up the Pittsburgh Steelers every day since Dec. 4. In a Week 14 matchup against the Cincinnati Bengals, Shazier made a hit on a player and immediately was unable to move his legs. He was only able to turn his head and his body while he was holding his spine. After weeks of being hospitalized, Shazier's now out and on Wednesday he made a visit to the Steelers' practice facility.
"It's great to be back for practices and meetings," Shazier posted on Instagram after his visit. "Just to be able to feel a part of it means the world."
The team has rallied around Shazier in many ways since he's gone down. Fellow team linebacker Vince Williams wears Shazier's jersey number at practice and even sports Shazier's No. 50 on the back of his helmet during games. Defensive end Cameron Heyward ran onto the field before a home game holding Shazier's jersey proudly. After a win, Shazier FaceTimed the team from the hospital and sent the locker room into a frenzy. Even Ben Roethlisberger carried Shazier's jersey off the field on his shoulder after a game this season.
"I want to say thank you to the fans and Steelers Nation for the prayers," Shazier continued in his post. "If it wasn't for my family, friends and your prayers I wouldn't be where I am now. They have lifted me and my family through this journey and I ask for you to continue praying for me, as I continue to work daily on improving my health."
Although his mobility has been limited to a wheelchair now, the 25-year-old was still smiling and joking with the team that plays its first playoff game of the season on Sunday against the Jacksonville Jaguars.
"I want to thank the Lord for the first downs that he has been allowing me to achieve," Shazier wrote in the post. "The touchdown is going to come in his timing, but today was a first down. I was finally able to make it to practice with my teammates."