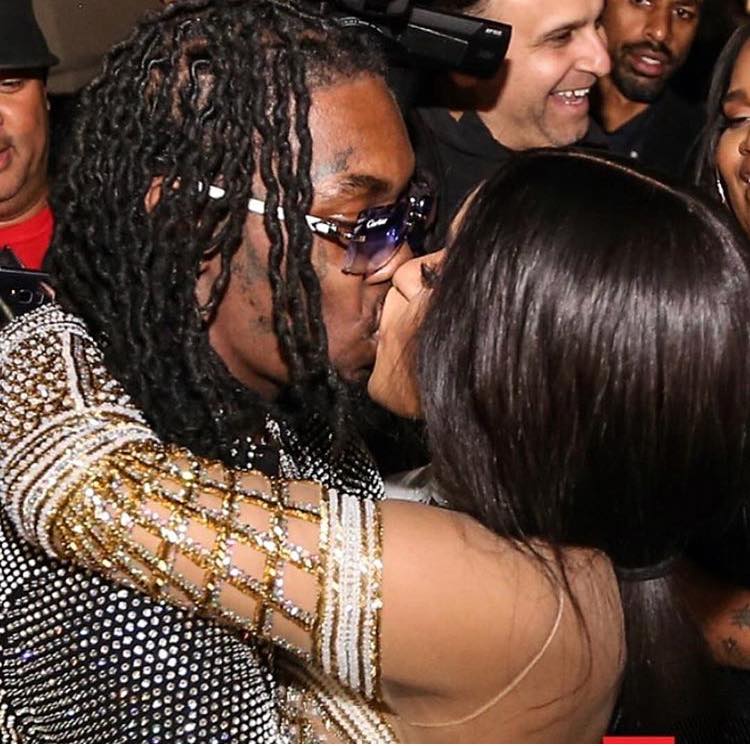 Now that the dopamine from a new romance has worn off, and reality has washed over her, rap sensation Cardi B is looking at her relationship with Offset with a new set of lenses.
Word on the street is that the "Bartier Cardi" rapper may be putting her love life and marriage on hold temporarily. The lyrical lioness has even taken to Twitter to address the latest cheating drama surrounding her fiancé, who happens to be a member of the hit Atlanta-based rap group Migos. 
The first time news hit about Offset stepping out on Cardi with some random side chick, Cardi dismissed the talk and responded by pretending to have sex on with him on Instagram Live. She then released yet another song ("Bartier Cardi") with lyrics expressing her love for him. 
When fans checked Cardi about it, the rap raven popped off strong about how much she loves him because he put a million-dollar ring on her finger and snapping that if she wants to praise her man on record, then the rest of the world needs to get over it. 
While skeptics' chants of a failed relationship grew more and more deafening, Cardi B tried to figuratively put on the headphones to block out the outside noise. But now it appears that Cardi has had a change of heart because she now she claims she needs time to figure out their future together.
because of your fame , some women look up to you. So I guess what you do matters ? 🤷🏽‍♀️

— Corrina♡ (@Vidarrina) January 10, 2018
"Why is it a problem that I want to take my time with a decision on my relationship ?" the "Bodak Yellow" rapper wrote on Tuesday, Jan. 9, in a since-deleted tweet. "Why do I have to explain myself? I don't ask ya why you still with that man that lives with his mom, that don't pay your bills … Since when you guys had [a] perfect relationship?"
When one of Cardi's fans pointed out that "some women look up to you," she snapped, "Why do people look up to me for? Why are people expecting me to have a perfect life? I'm not perfect? Neither is my life, stop looking for other people life to look up too [sic]."
Let's recap briefly: Offset proposed to Cardi on stage during a concert in Philadelphia last October. In late December, a video was leaked online of a man who appeared to be the Migos rapper in a hotel room with a naked woman.
Then, earlier this month, a second video surfaced that appeared to show him in bed with yet another woman. Offset has not publicly responded to the allegations. Furthermore, he sicced his legal hounds on yet another woman who claimed he is the father of her child. The clouds of smoke were just too thick for there not to be a fire underneath it. 
Cardi has one person in her corner, however: Maury Povich. The talk show host told US Weekly that "Cardi B seems to be having some trust issues in her personal life. My show deals with these types of complicated situations on a daily basis. We would love to help Cardi B uncover the truth."