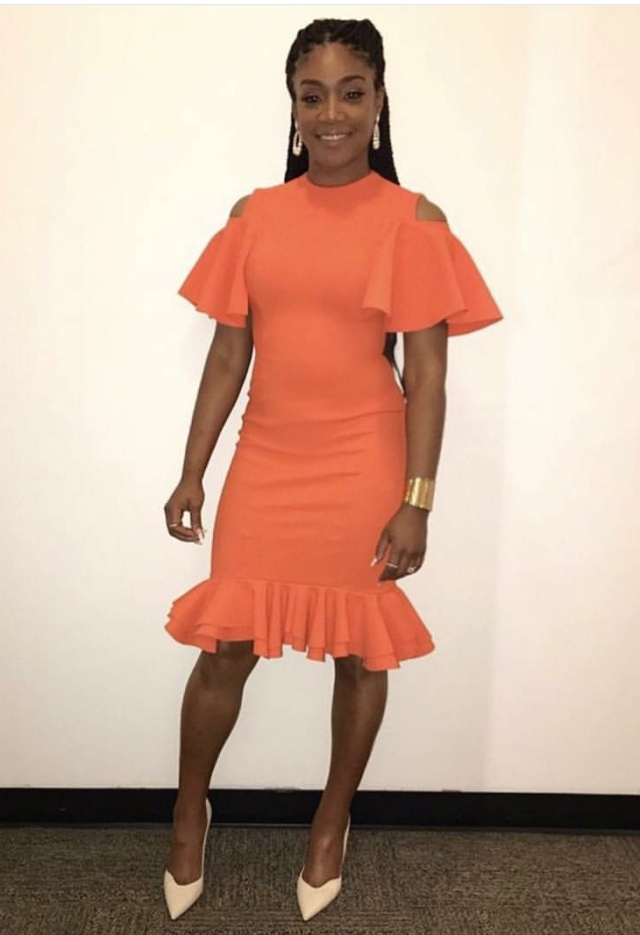 The Tiffany Haddish She Ready tour brought its own brand of risque comedy to Detroit when the tour made a stop at the MGM Grand Casino in downtown Detroit. Fans packed the MGM Grand Ballroom on Saturday, Jan. 6 to catch the Girl's Trip star. Wearing a sequinned baseball jacket and jumpsuit, Haddish kicked off her set by twerking and bopping to the beat before getting down to business.
Much like in her interviews, Haddish's tale of "love lost" with "Roscoe," a developmentally challenged airport employee she dated in her youth, dominated the show and kept the audience in stitches. The Black Unicorn author spun a sweet yet hilarious tale of how "Roscoe" swept her off her feet with "ant-filled flowers" and gifts of Filet O-Fish and "Made in China" jewelry. Despite his speech impediment and noticeably deformed "baby hand," his conversation and how he saw her as "the most beautiful girl in the world" allowed her to see him in a different light. She made up her mind after that she was going to "rock Roscoe's world" and the story of how he "put it on her" with his "strong hand" soon followed. The end result? Gut-busting, tear-jerking, hand-clapping laughter.
Haddish is a master storyteller, but more importantly, "The Carmichael Show" comedienne is a humanist. Underneath all that comedic gold, the dance moves and "around the way girl" attitude, there's a message.
"Do what you love to do," Haddish said. From the moment she crip-walked out on stage, it was clear she has been doing just that. With a best-selling memoir, New York Film Critics Award for Best Supporting Actress and a box-office hit film under her belt, Haddish's star continues to shine. The 38-year-old actress hinted at starring in an upcoming TV project for TBS produced by Jordan Peele. Tracy Morgan and Cedric the Entertainer will co-star.
"What do you love to do?" she asked an audience member. "Do you love working at the plant? No … if you love drawing. Do it! Draw every day …. draw on your lunch break!"
All jokes aside, aren't we all just looking to do what we love?
Follow the Tiffany Haddish She Ready tour as it hits the road in 2018. Next stop? St. Louis on Jan. 26. For the full tour schedule, please visit Ticketmaster to catch Haddish in a city near you.