'LHHH' star Princess dumping husband Ray J? This is the cause of the problems
Much like the Kardashian clan, what brought Ray J fame was not his rapping or acting skills or his prodigious studio prowess. His national notoriety emanates from the multimillion-selling porno tape that he made with then-unkown Kim Kardashian — and also what he did in the video.
But what has brought him fame and relative riches could be causing the implosion of his short-lived marriage, if his wife, Princess Love, is to be believed. She seems to have left an ominously threatening message that she is prepared to leave the the rapper and notorious Hollywood playboy.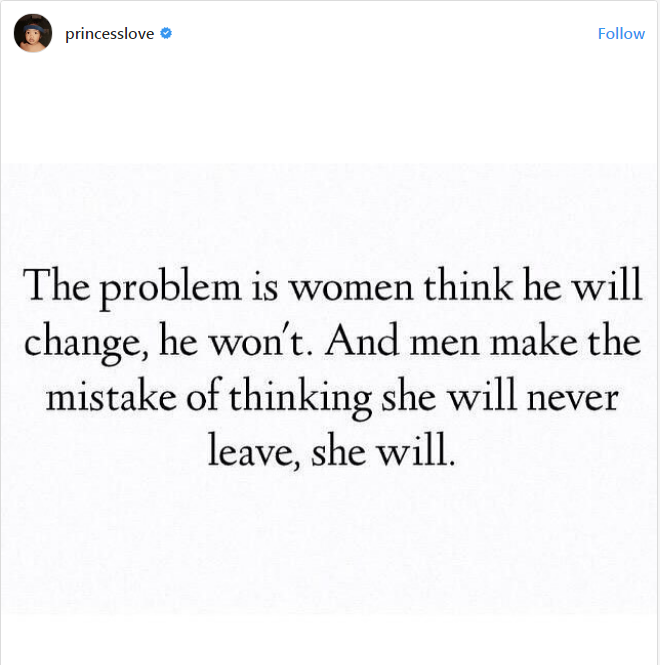 "The Love & Hip Hop Hollywood" star's wife made the menacing message in a disgust-filled post on Instagram, captioning the above post with the saying he can keep "foolin the world but you can't fool me anymore."
And, as The Sun reported just a year ago, Ray J was given a stern warning by his stunning new wife not to cheat during his time on "Celebrity Big Brother," or their marriage would come to an immediate end.
Ray J, 36, shocked some viewers on the show when he claimed that he cheated relentlessly on former girlfriend Kim Kardashian without a conscience.
What exacerbates the situation is that Princess Love is pregnant with their baby, so if the speculation proves true, Ray J had to have committed some particularly egregious transgression for her to leave under such circumstances.
Of course, folks are speculating that it's because of Ray J's dalliances outside his marriage. Ray is a known player and there is an Instagram video that is floating through cyberspace that is telling on the former "For the Love Ray J" star. The brother of singer Brandy apparently made a video in his hotel bathroom to post up and it looks like a woman is in the shower. Ray J doesn't seem to notice that he has told on himself.
The King of Shade 1, which posted that photo of Ray J, captioned the photo this way:
"Chile @rayj Dumb Self Got Caught On Live With Another Woman In His Shower And His Preggers Wife @princesslove Has "Allegedly" Left His Cheating A–. I Knew They're Marriage Wasnt Gone Last. Hell Princess Should Have Know That #Rayj Wasn't Gone Change. Then I Was Thinking This Could Be A Storyline "Created Drama" Situation For #LHHH #RayJ #PrincessLove."
What do you think about Princess Love's cryptic and heat-seeking Instagram post? Do you believe she was referring to her husband, Ray, and do you believe her when she promised to walk if he cheated?