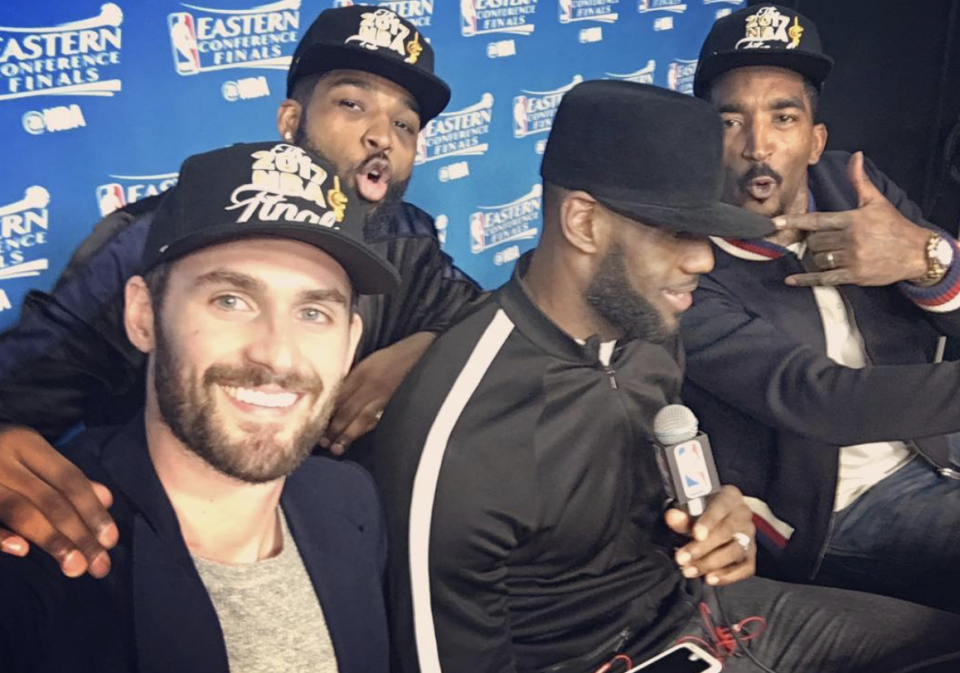 There's a new chapter on the turblent flight that has become the Cleveland Cavaliers season.
After an embarrassing 24-point loss to the Oklahoma City Thunder in regulation, star forward Kevin Love left the arena sick, according to reports. Love went out during the rout against the Thunder early in the first quarter and never returned. Love then missed practice the following day.
The Cavaliers have lost five of the last six games and the team currently ranks 29th in the defensive ratings. Cleveland had a team meeting on Monday that was "emotional" as described by Adrian Wojnarowski. In the meeting, many players challenged the validity of Love actually being sick over the weekend.
Love then defended himself to the coaches, teammates and staff, Wojnarowski said. The meeting ended with some issues worked out, but the rest remains to be seen.
Reporters who have followed this team for the last four years since LeBron James returned to Cleveland have said that the superstar has a voice in a majority of the decisions made in the organization. In that timeframe, the team has fired one coach while having the best record in the East and a lot of big names past their primes joined in to make the Cavaliers the oldest team in the league.
Cleveland is trying to get used to playing with the new starting point guard Isaiah Thomas, while also trying to reinsert the backup point guard, Derrick Rose, back into the fold. Dwyane Wade has shown flashes of the star he's been his entire career, but it finally seems like the injuries have caught up with him this year. Iman Shumpert has been injured and Kyle Korver's shot continues to decline from his final days in Atlanta.
In the wide-range view of things, it's only January and the team should be in a position to once again overcome the regular season drama to perform in the postseason, however, there are some concerns, particularly in this season. The team was initially built by trading No. 1 pick Andrew Wiggins to the Minnesota Timberwolves for Love. Now, the team is in more discussions to trade another top projected pick the franchise acquired from Brooklyn to get another veteran player to solve the short-term solution to win a championship. Constantly aiming for the short-term solution appears to be Cleveland's problem.