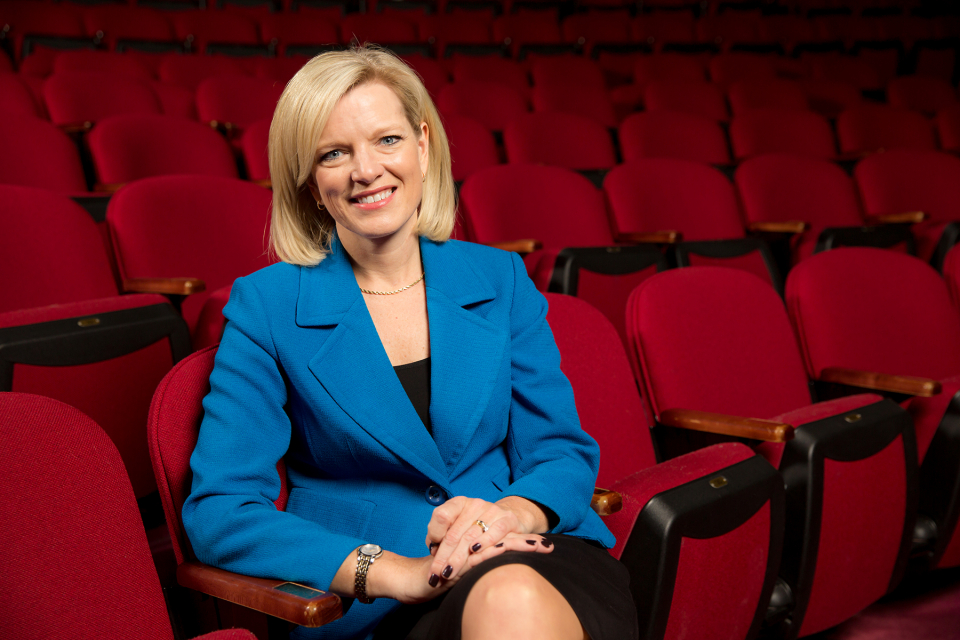 Kimberly Motes is the managing director for the nation's largest theater for young people, Children's Theatre Company, where she leads all business aspects for the theater. She's approaching her second anniversary in the role.
Previously she served as the senior vice president for institutional advancement at the University of St. Thomas, vice president for institutional advancement at the College of Saint Benedict, managing director of Theater Latté Da and the first executive director for The Cowles Center for Dance and the Performing Arts. In Washington, D.C., Motes served as director of development at Arena Stage and directed adult arts education programming at the John F. Kennedy Center for the Performing Arts. She serves on the board of directors of the Minneapolis Downtown Council and Ivey Awards. She is a member of the Minnesota Women's Economic Roundtable and the Women President's Organization. Motes is a graduate of the College of Saint Benedict with a bachelor's in music with a minor in management.
Motes' experienced her first theatrical play at CTC, The Little Match Girl. Here, she shares how she landed in arts administration.
How did you arrive at this career choice? Was it a deliberate decision or a gradual and natural evolution?
As I was making college decisions in high school, I told my father I wanted to be a singer.  He said, "That's nice but how will you live? Why don't you look into the business side of music." He really wanted to steer me to business. I looked into music business and discovered there were many avenues within the arts administration field. I majored in music and minored in business and have spent 25 years working to advance the arts through the business side. I absolutely love it and am thrilled to be working at Children's Theatre Company as the managing director. I love to encourage young people who are interested in the arts to consider working behind the scenes either backstage or in the administrative areas.
What separates you from others in your field? What is unique to the experience that you create?
Children's Theatre Company is the nation's largest and most acclaimed theater for young people and families. We create world-class productions for multigenerational audiences that educate, challenge and inspire young people and their communities. We are focused on new work and have commissioned, developed and premiered 65 works for the stage. Many of our plays [and] musicals have a life after CTC through touring, transfers and co-productions and through Plays for Young Audiences, our licensing division.
One of our priorities is ACT One, which works to eliminate inequities and barriers to arts participation. We are focused on engaging and building partnerships in four key communities: people with disabilities, communities of color, LGBTQ, and low income families. For example, our ACT Pass program provides $5 tickets to low-income families. Last year, we provided over 12,000 tickets to these families.
We are excited to be partnering with Penumbra Theatre Company to co-produce the first major production of "The Wiz" in Minnesota. It brings the best of our two organizations together to create a fantastic show. Leadership at both organizations is committed to forging a deep and equitable partnership that will indelibly impact both organizations for the better. I have thoroughly enjoyed our work with Sarah Bellamy, artistic director, and Amy Thomas, managing director, at Penumbra in building this relationship and am excited about our future work together. We are both national theatre leaders in our respective fields and we both serve the Twin Cities.
Do you think there are widely held misconceptions about what you do? If so, what are they and how do you work to dispel them?
Many people think you have to come to CTC with children. Not true. People have referred to us as the "Pixar of theatrer" because both adults and children experience something that connects to them. We recognize that our audience is multigenerational and many of our productions have powerful themes that resonate deeply for both children and adults. Approximately 18% of our audience attend CTC productions without children. As one of the top 20 regional theatres in the country, our productions are very high quality and adults appreciate the thoughtful storytelling and production values. "The Wiz" is a great example of this.
How do you map out your goals? How do you measure your success?
Last year, our board and staff worked together to build a three-year strategic plan that reaffirmed our mission, vision, values and guiding principles. The plan articulates key strategic objectives, goals, strategies and measures. The objectives focus on our brand articulation and experience, audience engagement and education, seizing national opportunities and philanthropic investment and involvement by the community. It also includes themes for our work that are focused on superior engaging experiences, diversity and inclusion and financial stability and organizational capacity.
Name three books, works, performances or exhibits that changed how you view life and/or yourself.
There are so many experiences through arts and culture that have impacted my life. Profound arts experiences are able to reach into your soul and touch the emotional core in life changing ways.
This summer I read two powerful books that were recommended on a couple of lists: Huffington Post's list of 16 books about race every White person should read and Brene Brown's list of books that changed her life. The first was Between the World and Me by Ta-Nehisi Coates which provided a beautiful, poetic memoir of the reality of life as a Black man in America. Just Mercy by Bryan Stevenson, executive director of the Equal Justice Institute, was both disturbing and uplifting about the justice system and the injustices that exist. Stevenson has dedicated his life to working to change the system and save lives of those unjustly treated. It is a powerful book with heartbreaking stories that reveal flaws in our system as well as the need for mercy and redemption.
Why do you consider continued learning important?
Life has a great deal to teach us and how we incorporate new experiences shapes who we are and how we interact in the world. As a curious, lifelong learner and a leader, I am always striving for continuous improvement in my work and the work of the organization.
What is your favorite vacation destination and why?
Anywhere with my husband and children. Our family, like most families, is incredibly busy. There is nothing better than the five of us together away from schedules and activities.
If you could change one thing about the world, what would it be?
We would eradicate situations that cause trauma in young children's lives. The effects of trauma in early childhood have life-long consequences for both mental and physical health and breaking this cycle of trauma at this stage of life would have an exponential effect on many other issues in our community.
If you could change one thing about you, what would it be?
I would be more patient.
What keeps you inspired?
I am incredibly inspired by the generosity in our community of time, talent and treasure. The commitment to volunteerism, philanthropy and helping others is remarkable.
I am also inspired by the children I meet through CTC at the theatre and in school classrooms where our education staff are working. Their creativity, their minds and their hearts are optimistic, engaged and resilient.