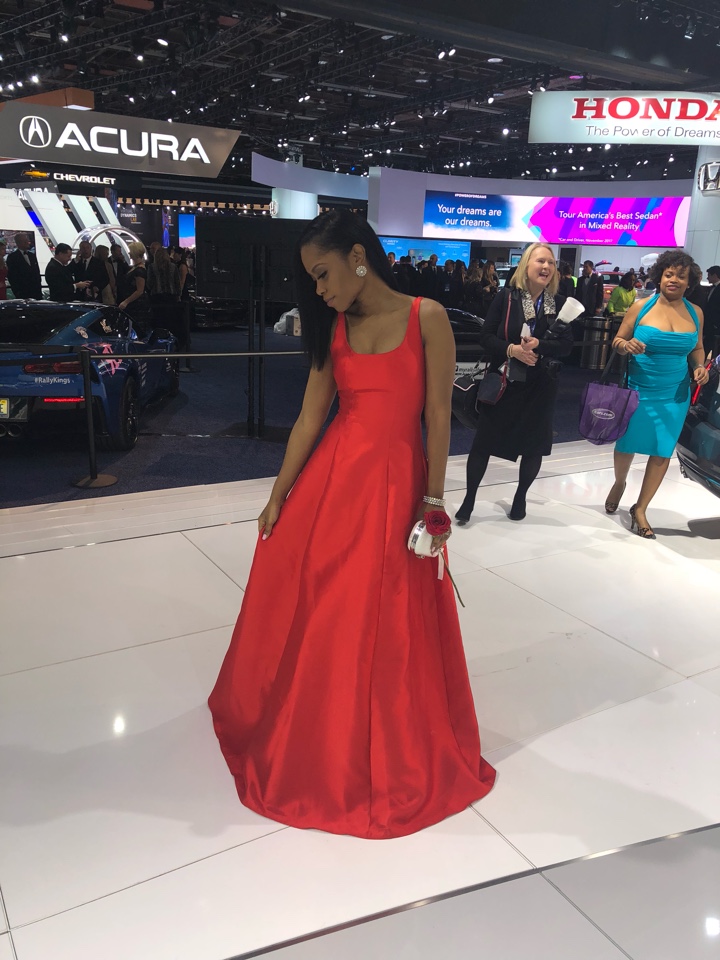 Detroit based fashion curators at The Styling Closet dished to rolling out on top trends that owned the night at the at the 2018 North American International Auto Show (NAIAS) Charity Preview.  TV/radio personalities, business executives, politicians, car enthusiasts and fashionistas descended on Cobo Hall during Detroit's "auto prom" to support southeastern Michigan children's charities and The Styling Closet was there to catch all the action.
As one of the distinguished styling teams in metro Detroit, The Styling Closet, founded by fashion stylist Latrice Delgado-Macon, has created signature looks for some of the Motor City's elite and continues to blaze a trail toward the forefront of fashion. The former fashion model describes the brand as go-to-chic, contemporary fashion for the confident, sexy, modern woman. When defining what's on trend, Delgado-Macon hinted at eye-catching metallics and sequin numbers in addition to classic hues like black and blue. She correctly predicted that these same trends would shine bright on the red carpet, as stated in a previously aired pre-show style segment of the NAIAS Charity Preview Gala on Fox 2 News. And shine bright they did!
"The biggest trend of the night had lots of sequins and the colors red, black and shades of blue, but the color that caught everyone's eye was the statement color yellow," the self-made entrepreneur reported.
Miss Michigan 2018 Elizabeth Johnson turned heads in a sparkly red sequin La Perla number with a thigh-high split that channeled Jessica Rabbit, while Delgado-Macon took a more demure approach in a timeless cherry red ball gown with a scoop neckline.
While the gala brought out a sea of partygoers dressed up in black, navy and cobalt blue, WDIV Channel 4 news anchor Rhonda Walker stole the show in an origami-inspired, vivid yellow one-shoulder couture gown by designer Katerina Bocci. The stunning, satiny Bocci creation featured cascading ruffles gathered on the side and instantly won The Styling Closet founder's Best Dressed award of the night.  
Not to be outdone by the belles of the ball, the men of Detroit cleaned up very nicely as well, as they donned black tuxedos or extremely dapper suit-and-tie combinations. Some fellas even stepped outside of the box with navy tuxedos or suits with black lapels, while others opted for printed or embellished blazers.
Next level innovation draws 1M auto enthusiasts to NAIAS in Detroit
Fashion's biggest night in Detroit definitely lived up to its reputation to the tune of over 13K attendees, raising approximately $5.1M. To preview some of The Styling Closet's favorite dazzling gowns and debonaire suits, check out photos of the excitement of the 2018 NAIAS Charity Preview below.