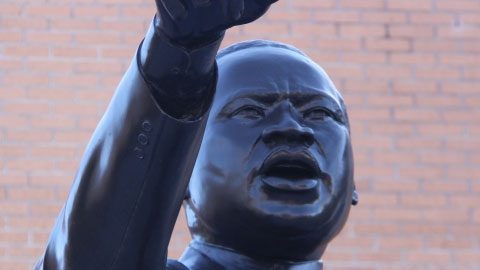 In the city of Atlanta, the annual celebration of the birthday of Dr. Martin Luther King Jr. is a sacred and cherished event at Ebenezer Baptist Church. Each year hundreds pack the sanctuary to hear comments, speeches and tribute to Dr. King by politicians and celebrities.  Last week's commemoration has now been marred by a political ad filmed without permission of the church by Stacey Evans, a Democratic gubernatorial candidate in Georgia, who also happens to be White.
The ad, which was posted on Instagram by her campaign, features a music and images from the event while Evans interacts with Black people as if she has been done with the struggle. It ends with Evans clapping in slow motion while a picture of the candidate and Dr. King appear to fade into each other.
After receiving complaints from the public, the ad was removed from the Evans campaign Instagram account but is still appearing in social media. Rev. Raphael Warnock, the current pastor of Ebenezer Baptist Church, where Dr. King was the pastor, released the following statement:
"It has come to our attention that the campaign of a political candidate filmed and produced a political ad in our horizon sanctuary last week during the Annual Martin Luther King, Jr. Ecumenical Service. This was done without our knowledge, authorization or consent. When we became aware of the ad, upon its release on various social media platforms, we immediately contacted the campaign and asked that it be removed.
"While it appears that the campaign did comply with our request, the ad has since gone viral and has created considerable conversation and questions on social media and in other public spaces. So, we thought it important to clarify that Ebenezer Baptist Church, in accordance with its 501 c(3) status with the Internal Revenue Service, cannot and does not endorse political candidates. Additionally, our church leadership and administration does not condone such use of the church's iconography or worship space. Any official videography and photography should be approved by the church office in advance. We ask our guests to respect the sanctuary and all those who work to create this sacred space.
"The season of the Martin Luther King, Jr. Observance brings together people of very diverse backgrounds to share in and reflect upon the legacy that Dr. King left us all. Joyfully, we welcome people of all faiths, races, political orientations and backgrounds to worship with us throughout the year, as we create together the Beloved Community."
The ad can be viewed below.