Left Eye's goddaughter Star Martin aims for top spot in the music industry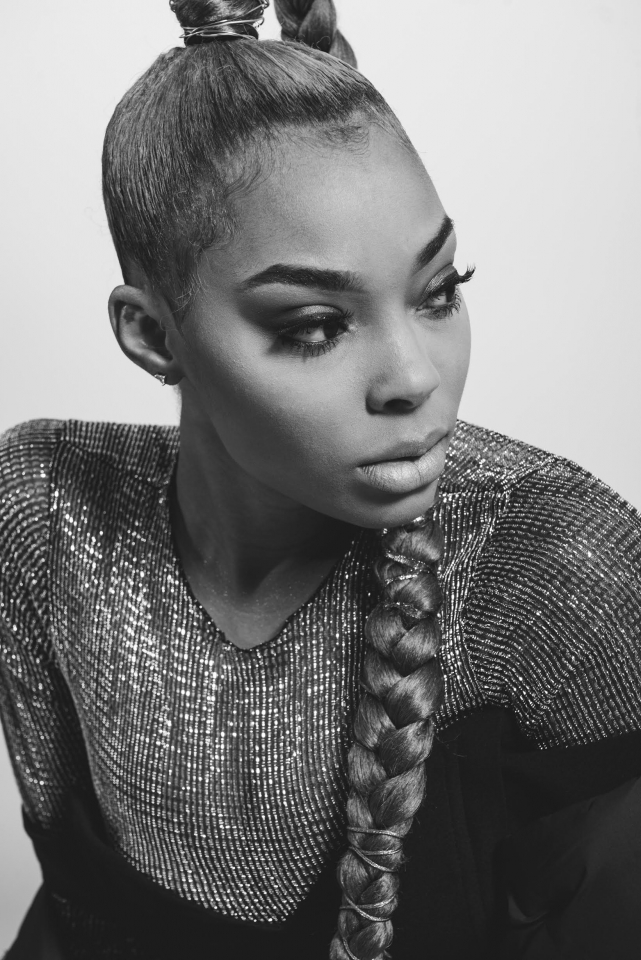 Photo credit: Marcelo Pancote
Star Martin just may be the next big music sensation coming out of the Midwest. Martin, who is also the goddaughter of the late Lisa "Left-Eye" Lopes of the '90's female group T.L.C., has signified her style of music as "trap pop," and has claimed a name for herself with her previous smash-hits "Karma" and "Pre-Game."
Martin is now ready to take her new music to the next level with her upcoming four-part series EP, 4play, set to release on Feb. 13. The new EP is expected to come with "bangers" as Martin phrases it, and if you've heard her previous tracks, you can only expect that she's telling the truth.
Martin sat down for an interview with rolling out to share exclusive details about her new EP and her relationship with Lopes.
Give us some background on who Star Martin is.
I've been into music my whole life. Both sides of my family have music in them, so it was like I was destined to do this. Also, Lisa "Left Eye" is my godmother. This is my life; it was chosen for me. I've been doing beauty pageants, and acting for my family and friends. I went to acting school. Music is, of course, my first love. I've been focusing on my music now, but I've pretty much been doing it my whole life.
How would you describe your sound and brand of music?
I've always said that I am "trap pop." So, like an urban pop type of style, just because I can't really put myself in a box. I [relate] to things differently, just because of the things I know.
Tell us about the project you are working on now and what inspired the newly released song "Karma."
I am working on a series of records which is a four-part series called 4play, which will be out Feb. 13. [With] "Karma," I was in a bad relationship and after I got over the bitterness of it, I know that it's a part of the [relationship] process. I got to the point where I really wanted the best for us. But now it is out of my hands and [I] let karma do its thing.
You're currently working with the elite producers, Mike "Snotty" Miller, Rill Noize, Squat Beats & Deats. How has it been working with them on your new EP?
Well, Mike and I have been emailing and having phone conversations, so I haven't sat down with him [in person] yet. But he has done a record for me. Rill is so funny; I love him to death. He is always happy and always wants to talk about fun stuff. I am just happy to have people on the same page as me.
When can the fans expect to hear the finished product?
I am doing more singing ballads on there. This is a warm introduction to who I am and the type of music I am going to hit everybody with just because it is so different and on the next level. I am putting bangers on there because I want you guys to have nothing but the best. It's going to be turnt, just like I said [the music style] "trap pop" is, the exact definition of [the EP].
Lisa "Left Eye" Lopes was your godmother. What was that relationship like growing up? What impact has her life had on your life? What does her legacy mean to you?
When I was younger, I didn't understand the concept of her being a mega star. She was someone that I knew who showed me love, a [true] nurturer. She was a nice person and a beautiful soul. I knew that she was a celebrity, but at that point of my life I was young and I didn't completely understand until I got older. I started watching more of her [videos] and I am so much like her it's crazy. She was so much into astrology, the universe and spirituals. All that makes me think that everything happens for a reason and she was my godmother for a reason. I believe that's not a coincidence and it's crazy to see that in the studios I walk into now. They still honor her and her group and it is so beautiful to me; I love it. It's just really inspiring.
You're a singer, songwriter, and college graduate from the Kim Dawson Conservatory in Dallas. What made you pursue a degree in the field of film and dramatic art?
I didn't want to go college, but my mom and my family was like, "No, you have to do something." I didn't really like school; it didn't interest me. I would be in my math class writing raps and I am not even a rapper. I would always think, I am not going to use this, so I would never pay attention. I've always been a movie girl. My mom was just like, "Hey, you're going to do this." [College] was the best thing that I have ever done in my life and it gave me so many tools that I use for singing.
What's the best piece of advice you've been given while being in the music industry?
I would say the best piece of advice is not to mix business with pleasure. It's so easy to get those blurred lines and telling somebody something personal can linger off into the business. You want to keep a very solid, strong, non-lenient type of persona in the business field. My biggest thing is to keep it business at all times.
How can the fans keep in contact with you?
I am always available for my fans and they can reach me on any social media site.
Instagram: @iamstarmartin, Twitter: @iamstarmartin
Check out Star Martin on her website, www.starmartinmusic.com