Kesha draws tears with emotional 2018 Grammy Awards performance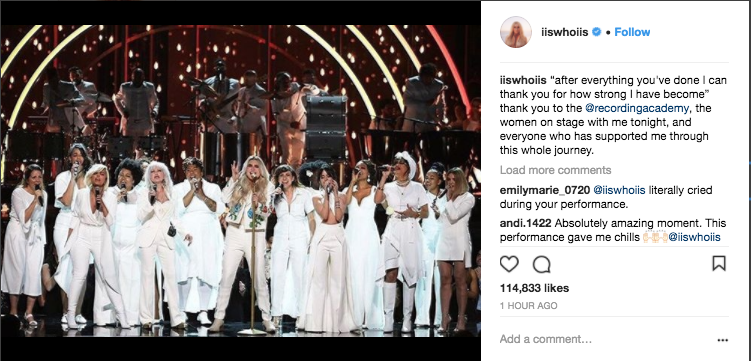 Kesha stole the show with her emotional performance of "Praying} at this year's Grammy Awards.
The 30-year-old singer was joined on stage at New York's Madison Square Garden on Sunday January, 28, 2018 by Andra Day, Camilla Cabello, Cyndi Lauper, Bebe Rexha, Julia Michaels and the Resistance Revival Chorus for a performance of her hit single, with the group dressed in white to echo the white roses worn to the event by those supporting the anti-harassment Time's Up initiative.
Kesha was visibly emotional and fought back tears as she sang the track, which is about the alleged abuse she suffered at the hands of producer Dr. Luke.
And afterwards, she tweeted, "after everything you've done I can thank you for how strong I have become" thank you to the @RecordingAcad, the women on stage with me tonight, and everyone who has supported me through this whole journey.(sic)"
Singer Janelle Monae had introduced the performance with a call for equality in the music industry.
She said, "We come in peace, but we mean business. And to those who would dare try to silence us, we offer you two words: Time's Up.
"We say time's up for pay inequality, time's up for discrimination, time's up for harassment of any kind, time's up for abuse of power. We also have the power to undo the culture that does not serve us well. It's not just going on in Hollywood, it's not just going on in Washington, it's going on in our industry."
Elsewhere during the event, Kendrick Lamar received a standing ovation for his performance, which saw him open the show with a medley of his hits including 'XXX' and 'King's Dead'.
Lamar – who won five Grammys – was accompanied by U2's Bono and The Edge, as well as comedian Dave Chapelle, and had a giant American flag and dancers wearing hoodies who collapsed to the sound of gunshots.
Chappelle said of the performance, "I just wanted to remind the audience that the only thing more frightening than watching a black man being honest in America, is being an honest black man in America."
Eric Church, Maren Morris and Brothers Osborne teamed up for an emotional tribute, singing 'Tears in Heaven' in honour of the music fans who lost their lives during the shooting at the Route 91 Harvest Festival in Las Vegas in October and the terrorist attack at Ariana Grande's concert in Manchester, North West England, last May.
Chris Stapleton and Emmylou Harris paid tribute to the late Tom Petty, who passed away in October, by performing 'Wildflowers'. Their performance also served as a memorial to others from the music world who lost their lives last September, with a montage of artists including Chuck Berry, Fats Domino, Don Williams, Hugh Masekala, Jerry Lewis, Prodigy, Chris Cornell and Chester Bennington airing during the segment.
Sir Elton John, who announced his retirement from touring last week, was joined by Miley Cyrus for a duet of his classic single 'Tiny Dancer', and the night's big winner, Bruno Mars, teamed up with Cardi B for a rendition of 'Finesse', while Lady Gaga, Sam Smith, Pink, Luis Fonsi ft. Daddy Yankee and Little Big Town were among the other artists to perform during the show.