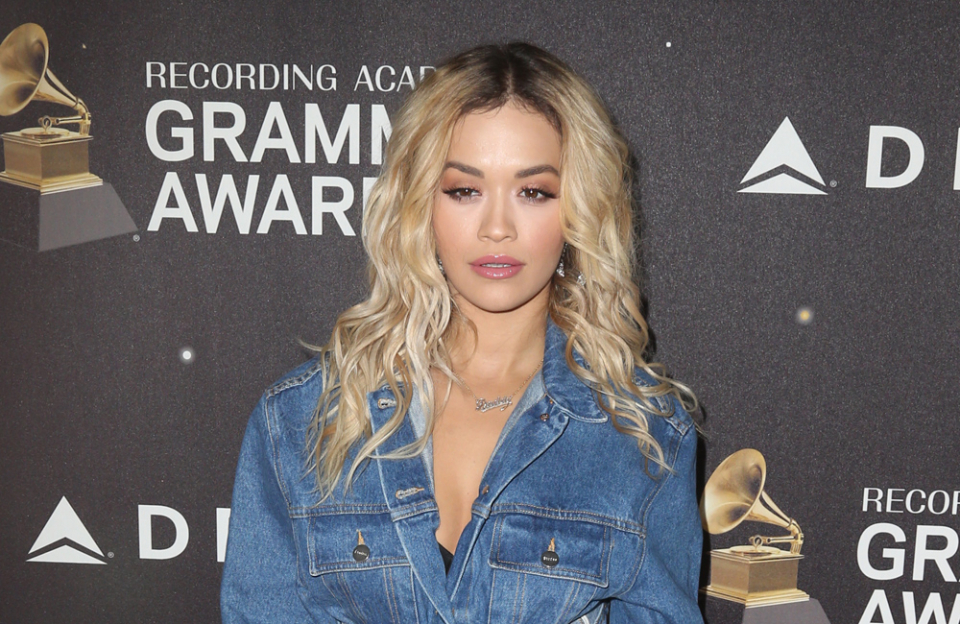 Rita Ora seems to have reconnected with former label boss Jay-Z after heaping praise on the rapper when she was a guest at Clive Davis' pre-Grammys gala in New York on Saturday night, Jan. 27, 2018.
The "Anywhere" hitmaker may have had beef with the "Numb" hitmaker in the past, but since settling a six-month legal battle with the label in June 2016, Ora doesn't seem to be holding any grudges.
Speaking on the red carpet at the gala where Jay was honored with the Recording Academy's President Merit award, Ora gushed, "Oh, he's so smart. To start it off, his brain is always working, he doesn't miss a thing.
"I think that the biggest skill to be able to see 360 and still be the biggest star in the world."
It may be that Ora has focused all of her frustration towards Jay into new song "Soul Survivor."
The busty, blonde beauty called out the rapper on the track featured on her second studio LP, the follow-up to  2012's Ora. She also called out anyone else who didn't believe in her at the very start of her career.
The 27-year-old singer was being sued for $2.4M by the "99 Problems" star's company because they believed she had breached the terms of her contract.
However, the lawsuit was settled and Ora signed with Atlantic Records.
Speaking about the track, she said, "It's all based on what people stopped me from doing a few years ago to where I am now.
"It's almost like a rebirth of the new Rita.
"It's a nice final goodbye to everyone who didn't believe in me from the start."
The "Body On Me" hitmaker, who recently dropped a soundtrack for the Fifty Shades Freed movie with Liam Payne titled "For You," says the record tells it like it is, and is not all doom and gloom.
She said recently, "It tells a consistent story.
"I thought about it a lot and I just wanted people to feel like they were on a journey with me, so I am really proud of it.
"This album is really calm and it has really calm messages, it just is what it is."