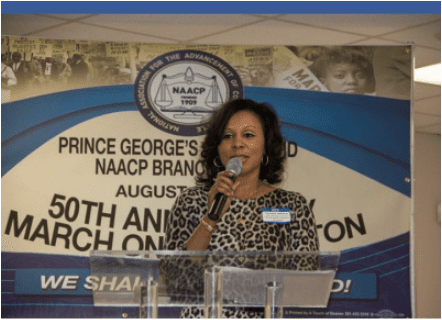 Inmate pens open letter to President Trump, her mentor; she blasts DOJ
Rolling out first shared Carmen Johnson's story in November 2015. Johnson is the former head of the Prince George's County, Maryland, NAACP branch's housing committee. She was convicted in February 2015 of conspiracy, wire fraud and making a false statement on a loan application, arising from two residential mortgage fraud schemes.
Today, she shared with this writer a letter she forwarded to POTUS and the White House which outlines why she recommends the commander in chief retain independent counsel while he's at war with the Department of Justice.
From: JOHNSON, CARMEN

Defending what is right
Jan 29, 2018 at 1:52 PM

Dear President Trump,

I am writing this letter because I have first hand knowledge of the Predatory Legal Abuse, Malefic characteristics and questionable Integrity of the DOJ. Watching the News everyday, I believe this is treason, what they are doing to you. I need to share my experience with you under "Oath" and I am willing to take a lie detector test. I will speak in front of Congress and the Senate with details, on why you need your own independent counsel to do checks and balances on the investigation the DOJ is doing on you now.

Emphatically, I have read every book you wrote and co-wrote. I know your business ethics, your strong belief in loyalty and honesty. With your books you are a silent mentor in my life. You gave me inspiration, made me a self made millionaire, humanitarian and now an activist.

With Relevance, In order to blend together your effect with my cause, you must do an investigation into my case. This will give you the power you need to put the DOJ under investigation. You will see axiomatic facts which will bring synergism with synthesis power to truncate the DOJ. My case will show lies, political, favors, cover up, attorney and prosecutor misconduct, manipulation with bully tactics under the color of law. You will be surprised, to see the same people whom are out to get you, are the same people whom assimilated me into servitude.

In 2015, I was stripped of my Status,Titles, Finances and Dignity for a crime I did not commit. They "slid me" into a crime by others, that happen in 2007. After, trial I was branded "ISIS", criminal and a threat to my community and was not given benevolence to handle my affairs. I was court ordered to 4 months of solitary confinement with human fecal matter on the walls and floor. I was caught up in a game of their ego, greed and politics. I was vehemently politically hit. I now sit at the hand of my abusers with 57 months, 2.4 million in restitution, gated in, cloaked with the color of law and there is nothing I can do about it. With road blocks everywhere I have gone all the way to the Supreme Court with no remedy. In 2018, I am speaking out about "Predatory Legal Abuse" at the hand of the DOJ.

Subjectively, with Clinton's revised conspiracy law gives the DOJ power to charge anyone knowingly and unknowingly with a crime. He also set up Prison Litigation Reform Act. This ACT makes it hard to report abuse in their system. Consequently, by speaking out I know I will be subjected to abuse, killed or assiduously "Dieseled". Dieseling is when they start moving you back and forth across the country to different jails and prisons, while being exposed to filth, diseases and criminals. With my level of consciousness, I am fully aware of the danger I am in, even more so now, then ever. I focus on the truth and non-fear with experiences of suffering and detachment everyday. I don't want to be a Martyr. I want to be an example of a brave American, whom sacrificed her life to speak out about the abuse and predatory injustice on our President. With cruel and unusual punishment, for me not taking a plea, for a crime I did not commit, is subsequently, unconstitutional. However, the abuse will accelerate once this letter is exposed. But with your investigation on my case, this will save you from the wrong termination by the hand of the biggest machine in America.

My Historical Background: I am the XXX-Great Grand Daughter of Benjamin Harrison whom helped draft the Declaration of Independence in 1776. His son William Harrison became the 9th President and his grandson Ben Harrison became the 23rd President of our United States. These are in fact my XXX-Great Grand Fathers. I take great pride, respect and understanding in my historical heritage. I am a 51 year old Libertarian Professional Indigenous American. I am a woman of integrity with great altruistic, scrupulous values and a great community leader. But my demises came by the command of Maryland's ex-Governor and presidency candidate Martin O'Malley and by the hand of his good friend Rod Rosenstein. If I don't tell my story with my case of the predatory legal abuse, I will be in conspiracy to treason as well. With all this said, I am asking My President of the United States of America for safe harbor and innocent passage for the peril of my life and to be able to tell my preponderate knowledge I have on the Department of Justice. I know this will help you. Thank you for all the hard work you are doing for our country and I look forward to speaking with you soon.

Dr. Carmen Ramona Johnson (inmate number 56613-037)
I sit in involuntary servitude held hostage.
Location is Alderson Federal Prison Work Camp, WV.

Please contact my Business Consultant to confirm any concerns and all Questions: [redacted]

Thank you