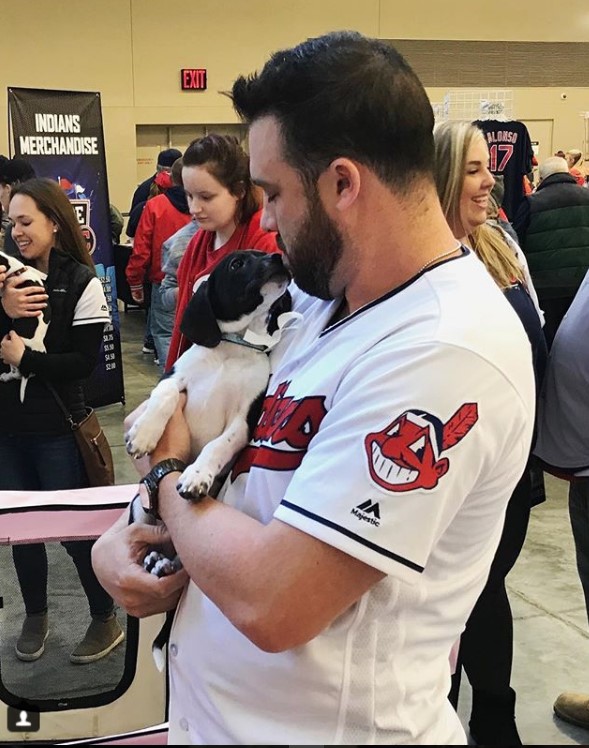 The Cleveland Indians announced the racist logo that many Native Americans find offensive will be removed from its baseball caps and jerseys starting in the 2019 season, Major League Baseball announced Monday, Jan. 28.
In a statement, MLB commissioner Rob Manfred said he told team owner Paul Dolan that it was time to mothball the cartoonish caricature that has appeared on Indians' uniforms since 1948.
"Over the past year, we encouraged dialogue with the Indians organization about the club's use of the Chief Wahoo logo," Manfred said. "During our constructive conversations, Paul Dolan made [it] clear that there are fans who have a longstanding attachment to the logo and its place in the history of the team.
"Nonetheless, the club ultimately agreed with my position that the logo is no longer appropriate for on-field use in Major League Baseball, and I appreciate Mr. Dolan's acknowledgement that removing it from the on-field uniform by the start of the 2019 season is the right course."
Dolan echoed Manfred in a statement posted on TribeVibe.
Commissioner Manfred announced today that the @Indians will remove the
"Chief Wahoo" logo from their uniforms, effective with the 2019 season. pic.twitter.com/9Gj1du4Hby

— MLB Communications (@MLB_PR) January 29, 2018

The decision created fracas in popular culture, particularly in Cleveland, and caused divisions mostly along political lines, with the left favoriong the removal of Chief Wahoo, while many on the right opposed vehemently. Take a look a the mixed and impassioned responses below.
With the horrendous decision by the #Cleveland #Indians to drop #ChiefWahoo
to cater to insane Leftist temper tantrums perhaps its time to take a page from what the #XFL is doing to the #NFL and get the #XLB to replace the #MLB.#BaseBall #BoycottMLB pic.twitter.com/aZzEYz81eo

— THE NEW RIGHT (@NewRightNetwork) January 29, 2018
Reaction of Wahoo decision by Philp Yenyo, Exec. Dir. of American Indian Movement of Ohio: "I'm elated. But at the same time I think it should be done this year. … It doesn't make any sense to me, unless they want to continue to make what's basically blood money."#Indians

— Tom Withers (@twithersAP) January 29, 2018
Can someone explain why there needs to be a phase out for the @Indians ? Why can't they get rid of the racist insensitive mascot and just replace it pronto? #ClevelandIndians https://t.co/jxnQWN78vC

— Christina Greer (@Dr_CMGreer) January 29, 2018
Dear MLB,

You are confusing the words controversial and racist. The Chief Wahoo logo was not controversial. It was racist.

P.S. Cleveland also needs to change their name.

Dear NFL,

Take notes 📝.#ChiefWahoo #ClevelandIndians #MLB #NFL

— .R⛈ (@r21yna) January 29, 2018
It was never appropriate. Happy to see it go. #ClevelandIndians https://t.co/ztc3CbdbZi

— TomboyX (@TomboyExchange) January 29, 2018
This is victory for the Left and with the Left empowered, with cowards caving to political correctness, American identity will continue to die. 2/2 #ChiefWahoo #SaveChiefWahoo #ClevelandIndians

— Greg Halvorson (@GregHBlog) January 29, 2018
The Cleveland Indians are banishing there Chief Wahoo logo. We officially live in the most oversensitive society. #clevelandindians

— Nick Andreassi (@NickAndreas94) January 30, 2018
So @MLB got the #ClevelandIndians to ditch their logo. This PC culture really sucks!!!

— Adam Apple (@ad_2050) January 29, 2018
When you question the removal of #ChiefWahoo, remember this graphic provided by @NCAI1944. #ClevelandIndians #MLB pic.twitter.com/oyDPhDx9jv

— Golden Standard (@GSSportsTweets) January 29, 2018
@NHLBlackhawks fans seeing the #ClevelandIndians getting rid of their logo pic.twitter.com/OWhGWxuO5B

— Eric Prim (@lil_primm) January 29, 2018
The right decision. It's time to move away from THAT era of professional sports. #ClevelandIndians #MLB https://t.co/uS4FwSc5xD

— Jason Morris (@the_jizzle) January 30, 2018