From first appearances, it looks like Tameka Foster tried to be slick and use the image of a gorgeous pre-adolescent model for her personal gain — and got flame broiled and deep fried by social media for her imprudence. The ex-wife of singer Usher adamantly denies she deliberately used the image, but took a thrashing nevertheless.
Lyric Hurd has an astronomical fan base for someone her age — over 111K followers and growing — on Instagram. Her mother is putting in overtime with her baby to advance her modeling career and grow the child's brand. This is why fans are outraged and have lashed out at Foster for the appearance of impropriety by using one of the child's most popular photos as the template for her latest venture.
In her now-deleted Instagram post below, Foster shared her excitement about a character she created called "Damaris," who looks exactly like Lyric.
"Oooh ooh!!! I am working in something that I'm so BLIPPIN' excited about! Can't wait til I can reveal it," she captioned an image on Instagram. "This is 'DAMARIS'….I will drip tidbits here and there. #PassionProject #Kilemania #ChocolateGirlMagic."
When Lyric Hurd's mother caught word of Foster allegedly hijacking her daughter's image, she took to her own IG page to fire off a lengthy fire-and-brimstone message for Foster.
"I am seriously appalled that as a woman, as a culture, cannot stick together. It was brought to my attention that my daughter, Lyric Hurd, was part of a project that we have no say in," the mother wrote.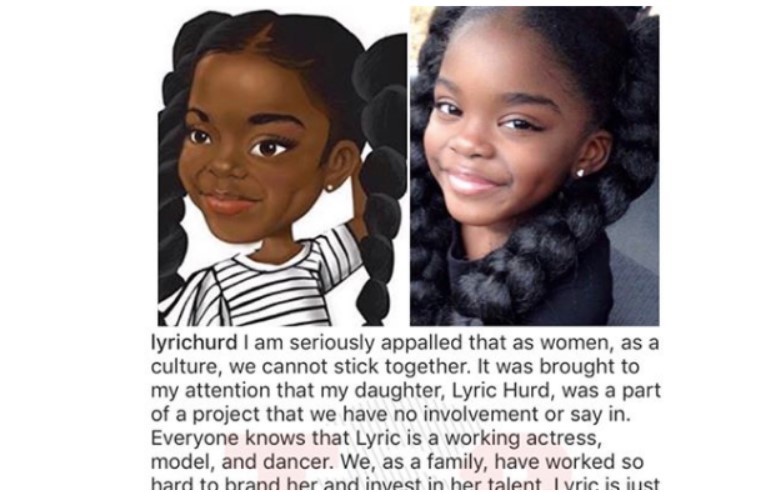 She continued to explain how passionate and dedicated both she and her daughter have been at trying to build Lyric's brand, only for Foster to think it is cool to snatch up her daughter's image without her permission: "Everyone knows that Lyric is an actress, model, and dancer. We, as a family, have worked so hard to brand her and invest in her talent. Lyric is just a child but she is very involved [sic] with her branding and to think that her image and likeness was used without our permission is beyond hurtful. As a co-manager to her own Instagram page, she saw the tags to your page @TamekaFoster and my baby cried! Lyric cried and s a mother this completely broke me."
The mother was just getting revved up.
"How could you take my daughter's photo and send it to @dreillustrator and pass it off as your own? How? We can't for the life of us, understand why you would use my daughter's image, her exact face, and cll it your own. She is confused. We are all baffled," the mom added. "And then, to vehemently deny this….I thought you were better than this. As women, as black sisters, as a culture,. This is unfair, and more so outright unacceptable. I mean, I keep looking at the picture I took of my baby and your version of my baby and I don't understand how you can deny what was done here. I mean…Instagram help me out here. Tameka Foster I will await an amicable resolve…I pray you do the right thing."
Fans could hardly wait to pounce on Foster full throttle for the appearance of bad business practices. Here are just a few of the reactions she's receiving on Instagram: