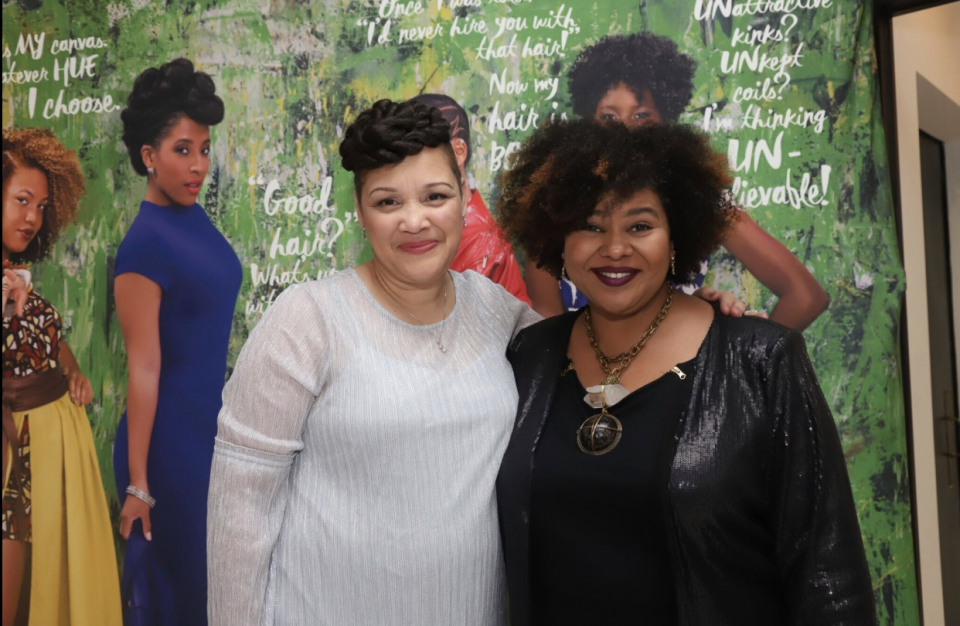 The godmother of Brown beauty blogging, Afrobella recently joined ORS to unveil new packaging during the celebration of her brand's anniversary.
ORS Olive Oil hosted an invite-only dinner party celebrating the 11th anniversary of the godmother of Brown beauty blogging Afrobella with top media, bloggers and influencers in Chicago with the theme #NoStereotypes. Shawn Tollerson, CEO of Namaste Laboratories, led a one-on-one conversation with Afrobella who shared her story and experiences of how she uses her platform to defy stereotypes of beauty. An engaging and empowering conversation was had on why women of color should feel empowered to rock their curls however they want despite what society thinks. Guests were encouraged to embrace who they are, their sense of style and self-expression and share it unapologetically with the world.
ORS also unveiled the "first look" of their new refresh packaging and reformulated products which include Sheen Spray and its Edge Control. The new products will be available in stores February/March of 2018. ORS continues to innovate new products for the versatile woman who is comfortable in her own skin and defines her own style through self-expression.
The event was held at Blanc Gallery Chicago in Chicago's Bronzeville neighborhood with dinner provided by chef Cliff Rome of Rome's Joy Catering. A special tribute performance to guests was provided by Gifted Keys and music by DJ MJTheBeautifulBeat.
Rolling out had an exclusive opportunity to speak with Afrobella about the last decade.
Now that you're celebrating 11 years as a leading beauty blogger, what would you tell a blogger who is just getting started and taking this leap?
I think there are so many more amazing resources for a new blogger or influencer getting started. First of all, recognize that this is a community and you're joining a new world of people who have been doing this for years. Learn from your peers, educate yourself on what's already out there and think of what you can do to be different and add your unique view, perspective and style. Recognize your power as a creator and be the change you want to see in the world. There's so much beautiful opportunity out here for people who are creative, persistent, open-minded and smart. Welcome!
What has changed in the past decade?
Everything. The blogging landscape transformed completely — many of my OG peers have left or pivoted into something else. The natural hair landscape changed— now so many indie brands have made it to mainstream retail, it's big business and the media and manufacturers recognize that. And, it is not hard to find reflections of black beauty, everywhere from television to music to books to the internet. We are hitting our stride and it has only just begun. So much has changed in the past decade and I'm blessed to have had a front row seat to watch us glow up collectively.
Are you glad you made this decision?
Every day I am thankful that I made the decision I did back in 2006, to shine a light on Black beauty. Back then, it was harder to find a continual celebration of us, to find products [that] work for our hair texture and skin tones and curves. Now I feel like I'm getting to watch the rest of the world catch up to our fabulousness. I can't imagine what my life would be like if I hadn't started Afrobella 12 years ago this August.