T.I. fires back at Raven-Symoné after she slams him, Jay-Z, other rappers
Music mogul T.I. is one of those celebrities who is unafraid to mix it up on social media — or in person — with anyone who takes what he sees as unnecessary or unprovoked shots at him.
So when actress Raven-Symoné bashed T.I. and Jay-Z and the rest of the hip-hop heavyweights in attendance at Hov's pre-Grammy party, Tip clamped down hard on the "Cosby Show" alum.
Raven-Symoné re-posted a photo initially shared on Instagram by Tip and DJ Khaled.
In a now deleted post from Raven, which was screenshot by several publications, she blasted the rappers in the above photo this way: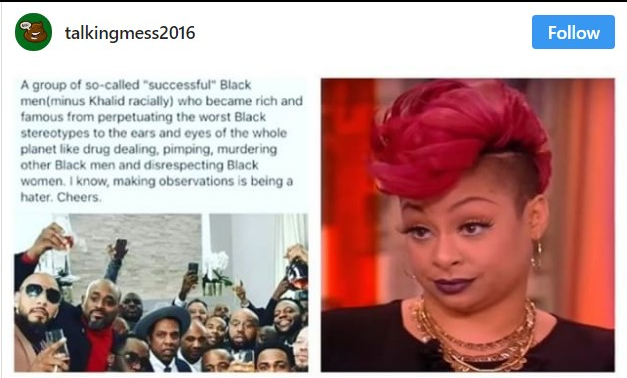 The photo featured the likes of T.I., Diddy, Jay-Z, Swizz Beatz, Big Sean and many more wealthy industry types.
The former "The View" co-host accused the hip-hop heavyweights of accumulating their wealth through rap music that promotes criminality and misogyny.
T.I. was not having it and shot back with the below post:
Tip captioned his clap back at Raven with this: "@ravensymone Our sins ain't no greater than yours ma'am. The air must be thin as hell up there on that high horse you sittin on. Somebody please let me know…WTF up wit shawty?"
Some social media users shared Raven's sentiments while others blasted her:
One fan came for Raven's scalp: "She defended Michelle Obama being compared to an ape because 'some people do look like animals. Who made Raven anybody's moral conscience or told her it's her place to judge anyone for anything? Live and let live is all I got to say. People need to stay in their lane. I'm sure she's bought and enjoyed everyone in that picture's music just like everyone else. It ain't her job to go around tearing down other Black men. There are plenty of people out here doing that for us already, especially in this Trump era."
One user, however, got Raven's back: "Raven didn't say anything wrong. I respect every man in the photo, but she [was] right. She is entitled to her opinion. Damn let her have her opinion if that's how she feels let it be I mean it's dumb, but it's HER opinion which she is entitled to. The fact that people are failing to take note that the tweet is from Speech (Arrested Development) is interesting. Rap/ hip-hop is a form of self-expression. They are not perpetuating anything that isn't real… they all rap about it cuz at one point in life they were about it. Luckily there's a thing called growth, and that should be celebrated.. not shamed. If no one supported that type of music it wouldn't sell, so whose fault is that?"
Raven eventually replaced her deleted Instagram post with this one below that said she stood by her comments but wanted to protect her young followers from the harsh comments.
So what do you make of Raven's rant? And do you think she is justified in how she feels, or do you side with Clifford "Tip" Harris?