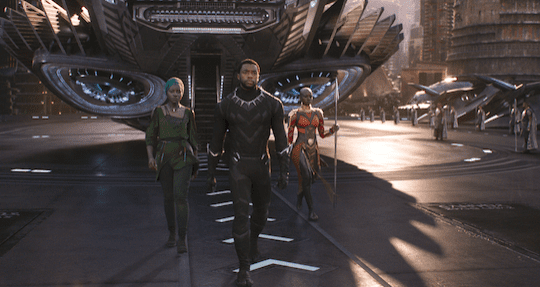 This writer understands the near universal obsession among urbanites with the Marvel movie Black Panther. About 15 years ago, this writer was obsessed with the Black Panther Party (for Self Defense). It was mesmerizing learning about a group of college-aged kids emerging from the ghettos of Oakland, California like a phoenix and standing up to buck back against the bloody, brutal caste system that existed throughout America (it was not just Jim Crowism in the South. As Malcolm X once said, "If it is south of Canada, it is the South.")
It's as if Chadwick Boseman is today's Huey P. Newton, the founder of the Black Panthers in October 1966, who, along with Bobby Seale, set out to obliterate blatant forms of police brutality and enact a more just and equitable system for African Americans and people of color.
It was fascinating watching a group of men and women, dark hued princes and princesses with round Afros, black berets, rifles at the ready, marching in unison, a cadre of fearless freedom fighters spreading across the country and then into other countries, eventually back to the Motherland. Seeing Mario van Peeples' movie on the BPP, Panther in 1995, only intensified my interest in the organization and to understand its rise and spectacular fall.
These sentiments are shared by multitudes of African American men and women across the country who are eager to see themselves in ways that have rarely been portrayed on the big and small screen in the history of the industry. Check out why this topic shot to the top of Twitter's national trending list and why so many Blacks wanted to say #WhatBlackPantherMeansToMe.
Black Panther is political. IDC. It's not just a movie to me. It's Black AF from director to the actors to the Afro-futurism all up and thru it. In a time where you feel hated just for existing, it means a lot to see Blackness celebrated like this. #WhatBlackPantherMeansToMe

— Knockout Ned 👊🏾🥋 (@DJTreG) February 6, 2018
I am seen. We are seen.

Black Women and Black Men are celebrated for being our true and authentic selves.

Revolutionary. Unapologetic. Black.

That is what #BlackPanther means to me. pic.twitter.com/wStbdIDy7c

— Jacqueline (@THATJacqueline) February 6, 2018
Seeing dark-skinned Black women as other than the angry, loud sidekick #WhatBlackPantherMeansToMe

— Nyasha Junior (@NyashaJunior) February 6, 2018
Responses to #WhatBlackPantherMeansToMe have me tearing up. The importance of this film cannot be understated. #BlackPanther pic.twitter.com/EaNReNzxsN

— April (@ReignOfApril) February 6, 2018
My seven year old grandson exclaimed "Superheroes can be Brown people too?! #WhatBlackPantherMeansToMe

— Sheel (@MzSheel) February 6, 2018