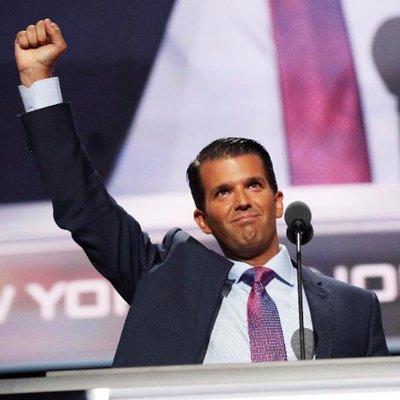 Donald Trump Jr. is refuting accusations that his father is a blatant bigot, saying he cannot be racist because he takes pictures with Black people.
We'll pause here to allow you to pick up your bottom jaw and hook it back in place.
Trump Jr. told the Daily Caller that Democrats do a "disservice" to those who "are actually oppressed and hurt by real racism" when they pull the trigger on the racism talk soon and so often and that Donald Trump the president could never be a racist because he actually knows some Black people.
Another brief break while we assure you that you are not on the show "Punk'd." This is Trump Jr. speaking with a straight face.
"I know him. I've seen him my whole life. I've seen the things he's done. You know it's amazing — all the rappers, all his African-American friends, from Jesse Jackson or Al Sharpton. I have pictures with them. We say 'Hi.' Have always been friends," Trump Jr. said.
While it is true that Trump has taken pictures with Blacks that date back to Mike Tyson's championship boxing years, to his ownership stake in the now-defunct USFL football league and the photos with Black players, to the present and the photos with the likes Snoop Dogg and Kanye West, does this translate into love of Blacks in general?
Trump also had long ties with Jackson and Sharpton, but on Tuesday, Sharpton resolutely refuted Trump Jr.'s comments by saying that Trump had changed in the decades since they first met.
"We haven't changed. He changed," Sharpton said, according to The Grio. "And what he's changed to become is one who has proposed some of the most racist, bigoted policies. When he was talking right, we took pictures with him and welcomed to him to our events. When he went left, we stood up for what was right. He is promoting racism."
The facts belie Trump Jr.'s denial of his father being a racist. Back in the 1970s, he was accused of mistreating African Americans who wanted to live in the rental buildings he owned. It has also been widely reported that he treated his Black casino employees badly.
A former employee said he overheard Trump blasting a Black accountant, saying, according to The Grio: "Black guys counting my money! I hate it. … I think that the guy is lazy. And it's probably not his fault because laziness is a trait in Blacks."