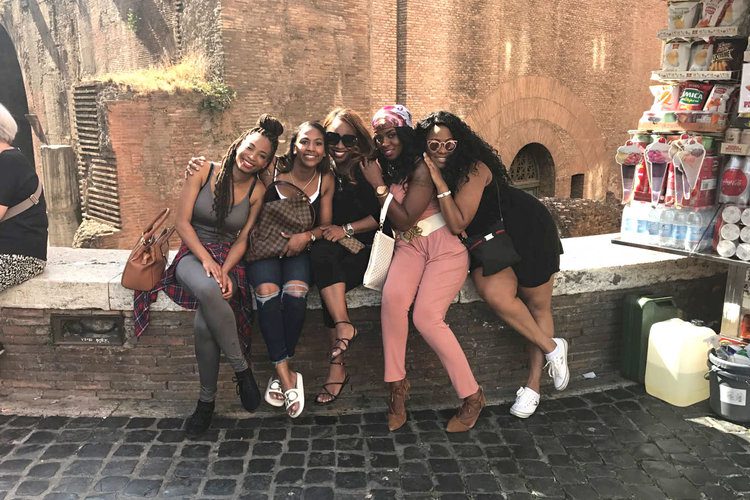 Gina Neely, Shay Atkins, Nakita Mc Graw, Ashley Russell and Mercedes Young comprise the cast of Bravo's new series "To Rome for Love." The series follows the five African American women on a trek to Italy to possibly discover love but more importantly to discover themselves. Matchmaker and love expert Diann Valentine navigates the ladies' experiences giving them expert advice when needed and a push in the right place as she sees fit.
Out of all the women, audiences have connected with Nakita McGraw the pretty divorcée from Chicago who is still reeling from a divorce and has allowed the aftermath to cloud her vision of her accomplishments. Aside from being a mother, published author and lupus survivor, McGraw was having a hard time seeing the value she would possibly bring to a new relationship. Instead of challenging McGraw's attitude in front of the group, Valentine chose to pull McGraw to the side for a personal shopping experience where she was able to focus on highlighting and celebrating her individual beauty.
"Many times when women go through a divorce they forget how amazing they are," Valentine shared. "They see the divorce as a failure that is connected to their sense of self."
Viewers have watched as McGraw regains her sense of self on the show and the change is evident in the smile radiating on her face during the last episode. "Divorce doesn't have to be the end of anyone's story," Valentine says. As a wedding coordinator Valentine has had the pleasure of marrying many couples taking their second and even third trip down the aisle. "If you take the time to heal you can have a better chance of love the second time around. You're smarter and hopefully wiser," Valentine says.
Viewers are rooting for McGraw and the rest of the ladies to find love in Rome. You can meet Nakita McGraw and the rest of the ladies looking for love on Bravo's "To Rome for Love" on Sunday at Harold's Chicken and Ice bar located in Mariette, Georgia. Click on the link to register: https://www.eventbrite.com/e/to-rome-for-love-watch-party-atlanta-tickets-42676551715