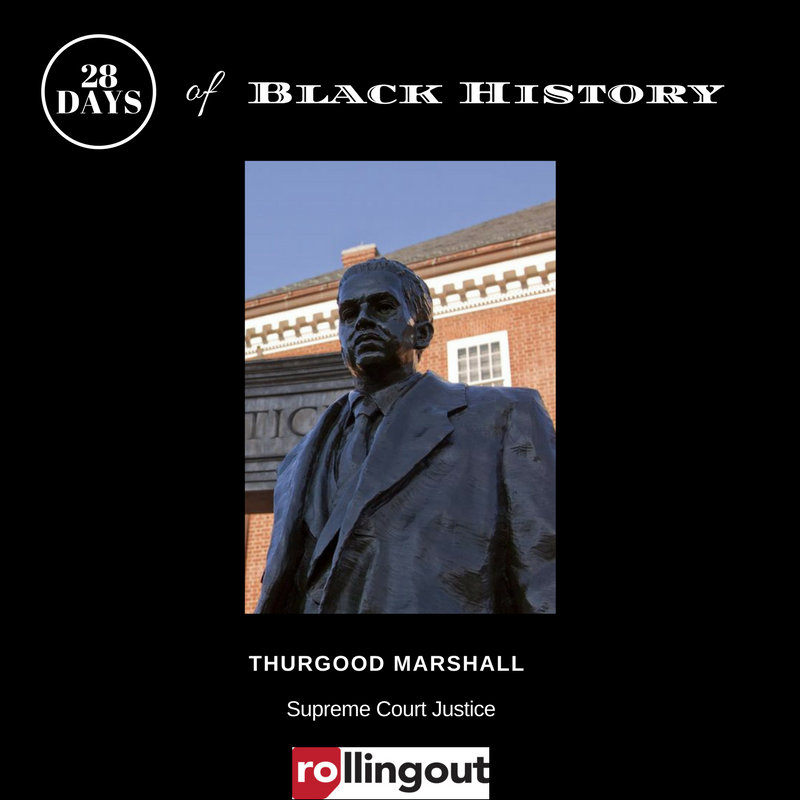 Thurgood Marshall Statue, Annapolis Maryland (Photo credit: Glynnis Jones)
Activist, lawyer and Supreme Court Justice Thurgood Marshall was born on July 2, 1908, in Baltimore. As a young child, his father introduced him to the U.S. Constitution. Marshall attended Lincoln University for his undergraduate degree. After graduation, he applied to the University of Maryland Law School but was denied admission. This injustice was the single-most important event that fueled his cause. Marshall spent his entire career fighting for equity. 
Marshall applied and was accepted to Howard University Law School. He immediately took to the mentorship of Dean Charles Hamilton Houston, who instilled in his students the desire to apply the creed of the Constitution to all Americans regardless of defining characteristic they may possess. In 1933, Marshall had his first successful court case Murray v. Pearson, where he sued the University of Maryland for denying admission to a young Black man. Later, Marshall traveled to New York and followed in the footsteps of his mentor.
Once in New York, he joined the National Association for the Advancement of Colored People. Marshall made his mark as a noteworthy attorney winning many discrimination cases argued before the U.S. Supreme Court. The most reputable case of his career, however, was the 1952 Supreme Court Case Brown v. Board of Education. Its focus was to end segregation by overturning the "separate but equal" principle. It was his use of sociological, psychological and historical evidence during the case that proved the segregated education of Black students devastates their self-worth. After this major win, the United States government took notice of Marshall's skill.
He was appointed to the U.S. Court of Appeals for the Second Circuit and the solicitor general. Marshall made history in 1967 when he was appointed by President Johnson as the first African American to serve on the U.S. Supreme Court. While serving in this capacity, he worked tirelessly to uphold the values of the Constitution to ensure that it worked for all people, including those who are marginalized. We thank you, Supreme Court Justice Thurgood Marshall for your work as a judicial activist, demanding civil rights for all.