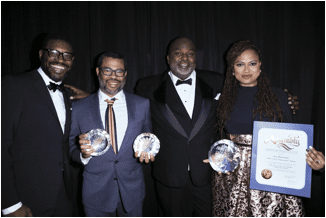 The African American Film Critics Association is the nation's premier group of Black film critics.
Established in 2003, AAFCA's primary mission is to cultivate understanding, appreciation and advancement of the contributions of African American talent to cinematic and television culture. The AAFCA is a nonprofit organization that commits its time, efforts, and finances to numerous educational and philanthropic efforts, particularly those that foster and celebrate diversity and inclusion. Along with giving back to the community, the AAFCA makes it a priority to honor African Americans working toward excellence.
AAFCA hosts two celebrations during awards season, with the purpose of recognizing those who have made outstanding achievements in entertainment during the year. Industry front-runners were recognized on Feb. 3 at the 2018 AAFCA Special Achievement Luncheon at the Dorothy Chandler Pavilion. The honorees were celebrated by their friends, family, colleagues and industry peers. The second event held by AAFCA this season was the ninth annual African American Film Critics Association Awards, which took place on Feb. 7 in Los Angeles. Those honored included Jordan Peele, Frances McDormand, Ava DuVernay and Rob Reiner. AAFCA co-founders Gil Robertson and Shawn Edwards presided over the awards and Nichelle Turner of "Entertainment Tonight" was the evening's host. Nissan and The Home Depot were among the sponsors of this year's event.
A full list of winners and honorees from both events is included below:
9TH ANNUAL AAFCA AWARDS HONOREES
Horizon Award:  Jordan Peele 
Stanley Kramer Award for Social Justice:  Rob Reiner
Cinema Vanguard Award:  Broderick Johnson & Andrew Kosove (Co-Presidents, Alcon Entertainment)
AAFCA Innovator Award:  Ava DuVernay
2018 AAFCA SPECIAL ACHIEVMEENT LUNCHEON HONOREES
Legacy Award:  Edward James Olmos
Ashley Boone Award:  Channing Dungey
Roger Ebert Award:  Claudia Puig (President, Los Angeles Film Critics Association)
Game Changer Award:  Vice
9TH ANNUAL AAFCA AWARDS WINNERS
BEST PICTURE: GET OUT (Universal Pictures)
BEST DIRECTOR: JORDAN PEELE – GET OUT (Universal Pictures)
BEST ACTOR: DANIEL KALUUYA – GET OUT (Universal Pictures)
BEST ACTRESS: FRANCES McDORMAND – THREE BILLBOARDS OUTSIDE EBBING MISSOURI (Fox Searchlight)
BEST SUPPORTING ACTOR: LAURENCE FISHBURNE – LAST FLAG FLYING (Amazon Studios/Lionsgate)
BEST SUPPORTING ACTRESS: TIFFANY HADDISH – GIRLS TRIP (Universal Pictures)
BEST COMEDY: GIRLS TRIP (Universal Pictures)
BEST ENSEMBLE: DETROIT (Annapurna Pictures)
BEST INDEPENDENT: CROWN HEIGHTS (Amazon Studios/IFC Films)
BEST ANIMATED: COCO (Disney/Pixar)
BEST DOCUMENTARY: STEP (Fox Searchlight)
BEST FOREIGN: THE WOUND (Kino Lorber)
BEST SCREENPLAY: GET OUT (Universal Pictures)
BEST SONG: "IT AINT FAIR" – DETROIT – THE ROOTS featuring BILAL (Motown Records)
BEST NEW MEDIA: MUDBOUND (Netflix)
BEST TV SERIES (COMEDY): BLACKISH (ABC)
BEST TV SERIES (DRAMA): QUEEN SUGAR (OWN)
BREAKOUT: LAKEITH STANFIELD – CROWN HEIGHTS (Amazon Studios/IFC Films)