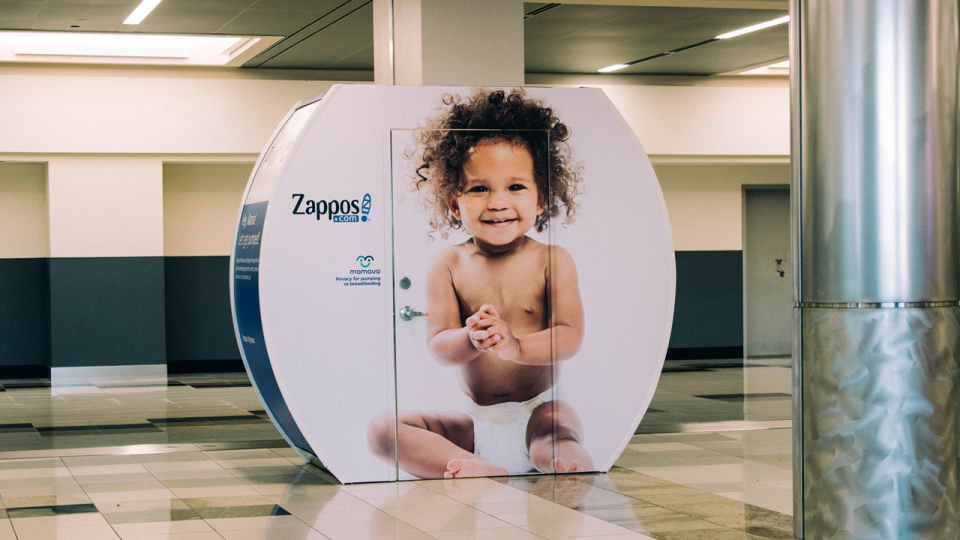 Zappos thinks mothers deserve a little luxury on the fly. These pods provide calm and privacy in a chaotic environment, and they're "Zappified" for additional comfort and convenience with breast wipes, disposable nursing pads and trash bins for every mom's needs.
According to a Centers for Disease Control report, just 22 percent of mothers exclusively breastfeed their babies at six months. Although the reasons for quitting differ, many signs point to the length of a woman's maternity leave.
Birthed in 2006, Mamava is a business dedicated to transforming the culture of pumping, making it more accommodating and inviting for all moms. And their lactation pods and suites are doing just that.
The spaces were created so moms can have a dedicated lactation space. In a statement from Mamava says, "We have never wanted to hide breastfeeding — our goal is to do just the opposite by raising the profile of this natural human function, and celebrating the realities of the logistics involved in taking on breastfeeding."
From offices to airports, Mamava gives women a secure, dignified location to nurse on the go.
Zappos has decked out the pods out with:
–Lactation pad dispensers (to prevent any #SpilledMilk);
–Cleaning wipes and trash cans (to help clean up any #SpilledMilk);
–Custom soundtracks to help get the milk flowing (think ocean waves, baby giggles, etc.);
–Happiness quotes to cheer mamas up (in case of any #SpilledMilk);
–New engaging Pumpcasts to keep mamas entertained through the pump.
Zappos announced its collaboration with Mamava to provide dedicated areas for nursing moms.
To coincide with "Don't Cry Over Spilled Milk Day," Zappos will celebrate its multiyear partnership and install six of Mamava's Original suites at Atlanta's Hartsfield-Jackson airport, the busiest in the world.