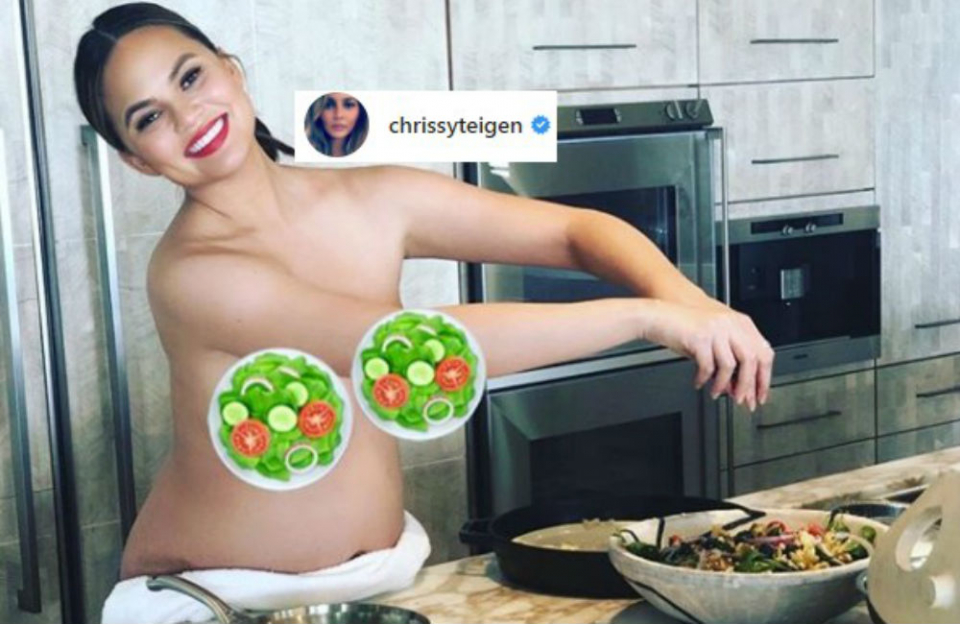 Chrissy Teigen has shared a photo of herself cooking in the nude as she tries to satisfy her pregnancy cravings.
The 32-year-old beauty, who is expecting her second child, a baby boy, with husband John Legend, appears posing happily for the camera while making salad, wearing only a towel wrapped around her waist. Her burgeoning baby bump is on full display while two emojis of salad plates have been superimposed over her breasts to protect her modesty.
Chrissy asked her Instagram followers in the jovial caption, "plz don't shame me I am a strong proud salad making woman just being natural and trying to live my life (sic)"
The "Lip Sync Battle" star also revealed that later during the same cooking session her plate with the lovingly prepared salad and crusted rack of lamb tipped onto the floor.
Chrissy tweeted, "oh I ate it I don't care (sic)"
The model, who already has a 21-month-old daughter Luna with singer John, recently quipped her unborn son is a "monster," as she found her pregnancy cravings get out of control.
She joked on Twitter, "This baby is sucking the life from me. Drinking my water, making me dry. Eating my food, making me hungry. Taking my health, making me sick. Why do we create these monsters they want us dead? (sic)."
Meanwhile, the beauty admitted she's been craving many of the things pregnant women are told to avoid, including cold meats and alcohol.
She said: "I want a cold, Subway deli sandwich at all times. I would love a good margarita, like, a cold margarita."
To curb her cravings, Chrissy has turned to breakfast cereal with cold vanilla coconut milk, and though she's normally the chef in their household, she's letting her 39-year-old husband "take over," even though he isn't the quickest chef.
She said, "I'm kind of tired and pregnant and he really takes over.
"The only thing I don't like about him cooking is that it takes me away from him for a long time because he's very slow in the kitchen. Like, painfully slow.
"And sometimes I can hear him from the living room chopping slowly. But it's so cute because he loves to do it."