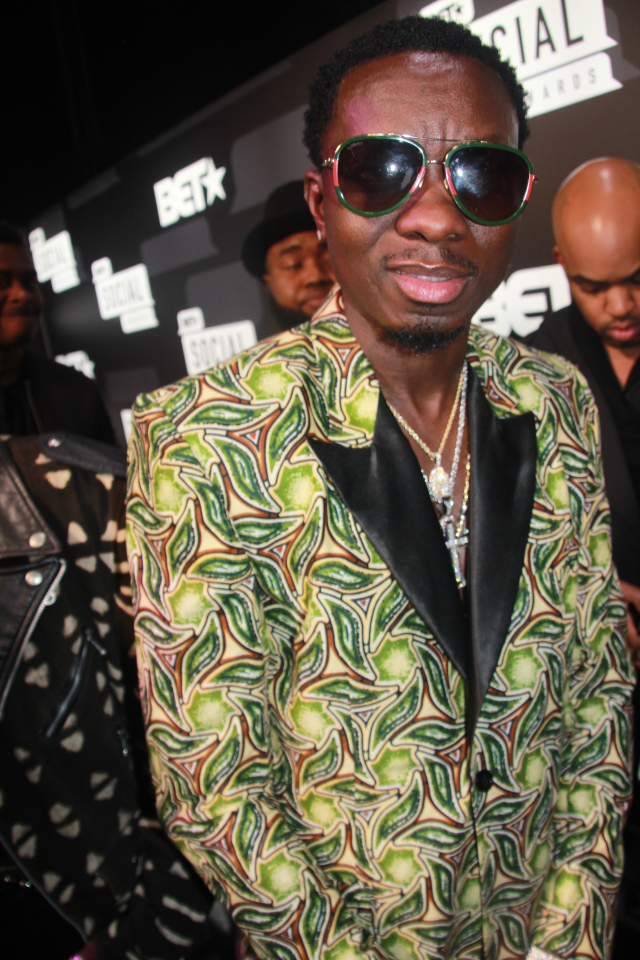 ATLANTA – With comedian Michael Blackson inducing brain damage with his eyeball-destroying suits and matching shoes, and with singer Erykah Badu slinging insults and obscenities with equal aplomb, the stage was set for a raucous, rambunctious affair during the first ever BET Social Media Awards at Tyler Perry Studios.
Only a mind like comedian-actor Mike Epps (Next Friday, Meet the Blacks, All About the Benjamins) could help configure and manifest such a sick soiree and make the BET Social Awards the largest celebration of the genre ever. A popping parade of music and movie stars trotted out onto the red carpet and television stage to help christen the inaugural soiree including Tony Rock, Justin Combs, Amanda Seales, Reginae Carter, Symone Sanders and other stars. They were joined on the show with social media superstars Kash Doll, Blame it on Kway, Lala Sizahands, Amara La Negra, Jess Hilarious and more to set the inaugural social kudofest on fire.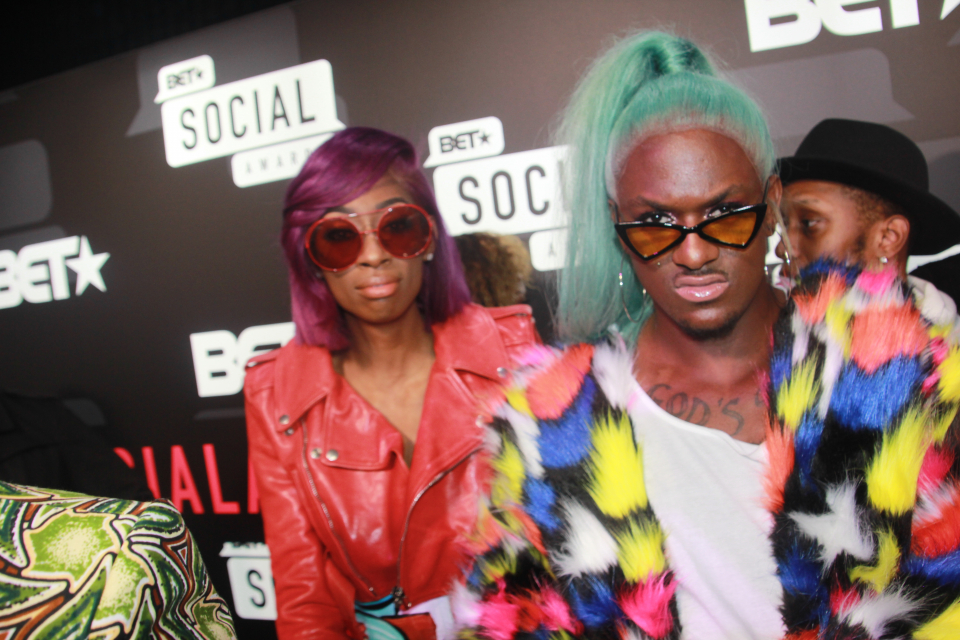 Blackson, the unabashed African king of comedy, hosted the show live one of the mammoth stage sets on the Tyler Perry campus. Executive produced by Epps, this first-of-its-kind awards show celebrated all things social media over the past year.
The night got cracking with a blizzard of high-energy dances of 2017 starring social media sensations Blame it on Kway and Lala Sizahands followed by Blackson who took the stage with an African-inspired dance number. From President Trump to Tyrese to Kevin Hart, nobody was off limits — including Blackson himself. He was joined by his "For the D and P Challenge" co-star Erykah Badu who roasted Blackson's absurd outfit, as she took the stage to present the Issa Wave Award.
The winner of the Issa Wave Award, Kash Doll (@KashDoll), was feeling so high from just being nominated that she could have levitated right off the ground.
The night was also owned by the ubiquitous hashtag #BlackGirlMagic with a spoken word tribute by comedian and actress Amanda Seales and the BET Social Awards honored the founders of the Women's March, organizers Tamika D. Mallory, Bob Bland, Carmen Perez and Linda Sarsour. Actor and comedian DC Young Fly was given the Social Verified Award by Mike Epps.
Performing live, femcee Kash Doll ignited the crowd with her hit "For Everybody," while YFN Lucci closed out the show with a medley, including his megahit "Everyday We Lit."
Additionally, viewers received an all-access pass to all of the BET Social Awards action with the BET It Girls: Jasmine Luv, Leomie Anderson, Sandra Lambeck and Jasmin Brown, who took their followers into the ultimate VIP adventures through Atlanta and also gave fans a full 360-degree look at the awards with the exclusive 360 Facebook Live during the live broadcast.
Watch all the must-see moments now at BET.com/Social and on social platforms by following the hashtag #BETSocialAwards.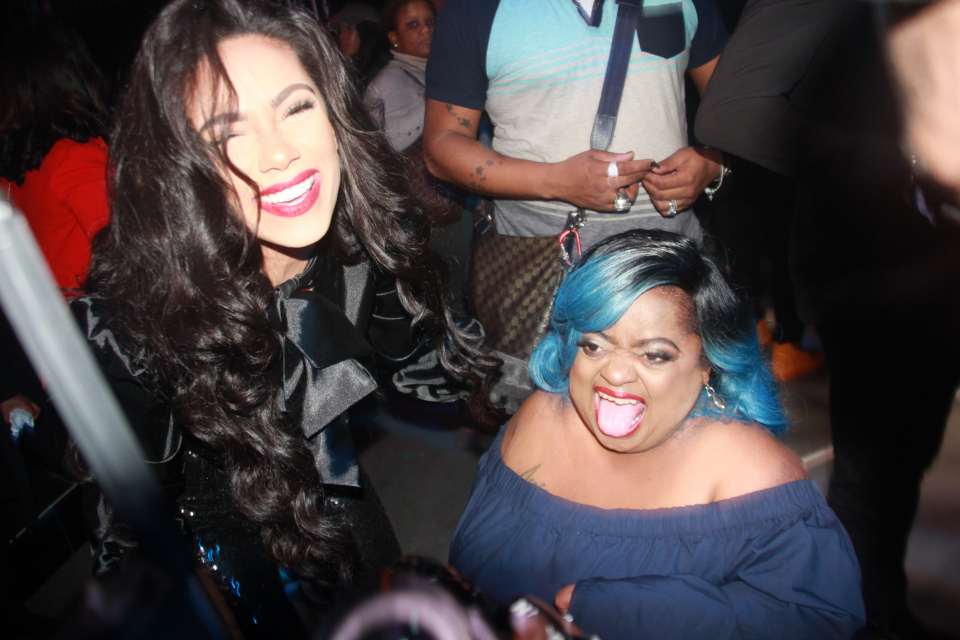 Check out below for a complete list of winners:
ISSA WAVE winner: Kash Doll @Kashdoll
Gone are the days of record sales reigning supreme! To be the most influential social artist, you need streams, likes and views — these bubbling artists nabbed all 3. Now the question is, who's wavy enough to take the crown?
SOCIAL HUSTLE winner: KendallKyndall @KendallKyndall
#BookedAndBusy! These influencers are the definition of "no days off." From sliding onto our timeline and into our hearts, all while securingthe bag, that's a true hustler mentality. Vote now for your favorite!
LMAO! winner: Blame it on Kway @blameitonkway
Social media is the new frontier of comedy and these nominees always keep us laughing 24/7. From their hilarious posts to their ability to pick us up when we're down, these nominees take the cake for best social media comedians. Who served up the best kiki?
CLAPBACK winner: Jess Hilarious @JessHilarious_Officiak
If you troll, they're trolling back! Internet beef is nothing new, but when these nominees let loose, the whole world notices. From clever reads to snatching edges, these nominees are known to put people back in their place. Whose clapback game was the strongest?
BEST PODCAST winner: The Joe Budden Podcast @TheJoeBuddenPod
Pop in your headphones, you're in for a treat. These podcasts are the voice of the people, and we want to know which one is your favorite!
MOOD AF winner: Issa Rae – "I'm Rooting for Everybody Black" @IssaRae
Let's celebrate the memes and gifs that came out of nowhere, took over our timelines and showcased clever moods, shade and subs we didn't even know we needed.
BAEWATCH winner: Remy Ma & Papoose @RemyMa @PapoosePapoose
These power couples epitomize #relationshipgoals and we're here for it! Rep your favorite couple and vote below!
BEST TEA winner: The Shade Room @TheShadeRoom
Social media has flipped entertainment news on its head; these new media outlets represent the best sources of all the tea to fill your cup.
For updates and more information about BET Social Awards and to vote for your favorites please visit BET.COM/SOCIAL. Join the conversation on all social media platforms by using the hashtag: #BETSocialAwards.
Produced by BET Networks, the BET Social Awards were executive produced by Mike Epps, Kyra Robinson and Eric Conte.