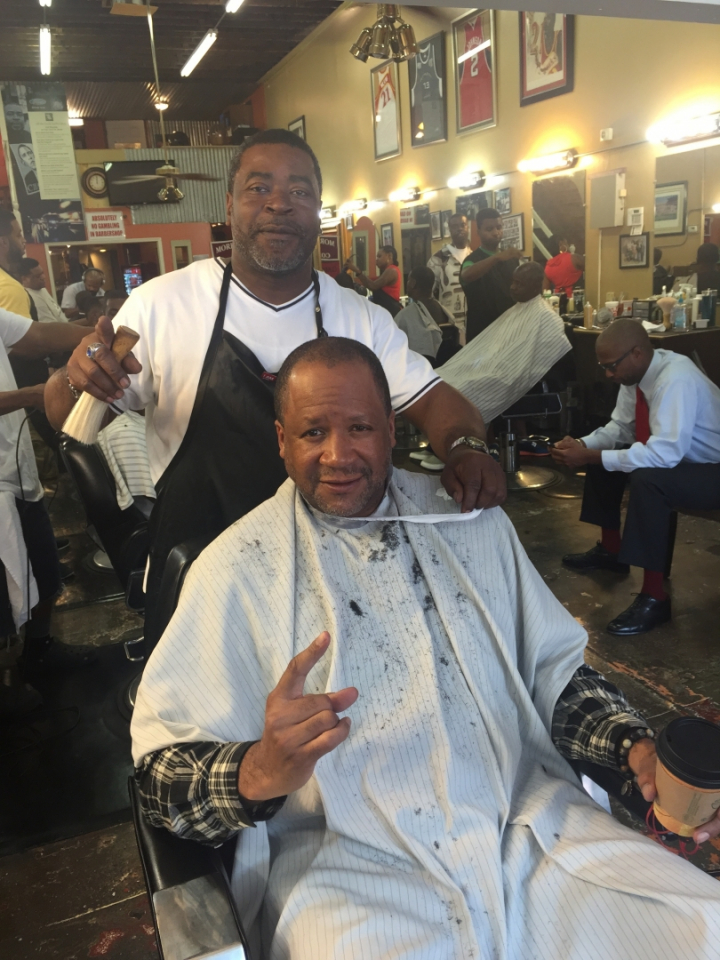 Off The Hook Barbershop has been a pillar of the Castleberry Hill community for many years. Nestled in Atlanta's bustling westside, this year the business celebrates 20 years of service to clients and the community.
The owner, Karl Booker, talked to rolling out about how the shop was one of the first Black businesses on Peters Street and the role stability has played in the longevity of his business.
Why did you start your business?
I started my business because I felt like that was something I was able to do. I watched business owners around me. One day, I set aside time and eventually said I'd have my own.
What type of clientele do you have?
It's a diverse clientele. It speaks to all genres of people. I have politicians, athletes, everyday working people, college students, young, old, middle-age, women, and men. It's a clientele that solid with everyone. Some of my well-known clientele includes Munson Steed, Lonnie Johnson, Shannon Sharpe and more. I have a very wide-range of working gentlemen and women who have been very successful in their life.
How would you describe your brand?
I've set out to be the people's choice. I wanted the shop atmosphere to be comfortable for anyone. It's set where women and kids can come in and feel like they're at home and not feel like it's an environment where they can't come and patronize.
When you have a youngster in your chair, what counsel do you give him as he grows up?
I tell them to learn and figure out what [they're] trying to do and figure out the stability part. There's always room to grow but there are steps to get there. Success is never overnight.
Describe your team of barbers.
I can't say enough about my team. The majority of them were hand-picked. People always say I'm so lucky to have all-star barbers, but I also treat them well. They are from all walks of life. It's a great team. I also have one natural stylist and one hairstylist. They are the queens of the shop.
What role does your barbershop play in the community?
It plays a big part in the Castleberry community. When we moved here in early 2001, there was nothing on the street. I set out to recruit more black businesses to come to Peter Street. Of course, people couldn't see the vision or dream. Now, almost 20 years later, Off The Hook is in the center of what happens on Peter Street. We are very active in the neighborhood association. Anything someone comes to me with about participation in the neighborhood, we give back.
What's the most rewarding part of your business?
It's helping people grow. I'm not a person [who] looks for pats on the back, but it's important to help people grow, especially in our community.
What would you say are the top three accomplishments of your business?
Staying stable. Stability brings longevity. Second, training and helping people start businesses so they can venture out on their own. Lastly, we've stayed true to ourselves about what we want to do.
Why would you suggest a young woman or man become a barber?
If someone came to me and told me they wanted to get into barbering, I would definitely show them how you could make just as much money in this business [as] compared to if you got a degree and did some other job. Whatever you decide to do, it takes work and you have to put in your full effort to make it work. A lot of times people don't understand the business of a barber because they think it's a hustle but it's not. It's a career but it all depends on how you treat it to determine how successful you'll be.