Serayah just oozes positivity. Even over the phone, the California native comes across as both sweet and humble. There's an innocence to her that shines through even when Tiana, her character on "Empire," is far from that. Tiana might be diva-ish, but she can never be accused of not holding her own. Perhaps it's that sense of dignity and self-respect bubbling beneath that also draws us to Serayah. Of course, it's hard to miss that she's stunning, but looks alone can't explain Serayah's magnetism. Very few newcomers could take the role of Tiana, a budding millennial music superstar on the Empire label and young Lyon heir Hakeem's on-again, off-again girlfriend, and still be around. Serayah's been down with "Empire" since it debuted in 2015 and, even when the show ends, she intends to stick around.
She's already been making moves. Recently, the 22-year-old beauty became the face of Madonna's Material Girl clothing line for Macy's spring campaign. She's also an ambassador for Biore. And then there's her music. In fact, like Tiana, music is her first love. Acting and modeling are just added bonuses because, if she ever has to choose just one, music wins every time.
"The first thing I was into was music," she explains. "I grew to love acting a lot once I learned to work at it when I was younger. But for me [music is] kind of like a first love type of thing."
And that first love started in gospel music. "I just think that, from a young age, I grew up in church and I have a special relationship with God and that's just a lot of what I wrote about," she says.
But her music repertoire runs deep. "I love people like Sade and Mary J. Blige and Faith Evans, SWV. I really love Sam Cooke, if you want to go way back. I love jazz and blues," she shares. "Etta James [has been] one of my favorites for a long time. Tina Turner … People that just perform … Janet Jackson, Michael Jackson. Janet Jackson I really love because she's a woman and I just can relate to her a lot more. I love performers and I also love how the women were back in the day and what they talked about, things that really mattered to them. All of that kind of stuff."
On "Empire, " Tiana has had several songs and is actually valuable to the label, so Serayah has been able to practice her craft and get paid. Another bonus for the triple threat who also dances is working with choreographer Jamaica Craft, who has been behind the moves of both Ciara and Usher. Soon, she plans to unleash an album of her own and already has the Jazze Pha-produced "Driving Me" circulating.
For an up-and-coming female artist, "Empire" is an especially amazing gig. Mariah Carey, Kelly Rowland, Jennifer Hudson, Alicia Keys and Mary J. Blige have all guest starred. On top of that, superproducers Timbaland and Rodney Jerkins have guided the music. It's been a fast ride for Serayah, and the impact was immediate.
"Everything was just kind of surreal for a long time. Going from one extreme to the next. Being on TV and meeting these people and all of the sudden going to award shows and all of the sudden performing at award shows. Everything was happening so fast. Before I knew it, I had done a lot of things just within a year," she shares.
It's no secret that Serayah is one of Taylor Swift's gal pals. Hanging around with Swift has many benefits and one of those is bumping into one of her biggest inspirations, Queen Bey herself. "I didn't know that this was going to happen but I was with Taylor and Selena Gomez and Taylor had just won Album of the Year [at the 58th annual Grammy Music Awards in 2016], which is very rare because many people don't win Album of the Year and a lot of women haven't won Album of the Year and I wasn't expecting to meet Beyoncé but that happened and I was completely star-struck," she recounts.
Like so many other young women today, Serayah owns who she is and isn't afraid to bask in her own power. That is more due to the many women who've come before her, she says. Growing up, Rihanna and Pink made a huge impact. "They were like, 'I am going to do what's me because I want to and I'm a person, '" she explains. "I don't think it was about being a woman. It was like, 'I've gone through this and that's okay. ' It is kind of like a movement, which is really awesome."
Serayah has gone through a few things in life that she knows helped prepare her for where she is now. Being an only child stoked her imagination and taught her how to be cool with being alone. But moving around a lot has arguably prepared her the most. Because of that she says, "Change is never really that scary for me. . . . I just had to do it so much; growing up, it was just normal for me."
She didn't always feel that way, of course. "I don't know how many times growing up I just wanted to know the same person. It just seemed so cool to me to live near the same person since I was in kindergarten and now we're still best friends and we went to every school together. That story was always what I wanted, but there were other plans in store for me," she shares.
Today she sees how all that moving continues to benefit her. Some of the greatest lessons she learned through it all was "to be independent and learn how to talk to different people and be around different people and be in different environments that I'm not used to and being able to kind of be a chameleon and understand how to be [on] my own in every situation … I think growing up those lessons definitely taught me a lot and they meant well for my future."
https://youtu.be/G4-QDt1ic30
To stay grounded as she keeps moving forward, she's also learned to never lose sight of the bottom line in her chosen industries. "It is more about the business than it is the love for music or the love for acting," she dishes. "It's always more business than you think it is before you get into it. It's just learning those things about the business and learning that people care more about the money than they do about me."
She also credits her instincts for her ability to keep the vultures at bay. "I'm just good at reading people, I guess. The sincerity of people and why they're around," she says. "If I don't get along with you or if I don't feel like you have my best interests at heart, I don't need to be around you, regardless of who you are. So that's kind of how I knock out those people from being around me in general."
Contrary to the many stereotypes that dog millennials, Serayah is very open to taking advice from those who are older and wiser than she. To that end, she particularly holds on to some words of wisdom "Empire" star Taraji P. Henson, who rules as Cookie Lyon on the show, has shared with her.
"It's about acting but I took it as a life lesson," says Serayah. "Just to own your decisions and not second-guess yourself, which is one thing that I know that she does. She's so free when she's acting and it's so cool to watch because she makes a different decision every time and I don't think she feels sorry if it doesn't work out, which is really cool."
Like so many of her female peers, Serayah is so not afraid to go bold. Although she says that her character Tiana's confidence has "rubbed off on me in some really good ways," the truth is probably that Serayah is the one fueling the confidence we see in Tiana. Her plans for the future definitely lend credence to that.
"Another goal of mine is to have an empire for myself," she says matter-of-factly. "Look at like J.Lo. That's a goal of mine. I know Beyoncé works her behind off. She's one of the most focused people I've ever seen and she's such an influence [on] me in that way. Rihanna, she had an album out every year for seven years. That's like not heard of. I don't think she's had a day off.
"So things like that just encourage me to keep going and I know that there is a possibility, that I can do music and act at the same time, and that's what I'm kind of striving for," she wraps up. "Everything."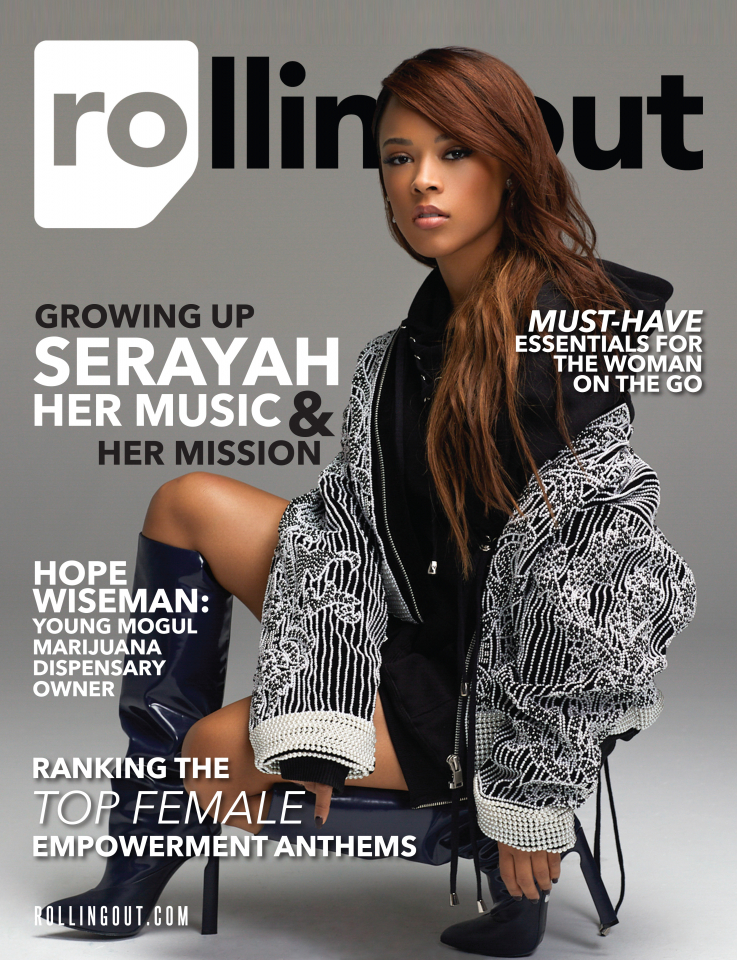 Written by Ronda Penrice
Photography by DeWayne Rogers
Wardrobe Styling by Joey Thao for Art Department LA
Makeup by Paul Blanch at Opus Beauty using MAC Cosmetics
Hair by Preston Wada at Opus Beauty