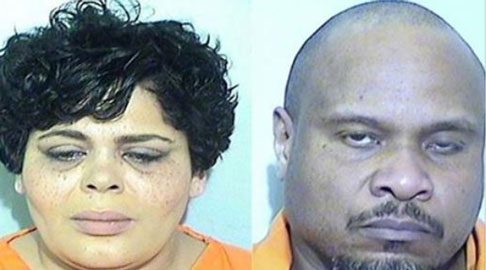 It has been said that a pastor and his wife should work together to overcome obstacles. In the case of a Toledo couple and their daughter that apparently also includes taking part in a robbery and assault.
Anthony Morris, pastor of St. Paul's AME Zion Church and his wife Zelda Morris shocked church members gathered for a Sunday school class when they rushed into the room with their daughter Kamali. Nickema Turner was teaching the class when Kamali grabbed her by the hair and her mother Zelda Morris begin punching her. Then, Rev. Morris pushed her to the ground while his wife grabbed the victim's purse, and flipped out the contents. She then picked up the victim's iPhone and threw it across the room and stole her medication and taser. When Turner got off the floor, Rev. Morris allegedly put a gun in her face and yelled, "B—- I'll kill you" and the family of three fled the scene.
Police responded and it was learned that the possible motivation for the crime was revealed by Zelda Morris, who told Turner's daughter during the beating, "You wanna know why this happened? It happened because your mom was sleeping with my husband."
Toledo police arrested both Anthony and Zelda Morris and charged them with aggravated robbery with a deadly weapon. The married couple was arraigned this past Tuesday and released on a bond of $75K each. Police are still looking for Kamali Morris, who will face similar charges.