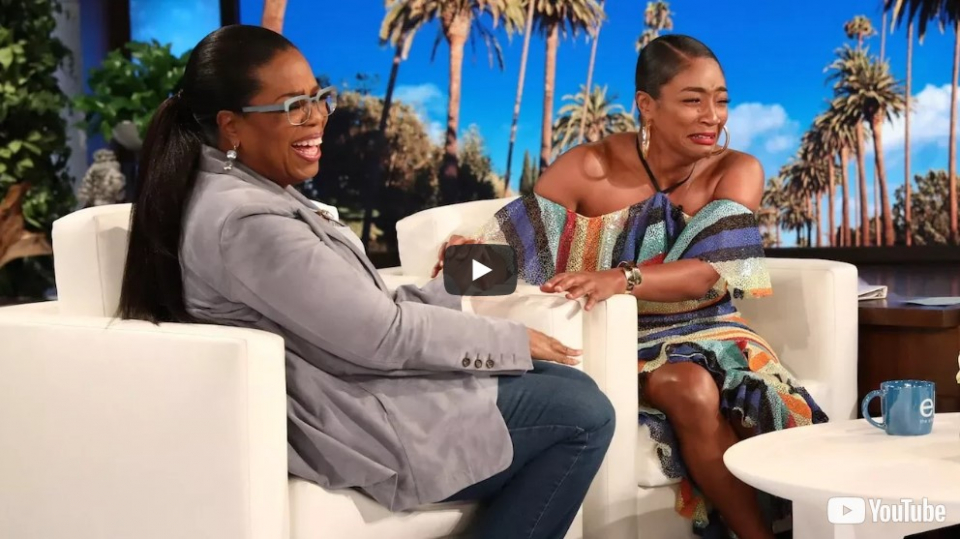 Only a few people in the world can inspire the kind of visceral reaction to meeting them that Oprah Winfrey does. And, as such, skyrocketing Hollywood star Tiffany Haddish broke out in her church happy dance upon the surprise meeting with the billionaire media magnate.
Haddish's dreams of meeting Oprah almost came to fruition more than a decade ago. Haddish was a "professional extra" but fortuitously caught Oprah's attention on the set of her 2005 movie Their Eyes Were Watching God. Haddish, a comedic actress and writer, kept the rest of the extras in stitches with her goofy theatrics. And this caught Oprah's attention. Haddish said that Oprah found her funny and asked Haddish to write to her to keep her informed on her career.
Haddish obediently wrote Oprah as if her life depended on it. But Haddish, 38, said she never heard back from the beloved boss of the OWN Network.
Fast-forward to today. Haddish the latest Hollywood "It" girl following the smashing success of her award-nominated performance Girls Trip and her big deal with HBO. Following Oprah's individual segment where she spoke about her upcoming new Ava DuVernay-directed film, A Wrinkle In Time, Haddish chatted with DeGeneres and she thought that Oprah had left the studio.
After Haddish discussed that she never heard back from Oprah after dutifully writing her, this promoted DeGeneres to say, "Why don't we just ask Oprah why she never wrote back? Oprah, why didn't you write back?"
That's when Oprah walked on stage and Haddish nearly detonated on site. She completely lost it. After a brief dance and crying in Oprah's arms, she finally calmed down enough to talk.
"I love you," Haddish exclaimed as she continued to weep and the audience burst in laughter.
"When I woke up today, I just knew it was going to be magical," Haddish said to Oprah through tears. "When I looked at myself in the mirror today, I said, 'Girl, today is going to be a magical day.' "
Haddish was so thrilled about their meeting that she also posted a photo of her and "Auntie O" to Instragram … three times.
Check out the segment in full.