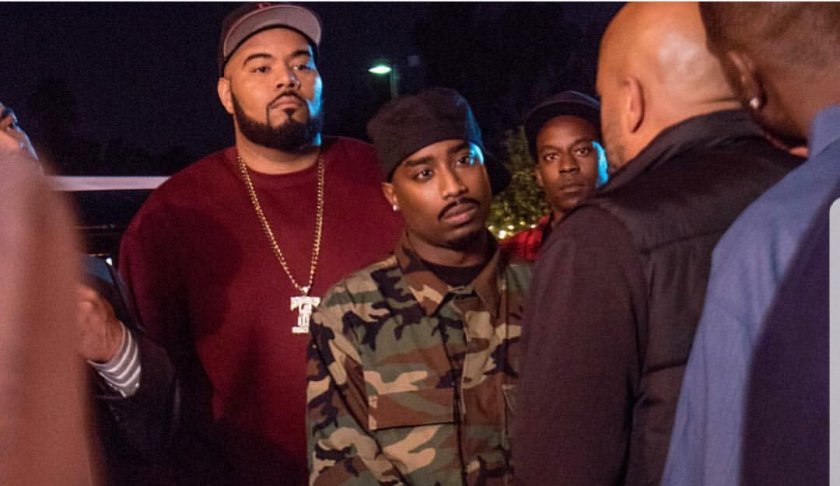 Dominic Santana returns as Suge Knight in USA network's 10-episode true crime drama, "Unsolved: The Murders of Tupac and the Notorious B.I.G." The All Eyez On Me actor digs deep into the Death Row mogul's involvement in and influence over two of the most intriguing celebrity homicides to this day, with an inside look on the murders of the fallen rappers.
Read Santana's exclusive interview with rolling out below.
How did your reprisal of Suge Knight come about?
The funny thing is my agency was contacted to see if I was available, but once we found out what it was, I initially turned it down. I didn't want to play Suge too many times because there was another big project looming and I had it in mind that I was going to do that one and move on from it. At the time I thought it was a reenactment show where they do interviews and reenactments in between.  A friend of mine that I've known for years was on the writing staff for the show. They told her I was unavailable so she called me like 'What the hell are you doing that's so important to turn down big shows?' She told me that Unsolved wasn't some little show and I should get more information on it. I found out one of the main executive producers is Anthony Hemingway ("The People vs O.J. Simpson: American Crime Story," "Underground"). When I heard his name, I was immediately interested. I flew out to LA to meet with him and the other producers (Mark Taylor and Kyle Long). When I saw the pilot, I said [to myself], 'I can't miss this, I'd be an idiot.'
How have fans responded to the trailer and news about your involvement in the series?
It's been really good because fortunately the fans really enjoyed my portrayal in All Eyez On Me. It's different this go-round because I don't have to prove myself to the fans like before. It was my first time playing Suge in All Eyez On Me. You know how the fans are, especially Tupac fans — they're always skeptical of anything having to do with his story. They actually were hyped about it as more and more information came out. I think initially people didn't know what it was or how to take it. They thought it was another documentary but as the trailers started airing, they realized this is a real story. The more my fans saw me, it was a strong cosign for them to get into the show.
In reprising your role as Suge Knight, what will be different this time around in "Unsolved: The Murders of Tupac and the Notorious B.I.G." than how you portrayed him in All Eyez On Me?
With All Eyez On Me, my character wasn't the center of the story. The movie was about one person. You saw me interacting, but the focus wasn't on my character. In "Unsolved," because my character is so heavily involved in the story, there's more detail and background on Suge Knight and where he fits into all these pieces of the story. Suge Knight and Death Row are interwoven throughout the show.
What can viewers expect from the mini-series "Unsolved: The Murders of Tupac and the Notorious B.I.G." that they didn't know already about the deaths of Biggie and Tupac?
The cool thing about "Unsolved" is although it's the same story, the difference is in the details. You've seen things in the media. You've heard the rumors and different people telling their side of the story. This time it's coming from the perspective of the detectives and investigators of Biggie and Tupac's murder cases. Russell Poole, the first investigator tasked with solving Biggie Smalls murder, starts finding links and connections to Tupac's murder too. Death Row is at the center of a lot of stuff they're finding. There's' also corruption in the LAPD.  All that we've ever heard is that they never found the killers. The part you didn't hear is what you will see in Unsolved. Why wasn't it solved? Who got in the way? What secrets did they uncover that they could not let get out? All this will come to light and [is] being put out there for the world to see in Unsolved.
With Biggie and Pac's part in the story, it's about the time leading up to their deaths, some of the things going on in their personal lives and their relationship. The show spends more time on [Biggie and Tupac's] personal relationship and how they were in the beginning. We didn't know they were as close as they really were. It puts it into a whole different perspective on how things ended in terms [of] how much time they were spending and how they were helping each other. But then, all this stuff started happening [like the East Coast vs West Coast beef]. You get to see what leads up to the East Coast vs West Coast beef, how it affected Biggie and Tupac and how the investigation was affected by all these different outside sources.
What is your theory on who killed Biggie and Tupac?
I don't really have a theory, but after doing this show, I have a clear understanding of who, what, when, where and why. If I were to tell you what I know, I'd be giving away a good chunk of the show. My theory might have been a little different but once you are privy to all the information, it's pretty black and white. The show walks you through what happened and why and gives you the answers you've been wanting to know.
What's on the horizon for you after "Unsolved: The Murders of Tupac and the Notorious B.I.G." airs on Feb. 27?
Besides my own feature film, I'm starring in and producing, I am doing an action movie this summer about narcs. I'll also be involved with a new franchise from the creators of Final Destination. This one is dope. It still has that shock factor and anxiety of what's going to happen next and when but there's a new and different element that has more fear added.
Tune into the USA Network tonight at 10 p.m. EST/9 p.m. CST to catch Dominic Santana as Suge Knight in "Unsolved: The Murders of Tupac and the Notorious B.I.G."
Follow Santana on social media at @officialdomsantana on Instagram, @dominicsantana on Twitter, @santanadom on Snapchat and Dominic Santana on Facebook.   
See the trailer below.