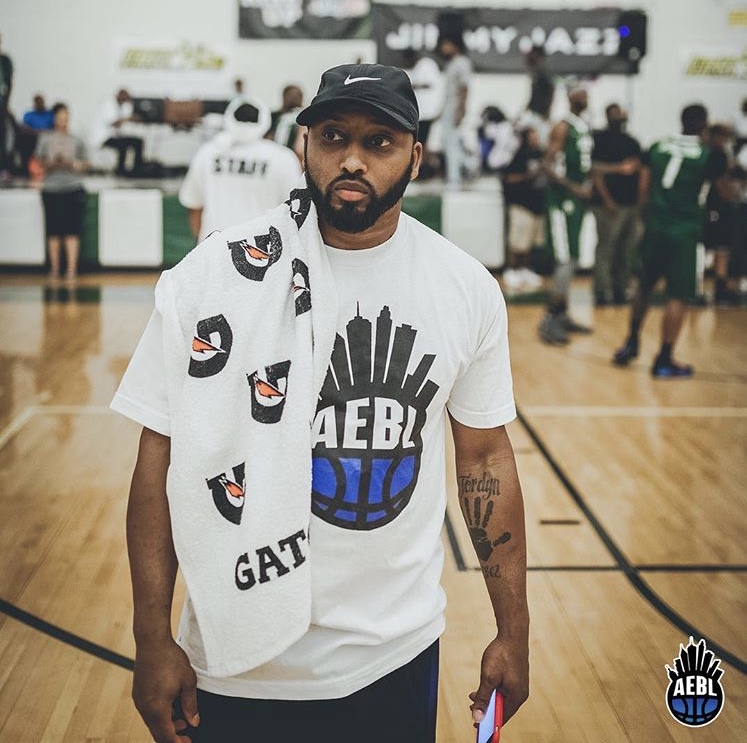 Jahi "JahTheCEO" Rawlings is the founder and CEO of Sports & Entertainment Marketing and organizer of the Atlanta Entertainment Basketball League (AEBL) in order to meet a community need.
Every year, the AEBL has grown. In its inaugural year, 2013, audience attendance only reached up to 200 people. Last year by season four, attendance topped over 1,500 to 2,000 people at every weekend game. An AEBL game showcase 12 teams comprised of professional, college, street ballers and high school standout players. Games offer fan-friendly entertainment including musical performances. "The AEBL's strongest asset is our relationship to the community," Rawlings explains.
In addition to the games, AEBL hosts a variety of key community events: Season Kick-Off Block Party, sponsored camps and clinics, as well as a back-to-school backpack drive. "Our signature charity basketball game, #Hoop4ACause gathers thousands of toys and household items for less-fortunate Atlanta families over the holidays," he adds.
Each game is hosted by a powerhouse host, Bria Janelle. The tiny dynamo engages and energizes fans with her fun and creative commentary. The list of special guests and players at the AEBL is always impressive and ranges from Dwight Howard, 2 Chainz, Cam Newton, Lou Williams, Paul Milsap, Migos, and more who have attended or played in AEBL games.
"We've grown this league over the last five years to be one of the most dominant, most successful in the country through our brand relationships," says Rawlings.
The AEBL recently closed an exclusive, multiyear apparel partnership. Nike provides the league with funding, product and helps with local community programs. Nike is highly visible this season with gym signage, as well as staff and players' uniforms and sneakers. The AEBL has also partnered with Mountain Dew, Kroger and Atlanta radio station, Streetz 94.5 FM.
Here, Rawlings shares more.
Are you an athlete? If yes, please explain.
Yes. I'm a former collegiate and pro basketball player. My life has been basketball since the age of three. I'm originally from New York, the mecca of Basketball where I played and competed in some of the biggest basketball tournaments against the best talent in the country. I moved to South Carolina to finish high school at Broome High School, before signing to play college basketball here in Atlanta at Georgia Perimeter College, where we were a nationally-ranked team both years I was there. I finished up playing at Lander University in Greenwood, South Carolina. Upon finishing my college career, I played one year in the NBA D-league, now G-league, overseas and around the ABA and WBA.
What is AEBL's mission?
AEBL's mission has always been to take care of the metro Atlanta communities where kids and families who are less fortunate have access to free live sports and entertainment.
Our mission is to create a platform for the next generation to gain experience, exposure and opportunity through sport.
Why did you start this organization?
I started AEBL because I saw a void and disconnect with community basketball. As I mentioned, growing up in New York and playing basketball all my life, I saw how summer basketball brought the community together and could be used as a driving vehicle to empower people and save some kids lives like I did mine. AEBL has become an anchor for the Atlanta community not just for basketball. We have several other programs that also serve the community, such as our annual back to school drive, homeless initiative, school mentoring program, our annual charity game and toy drive during the Christmas holidays.
How does the organization's mission benefit the community?
AEBLs mission is to create a platform for the next generation to gain experience, exposure and opportunity through sport. With this in mind, we have dedicated our time to ensure that young boys and girls have the resources available to them to play the game that they love. However, we ensure that they understand that a true athlete has a platform that is not just about basketball. We mentor them, encourage educational advancement — tutoring, scholarships, training — community service, feeding the homeless, toy drives, back to school initiatives, and leadership development. We believe this benefits the community in several ways to include giving young people purpose, drive and aspiration. It is our goal to do our part to keep kids off the street and out of trouble and on the path to success. Our program does that.
Why is a partnership with DTLR important?
I always believe in aligning with companies or brands who support and believe in our community efforts and DTLR themselves are very big with taking care of their local communities and Basketball is something they've been connected to so it was a great fit. DTLR has historically aligned itself with community-based organizations that focus on youth outreach, educational advancement, and overall community improvement. They truly have their finger on the pulse of the community and what it takes to keep young people actively engaged.
How do you choose your players?
For the most part, players are selected by their peers, and coaches based on their work in the classroom, athletic merit and social responsibility in the community. We follow these kids throughout their high school journey and work to stay connected to their development, success and ultimately where they end up playing ball at the collegiate level and beyond.
If you could change anything in this world, what would it be?
Poverty and the education system.
This year the 2nd Annual DIRTY 24 High School All-Star Basketball Game will take place on Saturday, March 17, 2018, at KIPP Collegiate 98 Anderson Ave. NW Atlanta, GA Doors open at 4 P.M. tip-off at 5 P.M. (Girls) and 6:30 P.M. (Boys). Tickets are $10 in advance and $20 at the door. Advance tickets can be purchased at all metro area DTLR retail stores or online at http://bit.ly/2GJuzV6 . For more information on AEBL visit our website at www.aeblhoops.com. Visit DTLR at www.DTLR.com. Follow us on Instagram and Twitter @aeblhoops @dtlrlifestyle #DTLRLIFESTYLE #AEBLHOOPS #DIRTY24