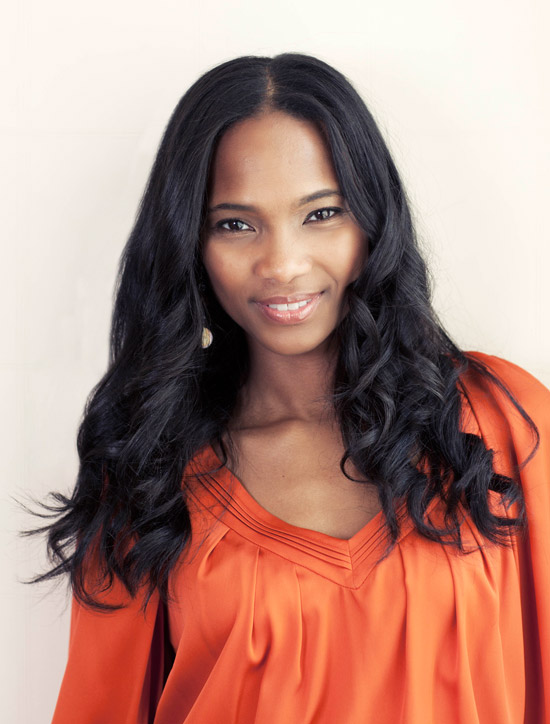 Nicole Friday is more than just the wife of American Black Film Festival founder Jeff Friday. Friday is a food commentator, founder of fridaytalksfood.com, television host, and most importantly, a driving force behind the success of ABFF. A graduate of Howard University, Friday uses her immense experience in the film and television industry to uplift and empower African Americans whose talents are often overlooked in Hollywood.
Friday spoke with rolling out to shed light on the amazing things she and the ABFF are doing to continue to diversify Hollywood and educate emerging artists.
What's it like being the leading ambassador for the American Black Film Festival?
It's something that I take seriously and take pride in. This festival has been around for 22 years. As a woman in Hollywood, I realize the importance of what it means to represent people of color and what it means to represent immerging artists and immerging talent in the Hollywood community who may not otherwise get an opportunity. I take my responsibility as a big deal. I don't have a position where I just work with the sponsors, talent, festival attendees or our partners. I work with everyone. So, my relationships are built on getting to know people and making sure everyone is happy. 
Do you have any background in film and production, or did you just learn your skills along the way?
I have a background in production. I used to produce radio and did some television. Other than the film festival or live events, I've been on it for 19 years now. I guess I dove into this coming from producing television, radio and morning shows. I had a pretty good foundation on working with people, working with sponsors, booking talent, getting people to come to our show. Then just working in the film community through radio and television, and loving the Black community, what we stand for, and wanting to be a part of that story my skills evolved.
For someone who may not be familiar with the American Black Film Festival, what is the overall goal and mission of the festival?
We have been showcasing film and television and content by people of African descent for twenty-two years. We started this in 1997 to use this as a vehicle to strengthen the black filmmaking community and support black talent and immerging artists. We do that is through many of our educational and resource sharing, career development, and collaborations with our partners. Because of this festival, we've supported the careers of many of today's artists such as Ryan Coogler, Anthony Anderson, Will Packer, Issa Rae, and Omari Hardwick. We've done so many things in support of immerging artists. We wanted to invite these artists, who may not have an opportunity to break through in Hollywood, to come to our festival and meet sponsors. When sponsors are in front of emerging artists, and they see them, there's an opportunity for them to partner with the artist that comes to the festival.
Jeff created the festival in 1997. Were you married then and built it up together, or did you meet him afterward?
We were not. At that time, I was working in radio as a producer. Back in 1997, Jeff had this idea when he saw black people were underrepresented in Hollywood. He was inspired to start the film festival in Acapulco. At that time, it was a small group of Hollywood friends that he had like Nia Long, Larenz Tate and Vanessa Williams. Even then, he was able to honor people like Debbie Allen, Halle Berry, and got Morgan Freeman and Denzel Washington to come down to present awards to them. Years later, I came on the scene.  I met Jeff through mutual friends, and he invited me to the film festival. I met him at the end of 1999 and then he invited me to the festival in June. It had been three years already going strong, and I think with our partnership, we were able to build on to that and make it stronger, and bigger. Then we moved to Miami in 2002. Our friends had grown more, so it was more than just our handful of friends that were in Acapulco. In Miami, we had thousands and thousands of people that came out and supported the film festival. We've built strong alliances with talented people in the community over the years. From Common, Halle Berry and Idris Elba, to Spike Lee, John Singleton and Tracee Ellis Ross.
Talk about your favorite programs within the festival.
The pipeline programs are partnerships with leading media companies that have been partners and sponsors of the festival for a long time. When we have people like Issa Rae, Omari Hardwick, Will Packer, and Ryan Coogler and other prestigious alumni who have shown their work in previous years, new artists now may have the opportunity to get in front of some of these alumni, companies, and organizations to partner with them. Within that, we have the short film competition, which is sponsored by HBO. Those are the short films submitted by independent artists. Then we have the star project, which is a national search of talent that has yet to be discovered. That's an actors' program. We have the comedy wing, which is a comedy competition. In the screenplay competition, we partner with TV One. I like that one because actors would come and they get on the stage and act out the screenplays from the submissions of the writers. We also have another one with NBC that's a hosting workshop. Our newest partnership is with Kevin Hart and his production company Laugh Out Loud to create short-form content, and the first three projects will premiere at our festival this year. We also have a partnership with Lightbox, which is the documentary feature initiative. Overall, we have a lot of good stuff going on.
What is the Greenlighters program and how can students apply?
The Greenlighters Academy focuses on educating students who are from historically black colleges and universities. I attended an HBCU, and so did Jeff. It's a program designed to be an incubator for African American college students who have an interest in pursuing careers in the corporate side of film, television and media. It's a two-day intensive ABFF Greenlighters Academy boot camp. They learn all about working in the industry and have sessions with entertainment executives, agents, department heads, and production company owners. We had students from Howard University, North Carolina A&T, and Clark Atlanta University. Students can submit to the program on ABFF.com. We also send out blasts, through Facebook, through all of our social media platforms.