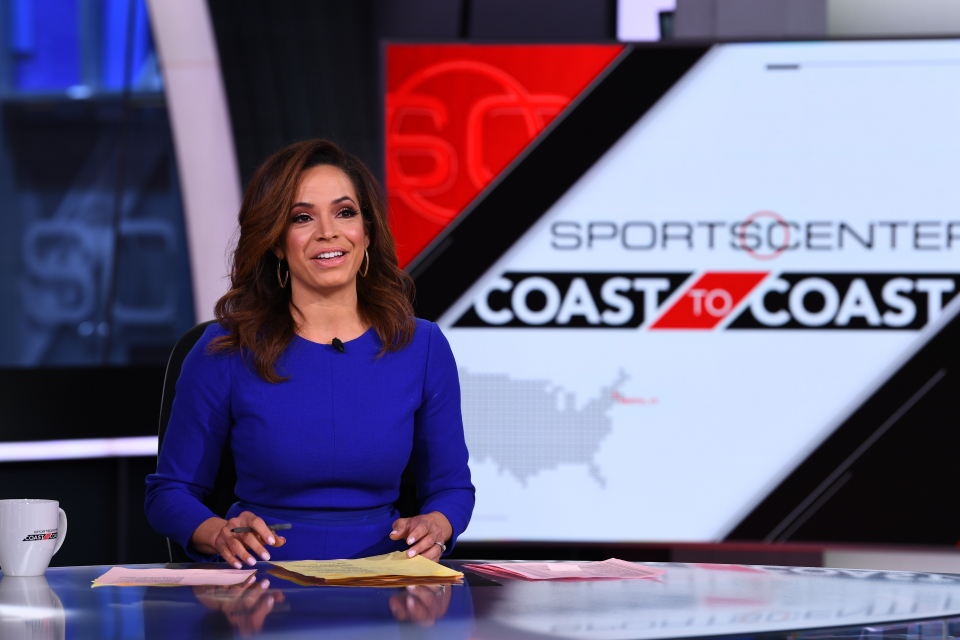 Elle Duncan is, once again, transitioning into a new season in her life.
She's moved from her hometown, scraping up sports clips on the side for free while reporting on traffic full-time, to Boston and then the Connecticut area to become a wife and one of the faces for the worldwide leader in sports in less than five years. Her first daughter is also expected to make her world debut in four months. It may sound hectic on paper, but this was Duncan's plan the entire time.
"Honestly, I've always loved sports," Duncan said in an exclusive interview with rolling out. "What I always tell the young folks, the ones in their early 20s, is that there are a million ways to skin a cat and there are a million different paths to get where you want."
Duncan's path started out of college at V-103 with Atlanta radio legend Ryan Cameron at the age of 22. Although she didn't believe that her career would begin in radio, she understood that Cameron could teach her story-telling techniques and how to keep an audience engaged over a long period of time.
Once Atlanta Hawks in-game sideline reporter Rashan Ali went on maternity leave in 2005, Duncan used her connection with Cameron, who's also the Hawks PA announcer, to become the newest in-game reporter for the team. Over the years, Duncan built up clips from the Hawks games to get a position that covers UGA football on Comcast Sports Southeast (CSS), which led her to get a reporter position at the local NBC affiliate in Atlanta, 11Alive. The network didn't want to hire Duncan as a sports reporter, so she volunteered to be the traffic reporter while doing sports on the side for free. She used the free clips to get her the job at NESN in Boston in 2013, with geographical proximity to ESPN in mind, and finally landed at the Disney company in 2016.
"I knew the end game," Duncan said. "I just had to figure out the process and the plan to get there. It took a little longer than I anticipated, but I wouldn't change anything. Once I finally got to ESPN, I felt like I had so much experience at every other job that I ever worked, that I was ready to hit the ground running."
Musical influence
What makes Duncan different and the reason she was No. 2 on our 2017 Top 10 Black Women Sports Journalists list is her unique blend of wittiness, energy, and humor. She's just as much about these jokes as she is about debating who should win the Heisman while joking on you in her Instagram comment section. When Duncan started hosting "SportsCenter," she began doing "walk-up songs," which was basically having someone record her at the anchor desk singing a song with other crew members observing as concertgoers. The more songs Duncan did, the more attention the videos got on social media because there's the element of surprise that she can actually hold a note for those who hadn't heard her on "2 Live Stews" or on V-103 back in Atlanta.
She grew up in a very diverse home in terms of the type of music her parents played. Duncan then began participating in musical theater and ultimately, her vocal career even landed her a record deal for a very brief period of time as an 18-year-old senior at McEachern High School.
"I thought enjoyed singing and I was still in that 'trying to figure out stage of what I wanted to do in life,'" Duncan said. "I was like, 'I know I just want to be myself. I don't know what that looks like. Is that broadcasting, is that singing, is that acting?' So I had someone who took a flyer out on me and was willing to give me a little money to come up with some songs."
Then, Duncan collected some backup dancers and rehearsed for a month in preparation for her first show at a club called Chili Pepper in Buckhead.   
"I did a performance there and it was awful, it was so bad," Duncan said. "When I actually got on stage, it was so bad, even my parents couldn't lie to me. They just were like, 'Well … it took a lot of guts.' It was just that bad. I enjoy singing and I like writing and the process of making music, but I don't want to do this as a career. It's just a hobby. I annoy my friends and family by singing all the time and that's just sort of where it came from."
Bouncing back
Duncan's swift five-year transition from literally freelancing in her hometown to working at ESPN didn't come without any stumbling blocks, however. In the early hours of April 28, Duncan was driving back home after celebrating being named one of the most influential women in Atlanta by the WNBA. Duncan admits that she had "half a drink too much" and tested just .01 over the legal alcohol limit in Georgia. She was arrested for a DUI.
"That was enough to forever give leverage to the haters," Duncan said. "To forever give leverage for people to diminish anything that I have to say and to minimize anything that I have to say. I recognized that this was going to be a huge black mark for me, but it was not going to define me."
Instead of trying to sweep her arrest under the rug, Duncan confronts the incident head-on. She admits that she made the mistake of getting behind the wheel after having a couple of drinks and now Duncan donates to Mother's Against Drunk Driving (M.A.D.D.), she does PSAs on responsible driving and speaks to students about being responsible and protecting themselves.
"It's still times where it's truly difficult for someone that you don't know to send an email to you or to tweet at you your mugshot and say that 'you're a monster,' when they don't even know you or the situation," Duncan said. "But the people that know me, the people that love me, respect me and even the people that supported me and don't even know me from a hole in the wall have helped me. I have understood since the day that happened, standing there in handcuffs, walking into the Atlanta jail, which was awful. The only time I've been down there is for Magic City. It was a huge wake-up call."
Duncan said that she was thankful for networks like NESN and ESPN understanding that one incident does not define her character and giving her a chance to continue advancing in her career.
New perspective
The biggest curveball in Duncan's life has been building a family. After being locked in for so many years to advance in her career, Duncan admits that there were times where she let her work define her as a person and that all of that changed once she got married.
"For the first time, I felt totally and completely fulfilled outside of work," Duncan said. "Meeting my husband was so incredible because I felt like, 'I can let this go.' I can put away whatever happened at work as soon as I leave and can go home and be a happy camper. I can do a terrible show. Where it used to eat at me for days, I will think about it, I will think about what I could've done better and then the second that I walk in my house, it's done because my husband doesn't give a damn about Elle Duncan. He cares about his wife and how she is, how her day was and it doesn't have anything to do with how the show was. How was your breakfast this morning? How was your drive to work? Those are important to him."
Marriage alleviated a great deal of the pressures that came with work, Duncan said. Marriage made her realign her priorities in life, much like the baby she's currently carrying. Although she's been told that her pregnancy journey has been smoother than a lot of her associates, she still has to prioritize her life in a different way.
"Little things such as grabbing something off of a cheese plate and having to Google, 'am I allowed to eat this? Because I'm pregnant,'" Duncan said. "Everything, it's insane. Asking, 'Can I pop a couple of Advils, because I have a headache? Everything you would normally do, you would have to look at a couple of times."
Despite her life adjustments during the nine-month period, Duncan said her daughter has already given her a new purpose in life. Once her daughter officially comes into the world, it'll be time for Duncan to once again transition in life — this time into motherhood.