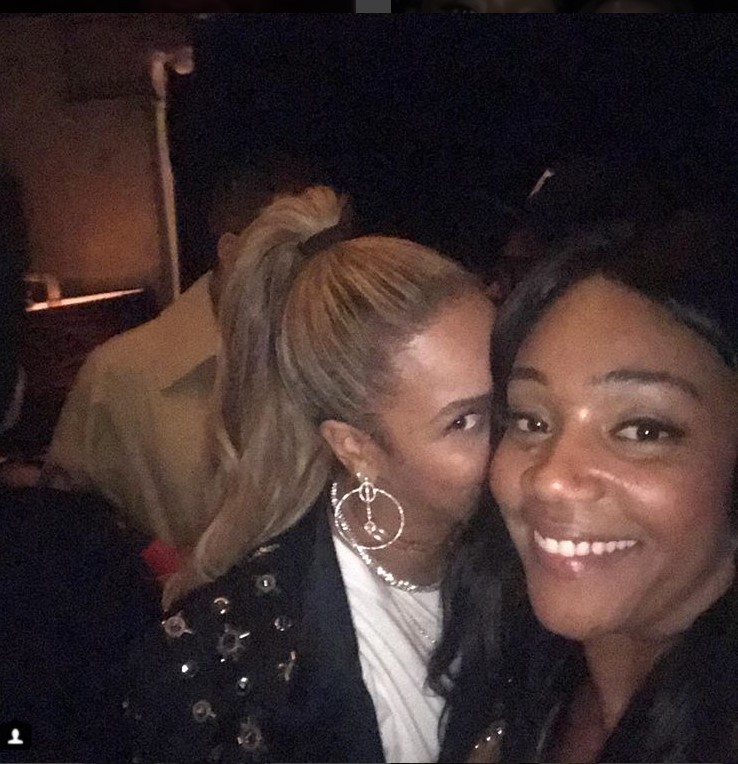 There is a verse in the new song "Top Off" that features a rapping Beyoncé that is definitely raising eyebrows.
The DJ Khaled track features Beyoncé, Jay Z and Future, and the leader of the Bey Hive raps about being a triple threat and dropping the top on her coupe.
But it was the last line that made people's ears go up like a German shepherd's. She concluded her rap with telling folks who want to party with her [that they] are going to have to sign nondisclosure agreements.
Check it out:
My body, my ice, my cash, all real, I'm a triple threat
F–k it up and then leave, come back, f— it up and leave again
Top off the coupe and it look like Freaknik
In the hood, hollerin', "Free Meek"
Two deep, it's just me and Jay
Just posted in them courtside seats
Woo! I'm like hol' up…
Woo! I might roll up
If they're tryna party with the queen
They gon' have to sign a non-disclosure, ayy
We are not alone in thinking that maybe this verbal missile was aimed at loose-lipped comedian Tiffany Haddish. Many people on social media said that the nondisclosure message was a verbal spanking to the star of Girls Trip.
If you recall, Haddish seemed overly anxious to tell the story of how she witnessed Queen Bey physically and verbal check a "thirsty" thespian for getting too touchy-feely with Bey Bey's husband Jay-Z at a party.
Before that, Tiffany also gave details about Bey stopping her from publicly fading a woman at a party.
OK, so what had happened was, something had went down with somebody at the party, right?" said Tiffany. "I'm not at liberty to say what had went down at the party, but Beyoncé was just telling me to have a good time, and I was like, 'No, I'm gonna end up fighting this b—-!' "She was like, "No, have fun, Tiffany," and I said,
She said, "OK," and then she buried her face in my wig. We took the picture and I was like, "Is my wig slipping?" And she was like, "Mmm-hmm." But she knew who I was! She came up to me and was like, 'I think you are so funny, Tiffany Haddish.' I was like, 'What? You know me?!' She said, 'I'm Beyoncé.' "I KNOW!"
@TiffanyHaddish hiding from paparazzi after hearing #TOPOFF knowing damn well that a direct read from @Beyonce indicating the 1st and last warning to shut the fuck up bout her business! pic.twitter.com/wd25ikP5w9

— Madam Sir™💋 (@TTBMJ) March 2, 2018
Currently Listening to #TopOff My edges are in complete Shambles! But Damn #Bey Why you do Po Tiff like that 🌴🌴🌴🌱👀🌱 #Beyonce #Jayz #djkhaled #tiffanyhaddish #future pic.twitter.com/gVTribuQsf

— Lattesworldxoxo (@LaTanae) March 2, 2018
Beyoncé to Tiffany #TopOff pic.twitter.com/qPCYLAmIqr

— Shuri B (@BirdPlaneKray) March 2, 2018
Tiffany Haddish after hearing Bey's verse pic.twitter.com/aW1JwtGbqf

— Kierra Killmonger (@KdashDior) March 2, 2018
"If they're tryna party with the queen they gon' have to sign a non-disclosure, ayy" #TopOff@TiffanyHaddish sis….

— Slim. (@obeysireli) March 2, 2018
bey when Tiffany Haddish was airing all her dirty laundry in interviews : pic.twitter.com/GFHN3NYcs0

— 🐩 (@lueza__) March 2, 2018
Bey definitely talking about Tiffany haddish on the non disclosure part 😂😂 petty

— peaceful (@actuphigher) March 2, 2018
If they trynna party with the queen, they gon' have to sign a non-disclosure.

She's talking to you @TiffanyHaddish saying all that B.S. about bey getting upset someone touched ha man. You thirsty to milk bey's name you bitch. #TopOff pic.twitter.com/ouYkIx7hu8

— بيونسي از لآيف ✨ (@FACKmeBEYONCE) March 2, 2018