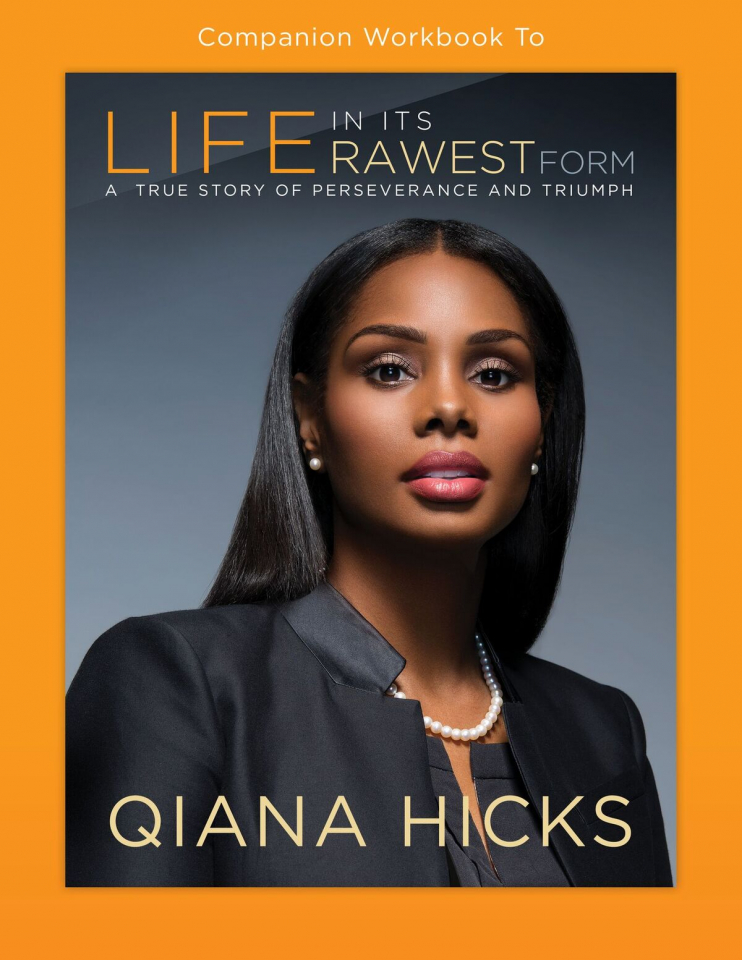 Qiana Hicks grew up as a disadvantaged youth where her parents battled with drug and alcohol addiction and poverty, which caused her to live through tumultuous growing-up years. In addition to her childhood challenges, Hicks became a mother at 15 years old. She didn't allow her circumstances to stop her from dreaming of better. She used her growing-up years as an example of what she didn't want for her future. She worked tirelessly to overcome her past and not to follow the same path as her parents.
Today, she is a mother, college graduate, a career professional and an author. She began her career with a financial institution, working as a customer service representative. In addition to working full-time, she attended junior college where she obtained an associate's degree in applied science, which landed her a job in information technology (IT) as a helpdesk analyst. After serving in this capacity for a couple of years, she realized that in order for her to grow and advance, it would require a higher education, so she earned er bachelor's degree in computer science. While pursuing her degree, she advanced to a role in software engineering.
In this capacity, she learned how IT could be a competitive advantage. She increased her knowledge and skills by learning to program in various software languages. This opened the door to more responsibilities, where she advanced into a leadership role in data management and quality assurance (QA).
Hicks wanted to take on more business challenges and IT opportunities. She knew that in order to do so, she had to have a well-rounded education, combined with real world experience. For those reasons, she furthered her education by achieving a master's degree in business administration (MBA), which led to her senior leadership role in software engineering of a Fortune Twenty company. Qiana has received numerous STEM awards throughout her career. As her life and career continue to progress, she is reminded of how far she's come. That alone is what keeps Hicks striving for better each day.
Hicks' mission is to empower disadvantaged and at-risk youth and young adults to overcome obstacles and break the cycle of impoverished thinking and behaviors so they can make better choices to create a brighter future for themselves, and be an example for others to follow.
She recently penned Life In Its Rawest Form, read here what she has to say.
What does the word perseverance mean to you?
For me, perseverance means to keep trying and never giving up – even through the midst of storms and adversity. It means to fight through and overcome challenges; being resilient and finding your way back sooner.
Why did you write this book?
I decided to write this book because I know there are others that have lived or is currently living life in its rawest form. And sometimes, it doesn't always end in triumph. Whether it is children, youth, parents who battle addiction, or just people in general who may know families in crisis.
By writing my book, I hope to inspire and empower others that they, too, can have a brighter future. I wanted to show them that it can be done. I want them to know that they don't have to become a product of their environment and that all they have to do is believe.
What's the story behind the title?
Life In Its Rawest Form is to live a life full of experiences that are in their barest, most explicit form. Nothing is sugar coated or there to protect you from the brutal reality or its true ugliness. This is the life I lived as a child growing up in poverty where positive resources and opportunities were scarce, and with parents who battled addiction.
Has your family read your book?
Some, yes.
Do they support the book? Have they forgiven and healed?
Yes
What words of advice can you give to the young sister facing similar circumstances?
Unfortunately, my store is like so many. What's unique about it is:
• I didn't succumb to my past
• I didn't allow my tumultuous upbringing and surroundings influence my behavior or dictate my future
• I didn't conform to what was going on around me
• I never accepted it as my normal
• I didn't raise my son the way my parents raised me
• I conscientiously showed my son what a healthy and loving life looks and feel like, and how hard work and
quality education pays off.
The advice I would give to other youth or young adults facing similar circumstance is to not allow these circumstances define who you become or determine your future. Work really hard to break the cycle and not continue to perpetuate the behaviors and patterns of impoverished thinking. Dare to be different and don't be afraid to want better – even if this means you're alone on your journey to a better and brighter future.
What do you hope readers will glean from reading your book?
Although growing up I faced multiple unfortunate circumstances, I didn't allow myself to become defeated by them. Just because my past was at a disadvantage, didn't mean my future had to be. I decided early on that I wouldn't repeat the same cycle that had been passed down from generation to generation. I was determined to do better and have better, no matter the cost. Creating a better, brighter future isn't impossible. All you have to do is believe. Believing allows for one to put in motion the actions for making their brighter future a reality.
What is next for Qiana Hicks?
A lot more writing to empower others to persevere and overcome adversity, helping organizations to inspire and empower youth to be great, conducting workshops and speaking engagements to empower youth and young adults build a brighter future, mentoring, promotion of my books, continuing to advance in my career, and continuing to be a better me.