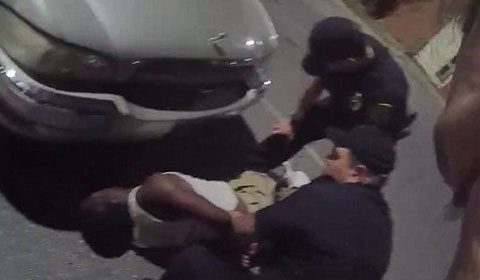 In the United States, when an innocent Black man is confronted by cops at night for something minor, there is a good chance something negative is going to happen. The negativity could be verbal abuse reminding a Black man of his place or it could result in a beat down and being tasered.
The FBI is now trying to determine why Johnnie Jermaine Rush, 33, was stopped, verbally degraded, chased, choked, beaten and tased for jaywalking in Asheville, North Carolina back on Aug. 23, 2017. It was plain to see that when Officer Chris Hickman stopped Rush that night he was getting himself revved up for a confrontation. When Rush complained that they were just "F–k-n with [him]," Hickman's partner used that statement as a pretext to announce he was now under arrest and Rush panicked and ran. As Hickman gave chase, he is heard yelling, "You know what's funny is you're going to get f-ck-d up hardcore."
Hickman was true to his word and beat Rush in the head, choked him and tasered him, all while verbally abusing the man who was yelling, "I can't breathe."
Video footage of the arrest was released by the police and published with media outlet the Citizen-Times, and soon the public became outraged. Since the footage was released, Officer Hickman has resigned from the police force and may face criminal charges for his actions that night. His partner Verrino Ruggerio is not under investigation.
Rush was originally charged with assaulting a government official and jaywalking but all charges have since been dropped. Police Chief Tammy Hooper publicly apologized to Rush for the beating he received at the hands of his officers.
The video of the encounter can be seen below:
https://www.youtube.com/watch?v=efydH9P1z7E