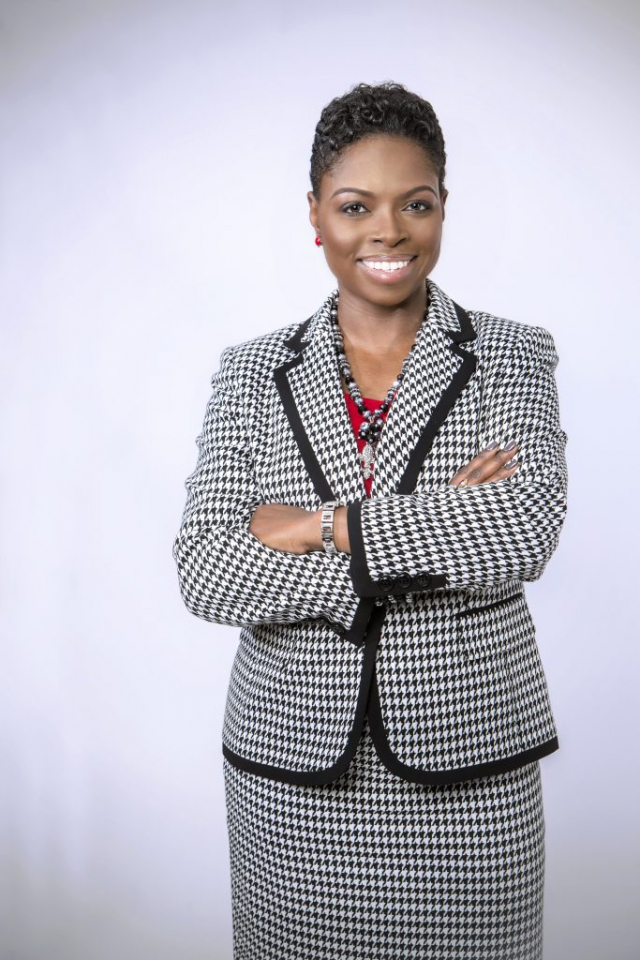 Even before she became a best-selling author, Tenita "Bestseller" Johnson spoke her moniker into existence. As the founder and CEO of So It Is Written LLC, Johnson helps position writers for success in the literary world and beyond. Hundreds of best-selling authors worldwide write better thanks to the Detroit-based editorial guru and "authorpreneur."
Dubbed the editor's editor, Johnson hosts the annual Red Ink Conference to empower aspiring authors to write from the editor's point of view, enabling them to save time and money on the self-publishing process. She also shows writers how to generate multiple streams of income. Her memoir, "When The Smoke Clears: A Phoenix Rises" was adapted into a stirring stage play. Those who follow her on social media are inspired by her spiritually insightful posts. After enduring a miscarriage of her twins, unemployment and depression that threatened to claim her life, Johnson is reaping what she has diligently sown. As she often proclaims, "big doors" are opening.
How did you determine your career path?
I've always been passionate about writing. I was the child who got in trouble for writing on my grandmother's walls instead of paper. And while I went to a communications high school, and I graduated from one of the top journalism schools in the nation, my career path didn't go as planned. I thought I'd work as a writer and/or copy editor for a major newspaper. But then, the newspaper was slowly phased out. So I ventured into magazine editing and writing. That's when I determined that I preferred a more creative writing approach as opposed to the news style of simply stating the facts without opinion or bias.
After being laid off for three years, I ventured out into book writing and published my first book, 100 Words of Encouragement: Tidbits of Inspiration. I also noticed how irritated I became when I saw a misspelled word on a menu or a billboard, on social media or on TV. So, when every corporate door closed and literally would not open, I was forced to use what was in my hands to create wealth and income for my family. That was both writing and editing. Thus, So It Is Written LLC was birthed.
Name three books that changed how you saw life that you would recommend to others.
Fervent: A Woman's Battle Plan for Serious, Specific, and Strategic Prayer by Priscilla Shirer
Unqualified by Steven Furtick
The 5 Love Languages: The Secret to Love that Lasts by Gary Chapman
These books literally helped shape the very being I am today. It taught me self-love and how to love others, but also how to pray for my business, family and goals strategically.
Name three successful female role models and explain why you admire them.
Iyanla Vanzant: She stands in her truth and encourages others to do the same. I'm at a point in my life where I don't want to wear masks. I barely want to wear makeup some days. I want people to know and see the authentic me.
Pastor Tammy Davidson-Stephens: She is bold, straight talk no chaser. When you encounter her, she has zero tolerance for foolishness like gossip or backbiting. She's the perfect mix of supernatural and spiritual, with authenticity and natural wisdom. She doesn't do a lot of small talk; but when she speaks, she speaks with purpose.
Marshawn Evans Daniels: I believe she coined the term "Godfidence," which has become my mantra and what I stand on. Without God, I can do nothing. In him, with him, I can do all things! I've watched her soar from afar, but she's left an imprint on my heart and mind that can't be erased.
As a woman of color, what do you consider your superpowers to be?
As a woman of color, I'm proud to say that my superpowers are editing and writing; but also empowerment. There is power in the pen. Knowledge is power and most times, many people obtain knowledge through books or the written words. So I write the words many won't speak. I write the books I'd like to read when I read, and people get healed and empowered in the process. Whether I'm writing on social media, speaking to an audience through books or on a stage at a conference, my goal is to let people feel, see and experience the authentic me and encourage them to tap into their inner superpowers
as well!
How do you feel about the hashtag #CollaborationOverCompetition? 
The hashtag #CollaborationOverCompetition is [also] my mantra. We can achieve so much more together than we can apart. I am not in competition with anyone, even if we do the same thing. There is enough business and money on the Earth for us all to eat. When we collaborate, we have greater impact and may even gain greater income. No man is an island, and we're not called to do life alone. I'm all about collaborating with other authors, editors, entrepreneurs and event planners — even if it's one time.
What prompted you to create and launch The Red Ink Conference?
I was talking to a fellow friend and playwright, Vanessa Lynn, explaining to her that I couldn't find a conference for editors who specifically edit books. She told me, "When you can't find it, it's up to you to create it." I laughed, but I took heart to that. I sat on the idea for a minute. I planned it one year and had to cancel due to low registration numbers. However, the following year, I got a new venue and a new strategy and packed it out.
In 2017, we packed it out again. This year, we're both in Detroit and Atlanta, believing for sold-out audiences in both cities. I want to empower authors to birth best-sellers and get paid for their pain more than anything. Also, this conference serves as a training ground for editors and proofreaders.
How do you help people transition from author to authorpreneur?
I'm all about encouraging authors to know that it's not just about the book. There are at least 10-15 streams of income tied to a book. No writer should be broke. We just need to tap into the creativity within and start! Sadly, most people who come to me originally come to me for editing and proofreading. But they get so much more. I get ideas for the book launch party, a conference, a seminar, a workshop, a stage play, a film and more. When people come to me, I remind them that when you write a book, you open a business. Period. Run it as such. This is no longer a hobby for me. I write for a living and get paid to do it. It's not good enough for me that clients publish one book just to say they made the Amazon Bestseller List. Now what?
What thoughtful or encouraging piece of advice would you give to your younger self? 
Charge what you charge, and don't apologize for it. For many years, I was scared to ask for money. Scared to ask for deposits. Scared to ask for balances people owed me! And I got screwed for many years. My largest project cost starts at $10K, and I'm not afraid to ask for $10K. I know the work, excellence and value I provide to a client. And I won't apologize for it nor discount it. It never goes on sale because it's the premium VIP service. It's not for every client who inquires. But many clients have paid it to me without a second thought and been pleased with the outcome.
To connect with Tenita and learn more about The Red Ink Conference, visit SoItIsWritten.net or email [email protected]