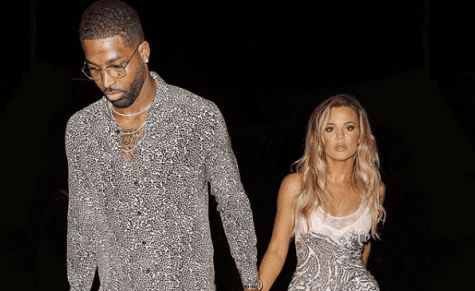 Khloe Kardashian is like the rest of her family in that she has become very adept at averting national PR disasters.
It was already very bad optics for Kardashian's current boyfriend, Tristan Thompson, to bolt from his ex-girlfriend while she was very pregnant in order to jump in Kardashian's arms.
But after the airing of the latest episode of "Keeping Up with the Kardashians," folks were coming for Thompson's scalp for his refusal to even acknowledge his first child he had with the ex-girlfriend in question, Jordy Craig.
To compound the scandal is the fact that Kardashian announced that she is expecting a baby girl. Kardashian conveyed disappointment to Thompson because they both were said to have "really wanted a boy."
Fans were quick to stampede onto Twitter and scream the obvious: The Cleveland Cavaliers center already had a son: Prince Thompson.
A herd of KUWTK fans stomped all over Thompson, asking if he forgot he already has a son.
One person said on Twitter: "Let's not forget-Tristan Thompson left his pregnant GF to be with Khloe Kardashian. He hasn't publicly acknowledged his first born however he poses for a pregnancy announcement with Khloe and does appearances on KUWTK???"
A second person unloaded on Thompson: "Why does no one pay any attention to Tristan Thompson's FIRST SON? Or that he left his pregnant girlfriend for Khloe Kardashian. Or that the entire Kardashian family and Tristan refuse to acknowledge the f**king son he already has! I find that shit beyond f**ked up."
Digesting the country's mood on this subject, Kardashian quickly found a solution to the embarrassing problem. She announced that she wants Prince to move in with them.
"Khloe is hoping that Tristan's son will live with them once their new baby arrives," a source told Hollywood Life. "Khloe is hoping that they will be a big happy family, and she strongly believes that it would be great for Tristan to spend more time with his son too. Khloe knows how important it is to grow up with a big family, with lots of siblings, so she thinks it would be great if her daughter had a brother right away,"
The insider added: "Khloe is hoping her new baby girl is the first of many, she wants a huge family, and sees no reason why they cannot include Tristan's son in their home."