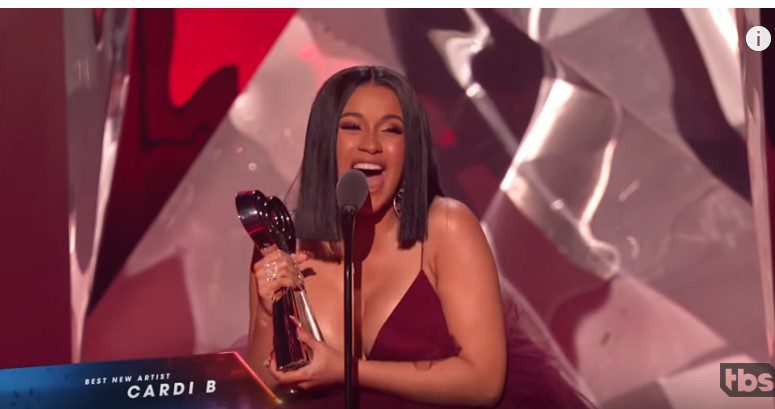 Rap sensation Cardi B lit up the stage like Christmas Eve as she took home the trophy for Best New Artist at the 2018 iHeartRadio Music Awards.
While she was on stage, bathing in the rousing ovation for her groundbreaking, history-making and life-changing 2017, the "Bartier Cardi" singer thanked all her fans and critics as well — before she tore into her haters.
"Oh my God! I am going to thank a lot of people because a lot of people helped me with my success so here it goes," Cardi said, adding her quirky squeaks.
"I want to thank my publicist, my team; I want to thank Atlantic, my family. Who else? I want to thank my man."
She continued, 'I want to thank my fans because even when I'm wrong, they are like she's still right."
Cardi also had a message for all the people who turned hating on her into a blood sport.
"And I want to thank my haters too. Because, ha-ha-ha, because they are downloading my stuff so they can hear it and talk crap about it. But it benefits me. Ha-ha-ha,' she shared.
"My album will be coming in April. Okay? Yes, sir. April. Stay tuned mother f—ers owwww."
Cardi opened the show with some of her hits, including "Bodak Yellow."
Cardi B also covered the New York Time Magazine's March 2018 issue. The issue is titled "25 Songs That Tell Us Where Music Is Going."
Cardi's "Bodak Yellow" will be leading the feature and writer Jamie Lauren Keiles named the song "an unapologetic anthem for women in a year otherwise defined by pandering and setbacks."
Check out Cardi's acceptance speech below:
Source: YouTube/iHeart Music Awards