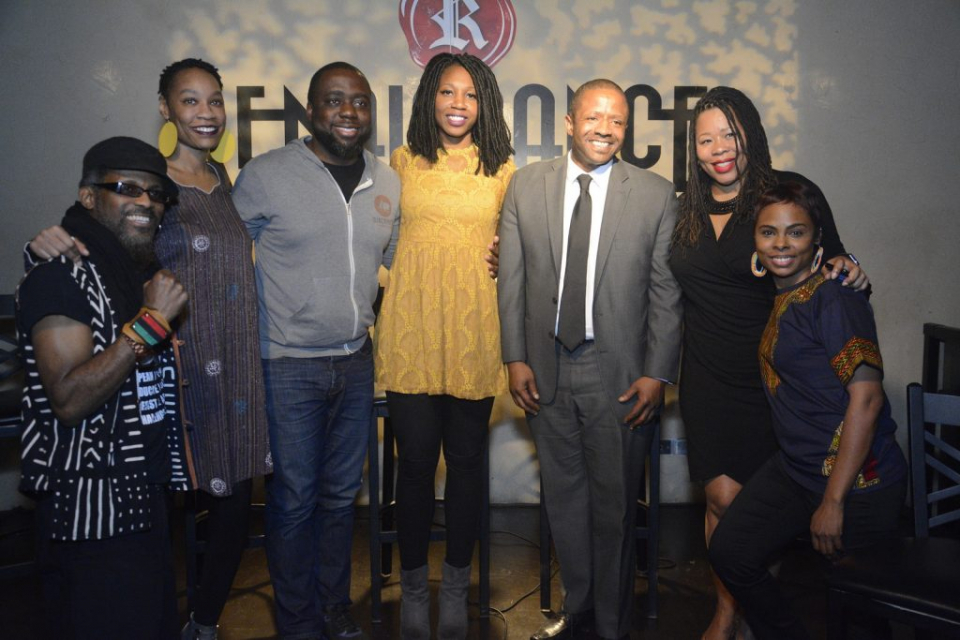 #AnArmyOfUs in partnership with rolling out recently held an in-depth and thoughtful solution-based discussion centered around the Marvel blockbuster Black Panther at The Renaissance Bronzeville. The diverse panel consisted of Amara Enyia, Te'Quila Shabazz, Boyede Sobitan, Dwayne Hirsch and Leeandra Khan.

Black Panther, which has currently grossed over 1 billion dollars to date, has presented itself to the Black community and the diaspora as being much more than a movie. The nuances that exist within the film begged to be unwrapped and an opportunity to do that at The Renaissance Bronzeville brought out many of the great minds of the South Side.

The relationship between Africans and Africans Americans was an issue that was tackled head-on.
"The first part of building trust is by relationships. It's about having conversations with each other. A lot of times I'm part of these conversations. I'm Ibo, I live on the West Side of Chicago. I have organized Black communities, so when I hear conversations that say 'Where are the Africans' we are right here amongst you all," said panelist Amara Enyia.
The relationship between T'Challa and Killmonger represents an overarching theme of abandonment and misunderstanding. The disconnect grows as long as the situation goes unaddressed.
"You have to first acknowledge your tie to Africa because the divide between African Americans and Africans is very wide. The opportunity to learn from Africans is right here before everyone," said attendee Patrick Brutus
This discussion ultimately steered in the direction of economics. "Our vibranium is arts and culture that has penetrated the world. We need to stop being fearful to be who we are. We have everything we need right here," said Te'Quila Shabazz
Black Panther has struck a chord in the psyche of Black people all over the world and may well prove itself as a catalyst to change that will be significant and sustainable. These changes start with a vision that we can act on and discussions like this facilitated by #AnArmyOfUs will change the narrative and empower individuals to go do the work.
We asked one of the attendees, Darnell Bobo, what he thought of the event. " I thought it was strong and powerful. I appreciate the consciousness and vibration that was in the room. I was happy to know that we are all moving on this same wavelength," he said.
Check out a few pictures from the event below.