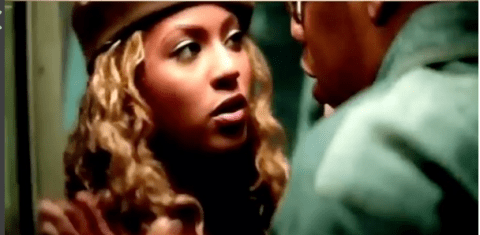 Does Black Twitter want Beyoncé to leave Jay-Z at home for upcoming tour?
Not long after Jay-Z and Beyoncé  announced their On The Run II tour, folks began losing their minds.
But then, after the euphoria began to dissipate, some Beyoncé fans began to wonder why Queen Bey does not go on tour by herself and leave her husband of over a decade at home. Yes, there are some within the Bey Hive who don't seem to want to see Jay-Z tag along for the ride.
Many Queen Bey fans haven't forgiven Jay for his transgressions and don't want to hear his adultery raps anymore. Check out the Black Twitter hate below:
"Beyoncé's only taking Jay on the road bc she can't trust him not to cheat while he's home alone."

😭

— Denver (@_JustDenver) March 12, 2018
Beyoncé once instructed ladies to leave their men at home and I just wonder why she won't take her own advice.

— wilhëlm (@willtbh) March 12, 2018
*Beyoncé's set ends*
*JayZ instrumentals start playing*
Me: pic.twitter.com/lch9oBxA1n

— Bitch, I ain't Jared. (@officialSmith_) March 12, 2018
I don't get why it's hard for some people to understand that not every Beyoncé fan likes her husband lol

— King Rufus (@Rudapu92) March 12, 2018
Girl…. @beyonce …. why is Jay Z coming?? pic.twitter.com/ZR28JkThzf

— 🇭🇹Jessie Woo🇭🇹 (@Jessiewoo_) March 12, 2018
Damn twitter really turned OTR2 into "Beyoncé and him downstairs"

— Desus Nice (@desusnice) March 12, 2018
You know what's better than another Beyoncé and Jay-Z tour?

A just Beyoncé tour.

— Alex Goldschmidt (@alexandergold) March 12, 2018
Beyoncé is the girl you make plans with, and then she brings her man on the day. pic.twitter.com/tFtJ8fx21V

— Gugulethu Mhlungu (@GugsM) March 12, 2018
When Jay start making noise on Beyoncé's tour pic.twitter.com/g8vD55l1jh

— joy the gringiest of gringos (@baseIinethot) March 12, 2018
Lord let me live long enough to see a Beyoncé divorcée tour pls Jesus above pic.twitter.com/W1PQOsE9Ve

— Jasmine Sha-Ree Sanders (@JasMoneyRecords) March 12, 2018
I wanted a solo Beyoncé tour… pic.twitter.com/7Q7cWpmDKD

— Johnny Boy 🧚🏽‍♂️✨ (@JohnTheFame) March 12, 2018
Live footage of Beyoncé collecting y'all income tax refunds. pic.twitter.com/NKvSgCNxfj

— George M Johnson (@IamGMJohnson) March 12, 2018
A Beyonce and Kanye joint tour would be interesting. I'm not trying to listen to Jay Z's focus group raps in a stadium setting.

— It Stinks (@ReverendDrDash) March 12, 2018
when Beyoncé announce going on tour but it's a joint tour with Jay Z pic.twitter.com/a8gWKOxd96

— Agron (@Agronveliu97) March 12, 2018
Beyoncé carried this shoot like she carrying their entire marriage pic.twitter.com/C0I0avn2mj

— 'Red' (@Red__Mos) March 12, 2018
I'm not even going to this concert and even EYE want Beyoncé to leave Jay-Z at home.

— Micah A. (@LetMicahDown) March 12, 2018