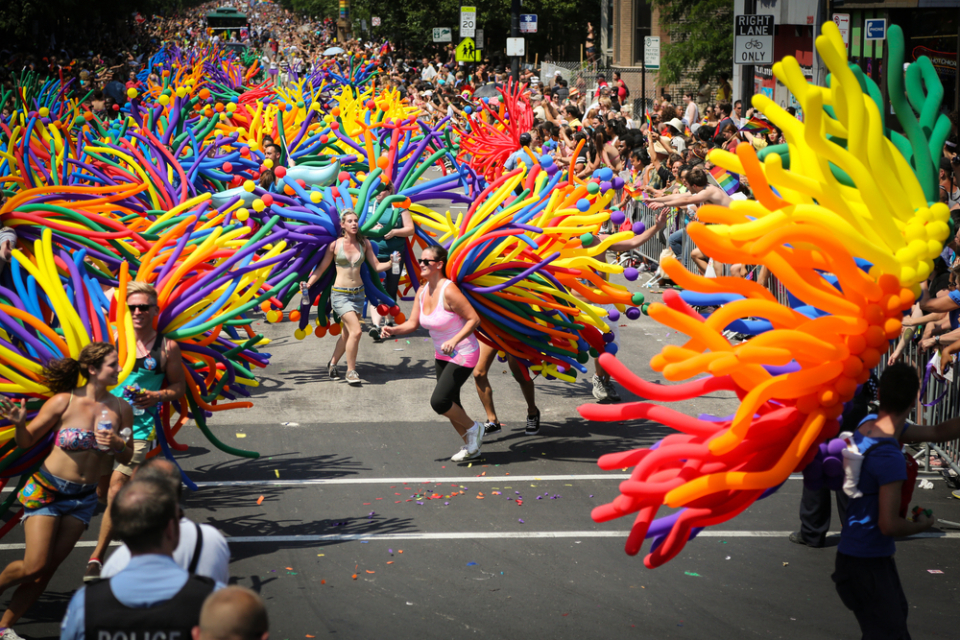 The modern-day gay civil rights movement had its beginnings in the Stonewall riots of 1969. Police raided the popular gay bar, the Stonewall Inn, in the Greenwich Village section of New York City on June 28, 1969. Violence and protests erupted in the streets and lasted for six days.
During gay Pride events that are taking place across the county, the LGBTQ community comes together to celebrate victories and to acknowledge that the fight for equality is not yet won.
Rolling out has compiled a list of 2018 Pride events in the United States.
Miami Beach Gay Pride April 2-8, 2018
– Miss Miami Beach Gay Pride Pageant at the Faena Theatre April 2, 2018
– MDGLCC Spotlight Mega-Mixer April 3, 2018 
– PAMM Free Community Night April 5, 2018
– Miami Beach Pride Event VIP Gala at the Faena Forum April 6, 2018
– Beach Party Festival Village in Lummus Park April 7, 2018
– 10th Anniversary Pride Parade and Festival April 8, 2018
Phoenix Pride April 7-8, 2018
– Pride Festival April 7-8, 2018
– Pride Parade April 8
Houston Splash Pride May 3-8, 2018
– Welcome to Houston Mixer May 4, 2018
– Houston Splash Sunday Funday May 6, 2018
Raleigh Pride May 5, 2018
– Out Raleigh May 5, 2018 
Long Beach Pride May 19-20, 2018
– Pride Parade May 20, 2018
D.C. Black Pride May 25-28 2018
– Happy Hour Meet and Greet May 25, 2018
– Literary Cafe remembering James Baldwin  May 26, 2018
– Cultural Arts and Wellness Festival May 27, 2018
– Outdoor festival in the park  May 28, 2018
Women of Color Weekend May 31 – June 3, 2018
– Welcome Party May 31, 2018
– Workshop II: Well Played – Empowering Women Through Play and Humor June 1, 2018
– All-White Party June 2, 2018
– Brown + Healthy Quick Fit June 3, 2018
– Sister Soul Sunday Brunch June 3, 2018
Albany New York Say It Loud! Black and Latino Gay Pride May 31-June 10, 2018
– Community Round Table May 31, 2018
– Flag Raising and Press Conference June 1, 2018
– Celebration at Washington Park / Health and Wellness June 10, 2018
UTAH Pride June 1-3, 2018
– Pride Spectacular  June 1, 2018
– OUTdoors and Proud 5k June 2, 2018
– Utah Pride Parade  June 3, 2018
D.C. Capital Pride June 7-10, 2018
– Pride Rally June 7, 2018
– Pride Opening Party June 8, 2018
– Capital Pride Brunch June 9, 2018
– Pride Block Party June 9, 2018
– Pride Parade June 9, 2018
– PRIDE Festival June 10, 2018
Brooklyn, New York, Pride June 9, 2018
– 5K Pride Run June 9, 2018
– Multicultural Festival June 9, 2018
– Twilight Parade June 9, 2018
Detroit Pride June 9-10, 2018
– Pride Festival June 9-10, 2018
LA Pride June 9-10, 2018
– LA Pride Festival June 9-10, 2018
– LA Pride Parade June 10
Tristate Black Pride June 15- 18, 2018
– Power Friday June 15, 2018
– Pride in the Park June 17, 2018
Denver Pride June 16-17, 2018
– Denver Pridefest June 16-17, 2018
– Coors Light Pridefest June 17, 2018
NYC Pride
– OUTCinema June 16, 2018
– NYC Pride June 17, 2018
– Family Movie Night June 19, 2018
– Rally June 22, 2018
ST. Louis Pride June 23-24, 2018
– Fest June 23- 24, 2018
Nashville, Tennessee, Pride June 23-24,2018
– Pridefest June 23-24, 2018
Twin Cities Pride June 23-24, 2018
– Festival June 23-24, 2018
– Pride Parade June 24, 2018
Chicago Windy City Black Pride June 24-July 2, 2018 
– Urbano Blackout June 29, 2018
– Fifth Annual Black Party June 30, 2018
– Pride Parade July 1, 2018
Hotter Than July Detroit Black Pride July 24-29, 2018
– Opening Party July 25, 2018
– Fine Arts Reception July 26, 2018
– Annual Gathering on LGBTQ Issues July 27, 2018
– Palmer Park Picnic July 28, 2018
Charlotte Pride Week Aug.10-19, 2018
– Festival Aug. 18 -19, 2018
– Parade Aug. 19, 2018
Austin Pride Aug. 25, 2018
– Austin Pride Parade and Festival Aug. 25, 2018
Dallas Pride Sept. 15-16, 2018
– Festival Sept. 15, 2018
– Parade Sept. 16, 2018
Dallas Southern Pride Sept. 27, 2018
– Return of the Masquerade Ball Sept. 29, 2018
Denver Sept. 13-16, 2018
Atlanta Pride Oct. 12-14, 2018
– The Annual Trans March Oct. 13, 2018
– Atlanta Pride Parade Oct. 14, 2018